Fresh Pick for Thursday, January 21st, 2016 is WRITTEN IN FIRE by Marcus Sakey
#SupernaturalThursday – end to a great trilogy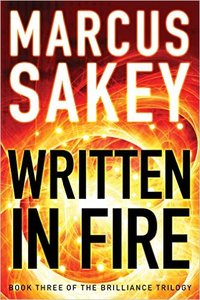 The explosive conclusion to the bestselling Brilliance Trilogy
For thirty years humanity struggled to cope with the brilliants, the 1 percent of people born with remarkable gifts. For thirty years we tried to avoid a
devastating civil war.
We failed.
The White House is a smoking ruin. Madison Square Garden is an internment camp. In Wyoming, an armed militia of thousands
marches toward a final, apocalyptic battle.
Nick Cooper has spent his life fighting for his children and his country. Now, as the world staggers on the edge of ruin, he must risk everything he loves to face his oldest enemy—a brilliant terrorist so driven by his ideals that he will sacrifice humanity's future to achieve them.
From "one of our best storytellers" (Michael Connelly) comes the blistering conclusion to the acclaimed series that is a "forget-to-pick-up-milk, forget-to-water-the-plants, forget-to-eat total immersion experience" (Gillian Flynn).
Ten years in advertising gave Marcus Sakey the perfect background to write about criminals and killers. CBS Sunday Morning called his debut THE BLADE
ITSELF "the first page turner of 2007," and the New York Times selected it as an Editor's Pick.
To research the novel, Marcus shadowed homicide detectives, toured the morgue, and learned to pick a deadbolt in sixty
seconds.
The Fresh Pick is chosen by a group of readers and is never a purchased advertisement or promotion. We've picked this book because it appeals to us and we like to share our diverse tastes in reading and hope you'll give it a try.