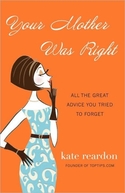 August 2010
On Sale: August 3, 2010
240 pages
ISBN: 0307588637
EAN: 9780307588630
Trade Size (reprint)
$13.99
Self-Help
Buy at Amazon.com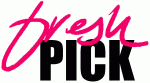 Sometimes you need more advice…delivered with a smile and common sense.
Your Mother Was Right
by Kate Reardon
All the Great Advice You Tried to Forget
The most useful tips for women, by women.
While we have learned to respect (and finally listen to) the hard-won wisdom of our mothers, there's nothing we love more than another nugget of great advice. We are all constantly on the lookout for new answers to life's everyday challenges, such as:
Q: How can I not look so tired?
A: Massage your ears. (It works!)
Q: How can I mend a hem if I don't have time to sew it?
A: Use adhesive tape from the first-aid kit.
Q: What should I do if I'm having trouble sleeping?
A: Eat a banana.
Q: How can I keep a friendship platonic?
A: Give him advice, especially about the way he drives.
From beauty questions to cooking tips, money advice, style pointers, and all you need to know about love and friendship, here are the most helpful secrets that women from around the world have shared on Kate Reardon's website, TopTips.com. So use this handy resource the next time you can't remember what your mother always used to say, or when you'd just prefer advice from someone with a different perspective (who won't give you a hard time if you don't do what she says).