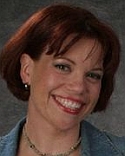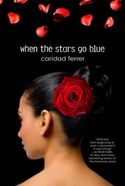 I love November. It kicks off with Halloween and ends with my favorite family holiday: Thanksgiving. (All the family (and food) of Christmas with none of the give-giving stress.) And this November includes some YA releases from some of my favorite authors.
First up, a contemporary novel from award-winning author, Caridad Ferrer, who graciously answered my questions about her upcoming (11/23) novel, WHEN THE STARS GO BLUE. Passion, love triangle, ballet… I'm loving the premise of this book.
RCM: What is WHEN THE STARS GO BLUE about?

Caridad Ferrer: Essentially, it's a contemporary reimagining of Bizet's Carmen (i.e. Ballet & opera) where the gypsy Carmen is Soledad, a driven dancer, the straight-laced Army officer Don José in transformed into Jonathan, an intense, disciplined music prodigy, and the flamboyant bullfighter, Escamillo is now Taz, all-star Spanish soccer player. The action plays out over the course of a summer and is set primarily against the backdrop of competitive drum & bugle corps (sort of like marching band, but several orders of magnitude higher). And like in the original story, lives are changed irrevocably.
RCM: What's the significance of the title? (I love the song by the Corrs.)
Caridad Ferrer: Um, because I'm terrible at titles and I tend to crib them from songs? Actually, this book had several titles throughout its creation. At one point, we thought we were going to go with So She Dances (yet another song title, taken from a Josh Groban piece) but that wasn't quite right. Then one day, I had iTunes on shuffle as I was working and this song (yep, the Corrs version) queued up. And something about the lyrics just spoke to me, especially this verse:
Dancin' out on 7th street
Dancin' through the underground
Dancin' little marionette
Are you happy now?

Actually, all of the lyrics were just perfect— Ryan Adams (the song's original composer) is just such a wonderful storyteller with his lyrics and hearing it sung as a duet between Andrea Corr and Bono just made it resonate that much more. And taking the word "stars" in the title and using it to imply excellence rather than the celestial body— given that all of my protagonists excel in their respective fields, resonated with me, too.
RCM: What drew you to a retelling of the Carmen story?
Caridad Ferrer: I wish I could claim it had been a brilliant idea on my part. Given my penchant for writing about the arts, I was asked if I'd ever considered doing a retelling of Carmen. It was like a proverbial light bulb went off above my head in a "Dang, why didn't I think of that?" sort of way. Because as a story, it's got everything: drama, deceit, forbidden love, a romantic triangle, intensity… The list goes on and as a writer, gives you so much to work with. But I knew I didn't want to do a simple retelling, bringing it into a contemporary setting, so I tried to think of ways I could make it completely my own, using the story more as inspiration than anything else, and that's when drum corps and William Shakespeare came into play. I decided to use the trope of the story within the story, by having a drum corps performing Carmen on the field, while off the field, a love triangle that echoed the one of the original story was playing itself out. I'd like to think in that way, I definitely put my own spin on the story.
RCM: I tend to think of Carmen the opera. Why did you go with ballet?
Caridad Ferrer: A couple of reasons– I'd already done one story with a singer (ADIÓS TO MY OLD LIFE) and one with an actress (IT'S NOT ABOUT THE ACCENT) so I wanted to tackle a bit different aspect of the arts. Plus, even in the opera, one of the ways in which Carmen attracts Don José's attention is with her sultry dancing, so I thought it would be fun to riff on that in my story.
RCM: Any other interesting tidbit you want to tell us about the novel?
The character that most surprised me in this story and who I found I absolutely loved writing, was Taz. I don't generally write cocky, alpha-y characters as heroes, so he initially presented a challenge, but as I wrote him, he began speaking to me and I found him absolutely charming.
The coolest thing I discovered in research had to do with Tarot— just the vast array of card designs that are out there is absolutely staggering. And it feels as if I looked at all of them, trying to find the right deck for Mamacita to use in her readings with Soledad. I loved the designs of the cards so much, I wound up buying the deck for myself. (For those who might be interested, it's the Lover's Path Tarot by Kris Waldherr.)
Caridad writes rich, layered, and passionate stories, influenced by her Latina heritage. I think the Carmen story is a perfect fit for her, and I think you'll enjoy it, too.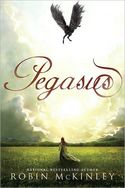 On the paranormal/fantasy front… Robin McKinley has a new book out! (I am restraining myself to one exclamation mark. I love her books so much.) Her paranormal novel Sunshine is my favorite vampire novel ever. Her new novel, Pegasus, is set in an intricately constructed fantasy world. Sylvi is bonded to Ebon, a pegasus, on her twelfth birthday, part of an ancient truce between humans and the winged horses. But the two share a special bond, can communicate in ways that they shouldn't be able to, that shakes the status quo of their world.
The protagonist of this book is a little young, and the story centers more on the love between friends than romantic love. But the beauty of McKinley's books are her writing. She weaves words into worlds of wonder and spins them into a lavishly detailed magic. They're not quick, zippy reads; they're train rides through scenic country, enjoying the details as they go by.
Enjoy your November, and the peace that comes before the crazy holiday rush. Until then, Happy Reading!
Rosemary Clement-Moore
Rosemary Clement-Moore writes Young Adult books because she loves to read them.
Visit her webpage or blog to find out more about her award winning Maggie Quinn: Girl vs. Evil series, and her gothic romance, THE SPLENDOR FALLS.