Writing humor is not for the faint of heart. It is a difficult task for anyone – stand-up comics, sit-com writers and even those who produce comic strips. However, humor writing is the hardest for the novel writer because body language, facial expressions, tone of voice, funny drawings, and sound tracks are not available for use. Novel writers are slaves to the power of their words.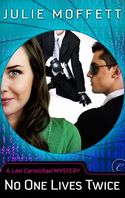 The problem inherent to writing humor is that everyone has a different idea of what constitutes a funny situation. You, as the writer, can't tell someone what is funny. Each person is unique and therefore, has a different sense of humor. There are even some people who have no sense of humor at all (I refer to them as humor-challenged). You have to realize you can't please everyone, so you have to write what makes you laugh.
How can you effectively use humor in your writing? One way is to make an ordinary situation extraordinary. Shake things up with a surprise situation or an unexpected result to an otherwise normal day. Play with words by using metaphors, similes, irony or satire. Bring misunderstandings to the forefront of the action and incorporate a bit of silliness. Let the reader in on the joke, but keep the characters clueless. This is often an effective technique because it helps the reader relate to the characters since, at one time or another, we've all been the butt of the joke (or the joke has been on us).
Expectations are also important. The reader will know instantly when a character's decision will cause a problem later in the book. Lead the reader along, show them how they are right, but then surprise them. Someone once asked silent-screen legend Charlie Chaplin how to do the perfect banana peel gag. He answered that it would be to have a woman walking down the street directly toward a banana peel on the sidewalk. The audience will make a logical assumption about what will happen next. However, it's funny when instead of slipping on the banana peel, the woman cleverly jumps over it … only to fall into an open manhole on the other side.
For my latest novel, No One Lives Twice, I spent a lot of time working on all these things. It's hard work. I had to choose my words and situations with care. There is a lot of rewriting, beta reading, and revising. Timing is another critical aspect for humor writers. You have to figure out the best time to reveal the punch line, the absurd ending, or the result of a hysterical situation. It's important to keep the reader interested and invested, as well as amused.
How can you do this? Look for the humor in everyday life. Focus on the bright side of every situation, including dark ones. People would rather laugh than cry when faced with difficult life experiences such as death, disease or hardship. Play off experiences you've had, nearly had, or have happened to a friend. Most importantly, don't be afraid to laugh at yourself. You will find the best humor comes from within, an honest, hilarious, moment we can share with others through the eyes of our fictional characters.
Julie Moffett is a bestselling author and writes in the genres of historical romance, paranormal romance and mystery. She has won numerous awards, including the prestigious PRISM Award for Best Romantic Time-Travel and Best of the Best Paranormal Books of 2002. She has also garnered several nominations for the Daphne du Maurier Award and the Holt Medallion. Her latest novel, No One Lives Twice, is her first humorous novel(an action/adventure, cyber-sleuthing comedy) and is a digital-only release from Carina Press. It is also available as an audio book at www.Audible.com. Please feel free to keep up with her at the following social media outlets:
Facebook
Twitter
eHarlequin
Julie's website
Julie's blog
Click here to leave a comment on Julie blog.