My birthday falls at the end of August. When I was a kid I hated the fact that my birthday was during summer break because I never got to celebrate with cupcakes or cookies in class. Now that I work at a University, I find that my birthday falls on, or shortly after, the first day of school which means birthday celebrations come second to the start-of-semester madness. This year my birthday falls on a Sunday so I'll have the day off. I think I'll make it a "lazy day" and spend the day reading some romantic suspense. August has some great selections, which book should I choose? Hmmm.
DESPERATE DEEDS
Dee Davis
A-Tac #3
Grand Central Publishing; $6.99
A-Tac, an elite CIA unit masquerading as faculty at an Ivy League college, is back. When a thieves steal a shipment of thermonuclear detonators, Commander Solomon has reason to suspect that information from inside A-Tac facilitated the heist. He instructs his team to set up a sting to recover the detonators and to trap the traitor. Operative Tyler Hanson is skeptical when Solomon appoints renowned physicist and Nobel Prize winner Owen Wakefield to head the team. Sparks fly as they work together to find the detonators and the traitor who endangers them all.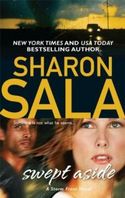 SWEPT ASIDE
Sharon Sala
Storm Front #3
Mira; $7.99
Amalie Pope retreats to Bordelaise to heal after being involved in a school shooting. When a Tornado rips through the Louisiana bayou she finds herself taken hostage by four escaped prisoners. One of these prisoners is actually undercover DEA operative Nick Aroyo. He has to play the convict to make his arrest while keeping the fragile and frightened Amalie safe.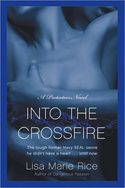 INTO THE CROSSFIRE
Lisa Marie Rice
Protectors #1
HarperCollins; $13.99
Former Navy SEAL Sam Reston's vow to keep to himself is challenged when the most beautiful woman in the world moves in next door to him. When he discovers Nicole is in danger, he will become her shield, and guard the tempting body he longs to touch and taste. A terrorist plot hatched half a world away is heading to their doorstep – and it can only be derailed by one man and one woman.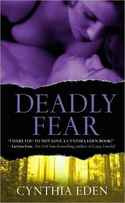 DEADLY FEAR
Cynthia Eden
Deadly #1
Forever; $6.99
FBI Special Agent Monica Davenport's work profiling serial killers has taken an emotional toll and has caused her to wall herself off from the world. Yet Monica can't ignore fellow agent Luke Dante, the only man who ever broke through her defenses. Luke has the unique ability to put victims at ease. Professionally, he and Monica made a perfect team. Now they're reunited to catch a murderer who uses his victims' deepest, darkest fears for sport. Luke and Monica will have to face the secrets from their past, the ones that terrify them the most, if they are to have a future together.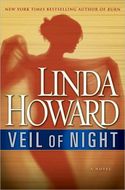 VEIL OF NIGHT
Linda Howard
Ballantine; $26.00
When a bridezilla is brutally murdered everyone involved with the ceremony is a suspect including wedding planner Jaclyn Wilde. Detective Eric Wilder has too many suspects and no chance to follow-up on the one passionate night he shared with Jaclyn before the murder. As the heat intensifies between Eric and Jaclyn, a cold-blooded murderer moves dangerously closer to the irresistible wedding planner.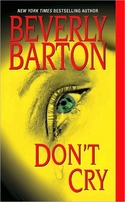 DON'T CRY
Beverly Barton
Kensington, 7.99
Chattanooga grief counselor Audrey Sherrod and Special Agent J.D. Cass agree that a series of brutal murders are the work of a deranged serial killer. At first, the only link is the physical similarities of the victims. But then another connection emerges tying them to a long-ago series of horrifying crimes Audrey hoped would never resurface.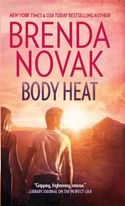 BODY HEAT
Brenda Novak
Department 6
Mira; $7.99
Sophia St. Claire, Bordertown, Arizona's new chief of police, is out of her depth as she investigates the shooting deaths of 12 people left dead in the desert sun. Help arrives in the form of Department 6 hired gun Roderick Guerrero. As far as Sophia's concerned, his involvement only makes things worse. Maybe he's managed to turn his life around. And maybe he's a good investigator. But as the bastard son of a wealthy local rancher, can he get past a history that includes her?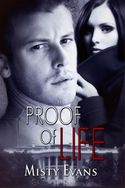 PROOF OF LIFE
Misty Evans
Super Agent #3
Samhain; $16.00
Blood ties run deepest—and deadliest.
CIA Deputy Director Michael Stone vows to do whatever it takes to get back his kidnapped niece, daughter of the Republican candidate for President. Dr. Brigit Kent, a consultant for the Department of Homeland Security, knows this particular kidnapper well. Exposing him, however, will reveal her sister's secret ties to a terrorist group. The only way to keep her sister safe is to blackmail the sexy, rock-solid deputy director. Brigit is undeniably beautiful, brilliant, and cunning. But is she friend or foe?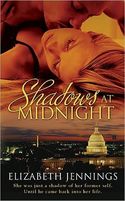 SHADOWS AT MIDNIGHT
Elizabeth Jennings
Berkley; $7.99
After a deadly explosion and three months in a coma, Claire Day is a shadow of her former self. Though her memory of the bombing is vague, she recognizes former Marine Dan Watson as the man who protected her. Seeking him out to find answers to her questions, Claire joins Dan to solve a deadly conspiracy.
How do you pamper yourself?
Maria