"Mr. Astor, a pleasure to see you this evening," the dark-coated maître d' greeted, flashing a wide smile beneath his thin mustache.
"A pleasure to be here. Anyone we should be concerned about inside? We have the Premier's niece, Miss Katherine Ormsby-Gore, Miss Dinah Brand, and Miss Christian Grant."
"Michael, don't tell him who we are." Katherine glanced around as if anyone who was mingling nearby might care or notice.
"Don't fret, Mr. Rossi won't tell a soul you've been here."
"If I were so indiscreet we'd be closed in a month," Mr. Rossi assured them. "Not to worry, ladies, no one of concern to any of you is here tonight. Should one arrive, I'll notify you at once. We don't like awkward scenes at the 400 Club."
"How does he know who we should and shouldn't be worried about?" Valerie whispered to Jakie.
"Mr. Rossi knows more about people's lineage than Debrett's. Don't worry, you're in capable hands."
"Table forty-eight, John." He handed them off to a young waiter, who led them into the heart of the small and dimly lit club.
Valerie and the girls gaped at the pillars holding up the low ceiling and the dark silk covering the walls. A long string of square tables stood crammed together along the edges of the room, velvet benches on the far side packed with people. Various bottles, glasses, and plates cluttered the tablecloths in front of them.
"What fun." Katherine tossed her purse on the table, tapping her fingers against the chair in time to the music. "Michael, dance with me."
"A lady asking a chap, how daring."
"I feel daring tonight." She took his arm and led him off.
"It's my turn to be bold. Jakie, you can dance with me," Christian insisted.
"I'd be honored, so long as I don't have to do a Highland jig."
"I won't make you jump about. Come on." They crowded onto the already full dance floor, the size of it almost as minuscule as the basement club.
"Are you going to leave me without a partner?" Valerie said to Richard with a saucy shake of her head, making her thick curls bounce around her neck and cheeks.
"I wouldn't dream of it."
"If I'm going to be the odd man out, then you owe me the next dance, and I expect to get it." Dinah leveled one pink-polished finger at him. "While you're gone, I'll order drinks."
She summoned the waiter, while Richard led Valerie to the edge of the dancing crowd. He pulled her into his arms, guiding her as far around the floor as the crush allowed, their steps more of a walk than the jittering jumping of the energetic couples. Valerie could barely see past his crisp white shirt and waistcoat. Not that she minded. His arms around her felt as natural as the chiffon dress against her back.
"What do you think of the club?" He didn't have to raise his voice to be heard. The band played soft enough for everyone to chat.
"Not as scintillating as I expected but I can feel the sin in the air, especially at the tables in the back." A break in the dancers offered a view of the far corners of the club and the couples seated at the shadowed tables. "I'm sure those women aren't their wives."
Their simple clothes gave them away.
"Pretend not to see them and they'll pretend not to see you." He turned her around, his low laugh rippling through her chest and his.
"Is that how it works?"
"So I've been told."
If all of society adhered to this sort of discretion she wouldn't fret half as much as she did about Mavis or Mr. Shoedelin. She refused to worry about it tonight, enjoying Richard and this naughty adventure. "No skeletons in your closet, then?"
"None except my anatomy one. Elm and I had a ripping time with him during a Thursday to Sunday at Cliveden. We hid the old boy in Lord Beresford's bed. He was over the moon at having a partner and very disappointed when he wasn't as lively as he'd hoped. He chucked my skeleton out the window and if he'd known Elm and I were hiding behind the curtains he'd have thrown us out too. The gardener found it the next morning and if Elm hadn't explained everything before he called the magistrate I'd have lost a perfectly good specimen and been sent down without a degree or the means to pay for my evening clothes and flat." Richard laughed, but it faded fast. He adjusted his hand in hers, the weight of the one on her back lightening. "It isn't easy being raised with all this and then be told it isn't really for you."
"It's like living in Downing Street. I'm in it but not a part of it, at least not the government part. We're both outsiders in our own way, aren't we?"
"Being the fourth son does set one pretty far down the aristocratic pecking order."
"A man is better off with work. It gives him something worthwhile to do besides gad about." It was more than Father and half the aristocrats in society were willing to do, even at their most desperate. After watching her father flail about in debt, more concerned with being a gentleman than being properly fed, clothed, or housed, she couldn't respect a man who refused to help himself.
"You don't think me too serious, then?"
"I think you're divine and your dedication to work dashing."
"You might be the only deb who does."
The number drew to its close and they let go of one another to clap and return to the table. They weren't ten feet from it when Dinah leapt up and rushed at Richard. "It's my turn. Katherine and
Christian swapped partners and I'm not going to sit out again."
"Then I'll endeavor to do my duty," Richard assured.
"Don't do it too well, I wouldn't want Valerie to be jealous."
Valerie hoped he couldn't see her blush in the dim light before Dinah tugged him to the dance floor. She sat at the table and picked up the drink, leaving a water ring on the tablecloth in front of her. She sipped it, wincing at the strong liquor in sugary syrup. All around her, women enjoyed their cocktails without blanching, a highball glass in one hand and a cigarette in the other. Valerie wasn't about to take up that habit, but she lounged in the chair, feeling quite chic even while the drink burned the back of her throat.
When she'd had enough sophistication, she took a turn around the club, twisting this way and that through the tables until she came face-to-face with Vivien.
Her eyes went as wide as Valerie's. Apparently she wasn't supposed to be here either. They set their shoulders, bracing for another verbal match. There was nothing holding them back except Mr. Rossi's mandate against awkward moments.
"I see they let nearly anyone in nowadays." Vivien threw down the gauntlet. "Perhaps this club isn't as exclusive as it used to be."
"It isn't if they're letting in fascists. Shouldn't you be at a Blackshirts meeting?"
"We aren't all defined by our fathers."
"Of course we are." There was a bit of honesty they could both suck on. "Best to remember that when chucking words about. We have enough to manage with the family hand we've been dealt to add anything more to it."
She wasn't about to beg Vivien to keep her stupid mouth shut, but a little reminder that neither of them benefited from the other snitching about being here tonight couldn't hurt.
Vivien took Valerie's meaning, nodding and making her gold teardrop earrings swing. "I think it's best if we not mention we saw one another here."
"I agree."
They stalked past each other. What Vivien told her friends when she reached their table she didn't know, but like Christian, Katherine, and Dinah, who were watching from over their partners' shoulders, that group wasn't likely to let anything slip either. None of them needed chaperone troubles or to find their fun curtailed this early in the Season, not with all the other London nightclubs left to visit.
"You and Miss Mosley appeared quite chummy," a familiar voice said.
Valerie whirled around to discover Elm leaning against a chair, not caring that he crushed the fur coat draped over the back of it. He wore the standard white-tie,not filling it out as solidly as
Richard, but no slack either. His Jermyn Street tailors had done a fine job of fitting it to his slender frame. "How much of that charming exchange did you hear?"
"Enough. She's a wicked minx, isn't she?"
"I could think of a few other words to describe her, but I don't want to send anyone into a faint."
"I can manage bold words."
"Not from a lady. I'll leave them to your imagination."
She led him to their table and Elm held out her chair. She sat down, shocked by the quick clip of her heartbeat when he sat beside her, the tight quarters pushing his knee against hers.
"Since this is your first time here, you must have the full experience. Waiter!" He snapped his fingers at a passing waiter, who rushed to their table. "A bottle of Veuve Clicquot."
"Yes, Lord Elmswood." The man hustled off, returning a moment later with the uncorked bottle and glasses. He poured, not dribbling so much as a drop on the white tablecloth, set the bottle between them, and then vanished into the crowd as fast as he'd appeared.
Elm raised his glass. "To telling Vivien what's what."
"And friends at the 400 Club." She clinked her glass against his and took a sip. Champagne and a Viscount. The evening was really shaping up. She considered kicking off one shoe and leaving it behind in the hopes he or Richard might bring it home, but didn't dare. That was all fine and dandy in movies, but it didn't happen in real life.
From The Last Debutantes by Georgie Blalock, published by William Morrow Paperbacks. Copyright © 2021 by Georgie Reinstein. Reprinted courtesy of HarperCollinsPublishers.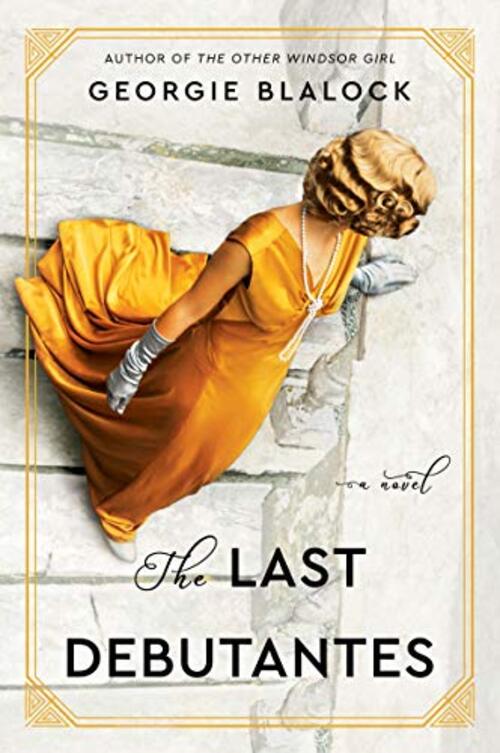 Fans of The Kennedy Debutante and Last Year in Havana will love Georgie Blalock's new novel of a world on the cusp of change…set on the eve of World War II in the glittering world of English society and one of the last debutante seasons. 
They danced the night away, knowing their world was about to change forever. They were the debutantes of 1939, laughing on the outside, but knowing tragedy— and a war—was just around the corner.
When Valerie de Vere Cole, the niece of Prime Minister Neville Chamberlain, makes her deep curtsey to the King and Queen of England, she knows she's part of a world about to end. The daughter of a debt-ridden father and a neglectful mother, Valerie sees firsthand that war is imminent.
Nevertheless, Valerie reinvents herself as a carefree and glittering young society woman, befriending other debutantes from England's aristocracy as well as the vivacious Eunice Kennedy, daughter of the U.S. Ambassador. Despite her social success, the world's troubles and Valerie's fear of loss and loneliness prove impossible to ignore.
How will she navigate her new life when everything in her past has taught her that happiness and stability are as fragile as peace in our time? For the moment she will forget her cares in too much champagne and waltzes. Because very soon, Valerie knows that she must find the inner strength to stand strong and carry on through the challenges of life and love and war.
Historical [William Morrow Paperbacks, On Sale: August 24, 2021, Paperback / e-Book, ISBN: 9780063009295 / eISBN: 9780063009301]
Georgie Blalock is an amateur historian and movie buff who loves combining her different passions through historical fiction, and a healthy dose of period piece films. When not writing, she can be found prowling the non-fiction history section of the library or the British film listings on Netflix. Georgie writes historical romance under the name Georgie Lee.