Hi everyone! This scene picks up after Cam and Reese have just played a game of This or That with his brothers and things got a little sexy. He's offered to walk her back to the guesthouse where she's staying on his family's property…
"I'll walk you back," Cam said, making her jump. She hadn't heard him follow her.
"You don't need to do that."
"I know." They stepped onto the porch together. "About what just happened…" he trailed off, hands in the front pockets of his stylish sweatpants as they continued toward the guesthouse.
"It was nothing. We got a little carried away is all. I call it the Nash influence."
"The Nash influence?"
"Yes, he loves to infer dirty and sexual things, which in turn gets the people around him thinking them."
"Okay, but in this case…"
They'd gone there on their own. Of course Mr. Smarty McSmartyPants would realize that. She spun and faced him, took backward steps. "Sugar Rush."
He raised an eyebrow. Just one brow, in that sexy way of his.
"When a person eats sugar, the brain produces a surge in dopamine, which in turn makes them think of pleasurable things and then sometimes talk about them."
"You should put that in your screenplay."
"You're right! I should. Look at that, we're back to brainstorming like the best friends we are." She turned back around.
"Basically, we should never mix Nash and sugar."
"Exactly."
"We good, then?"
"Always." She stopped a few feet from the step up to the guesthouse. Frogs croaked in the distance, and her ears perked up. She hadn't noticed the deep, hoarse sound before tonight. "Do you hear that?"
Cam inclined his head away from the guesthouse and toward the creek at the rear of the property. "You want to go take a look?"
"Does a butterfly have wings?"
She practically skipped beside him past the pool, across the grass, through some trees, and down a short cobblestone path, until they reached a clearing and a creek several feet wide, water slowly streaming eastward.
"Watch your step," Cam said.
"Watch yours, too." There were frogs everywhere. More than she ever remembered seeing. Including little ones hopping over each other. "They're leapfrogging!"
Cam bent down to pick one up, then handed it to her. She giggled when the tiny thing tickled her palm. "They're so cute." Then it leaped right out of her hands. "Oh!" Thankfully, it landed on the ground with ease and hopped on its merry way.
The frogs ribbited nonstop, drowning out any other sounds.
"Remember the summer we had a contest to see who could catch the most?" she asked.
"Nash and Gael were pissed that you won."
"They were pissed that you helped me win."
"It wasn't my fault all the frogs in my jar leaped into your jar."
"I've always loved all the wildlife here. Did I ever tell you about the praying mantis I kept in a shoebox? I poked holes in the lid and put grass and dirt inside the box. I was so proud of myself for catching it and making it a home. When my mom found out, she told me it would probably die if I kept it, so I let it go. That's the only other animal I've caught besides the frogs and toads here."
"I went to school with a frog in my pocket once." Cam kept his eyes on the creek bank, his tone indicating the memory was one he hadn't thought of in a while.
"It didn't get mushed?"
"It was in a zippered pocket in my jacket."
Reese stepped closer to him, seeking something or to give something, she wasn't sure. "Did you take it with you for a reason?"
"I wanted to give it to someone, but I got caught with it before I had a chance and the teacher took it away."
"Your first crush?"
"No. A kid who'd lost his mom to cancer."
"Cam." She wrapped her arms around one of his, moving closer to his side as they both faced the creek. "I'm sorry you didn't get to give it to him."
He let out a breath. "I didn't even really know him."
"But you knew how he felt," she whispered. He leaned against her, using her for support like he'd done so often over the years. Cam's parents, along with Nash's and Gael's had died in a private plane crash while on vacation together. After a malfunction with the engine, the plane had plunged into the ocean. Reese's mom had told her the whole story, and Cam had shared his feelings with her, reluctantly at first. As they got older, he'd opened up much more.
"Did you talk to him?"
"No. A few days later he and his dad moved away. Not that I would have said anything to him. I was eight, and not very good with words."
She squeezed his arm. "You're a good person. And excellent with words now."
"There was also the time I put a frog down the front of Nash's shorts."
She bumped his hip. "I'm sure he deserved it."
"To tell you the truth, I can't remember why I did it. Whatever the reason, it was worth seeing him jump around and squeal like a girl."
"Like a girl?" She let go of him and put her hands on her hips.
"I didn't mean it like that," he backtracked, a look of oh crap on his face. "Have you heard him scream? His voice goes up a few octaves, making him sound less manly."
"You're not helping your case." She eyed him from his T-shirt to his sweatpants and back up. "There's only one way to redeem yourself."
He eyed her from the scooped neckline of her sundress to her flip-flops and back up. "If you dish it out, you've got to take it."
"Absolutely."
They bent at the same time and each picked up a frog, never taking their eyes off each other. "Ladies first," he said.
The frog squirmed in her hand, making her smile. Cam's playful expression might have had something to do with it, too. She pulled the elastic waist of his sweatpants—and that of his boxers—away from his stomach and dropped the frog inside. On the release, the material snapped against his skin.
He quickly lifted the neckline of her dress away from her skin and dropped his frog.
They immediately hopped around like two people dancing over hot lava as they tried to rid themselves of the tiny amphibians. Neither of them squealed, but…
"Oh, oh, oh," Cam chanted, sticking his hand down his pants.
"Yuck, yuck, yuck," Reese repeated, wiggling her shoulders. "It's in my bra!" This was her comeuppance for buying an ill-fitting bra with cups a little too big. It meant there was room for a baby frog to slide inside! She put her hand down her dress, but when she got hold of the harmless animal, it slipped through her fingers.
Cam pulled his hand out of his pants in victory. He released the frog then turned slightly to adjust himself. "Need a hand?" he asked, waving at her.
She cracked up. That's exactly what she needed, Cam's hand down her dress. Not! He laughed too, as if realizing what he'd just implied.
"I'm good!" She finally got the little bugger in her grasp. Pulling her hand free, she let the frog jump off her palm to freedom. She adjusted her bra and fixed the neckline of her dress then looked up to find Cam watching her intently.
Running her hands down her sides, she straightened her back. "I'd say we both sounded like mature adults there, wouldn't you?"
"One of us did," he teased.
"Shut up!" She gave him a little push to the chest.
He wiped his hand down the front of his shirt. "I definitely need a shower now." Their eyes met. "I mean, shit, you know what I mean. Just a normal shower. Not—"
"I know." She also knew they could never play the kind of game they'd played tonight in the family room ever again. Not as long as this uninvited awareness existed between them. It's just a phase. It will pass.
It had to.
© Robin Bielman, Entangled Publishing, 2021. Reprinted with permission from the publisher.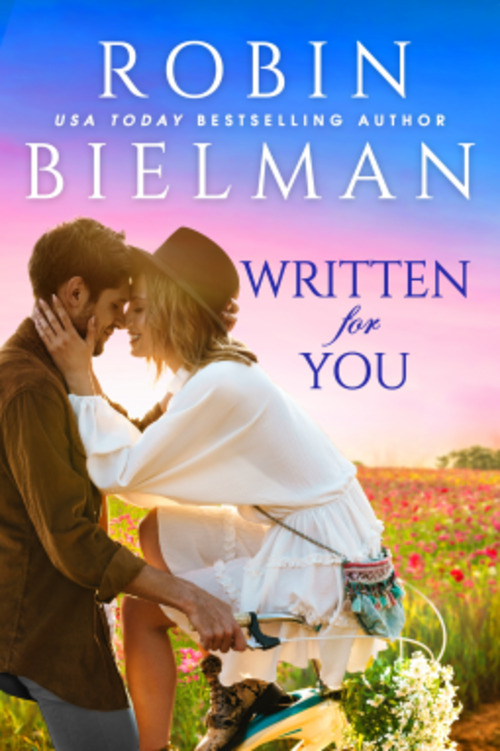 Cam Radcliffe is on a deadline to write his next blockbuster action film, but all he can think about lately is writing romance. The inspiration? His best friend, Reese.
They've known each other for years, but suddenly working in the same office has given him a whole new appreciation of her. Reese is driving him wild in the best possible way, and Cam only hopes it isn't obvious. If she knew, he's certain their friendship would reach The End.
So, of course, Reese figures it out. But the awkward, negative response he expected is nothing like the reality—like they're living their own romcom.
A romcom that's giving him the worst case of writer's block at the absolute worst time in his career. Especially when the secret Reese has been forced to keep comes out…and threatens to ruin everything.
Romance Comedy | Romance Contemporary [Entangled: Amara, On Sale: August 23, 2021, e-Book, ISBN: 9781649372031 / eISBN: 9781649372031]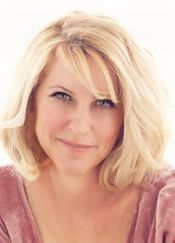 USA Today bestselling author Robin Bielman lives in Southern California with her awesome family and her very cute dog, Harry. She writes both sweet and sexy contemporary romances with one goal in mind: to leave you with a smile on your face. When not attached to her laptop, she loves to read, go to the beach, and frequent coffee shops. She loves to stay in touch. Visit her at robinbielman.com or on Instagram: @robin_bielman. xoxo