I have a confession to make: I don't always live in the here and now. Ever catch yourself daydreaming of a life in a different time and place? Would you be comfortable roaming about an estate in Regency England, or dancing in a ballroom under the glow of candlelight, or walking the hills of nineteenth century Scotland? If you do, we share something in common. For as long as I can remember I have indulged my imagination in flights of fancy. After thirteen novels and three short stories I won the Quill Award and was inducted into the Writer's Hall of Fame. Although I write contemporary, paranormal, and historical romantic fiction, I admit I love to travel to the past. My favorite destination is Regency England or Scotland, when people were a bit wild under their mannerly façades.
A reader I met at a book signing a few years ago told me I was an old soul and I had lived centuries earlier. I suppose that could be the reason I enjoy traveling to different places and times. I also share a birthday with Jane Austen, who I admire greatly. Is sharing her birthday and becoming an author a coincidence? Do you believe in destiny?
I usually start with an idea for a novel and then explore the people who might bring that idea to life. For example, I once asked myself what would happen if two souls from two different time periods were switched. Once I know my characters, they start to control the novel. I never worry when characters talk to me, I only start worrying if they stop; it usually means I have taken a wrong turn in the novel. Another confession: I have never finished an outline for a book. Recently James Patterson instructed me to always outline, because if you don't outline you will waste time. I am working on the outlines for two books at the moment. I intend to outline each book I write in the future. If James Patterson tells you to outline, you should probably outline.
Research for historical novels once meant hours in the part of the local college library where you have to blow the dust off the tops of the books before opening them. Now I spend more time researching online. I also have a small library of my own dusty tomes. I have visited England, Scotland, and Ireland to seek out all the wonderful historical places from my books. Last summer I dragged my daughter through the streets of London looking for anything that remained of the Regency period. Even though most of London has changed, you can still see sunlight on the Serpentine, walk through Hyde Park and imagine yourself in a high perched phaeton, explore the house on the corner where Wellington lived, and look around you and imagine all the people from the distant past who have walked the same paths as you.
A few years ago, I left writing to concentrate on motherhood. When my best friend told me she wanted to read a new book by me and gave me a magnet that said "Stop me before I volunteer again!", I knew it was time to head back to my keyboard. I'm currently revising most of my older novels, updating them for my current writing style. With the luxury of looking at my books as a whole, I decided to form a series from several of the books. The characters had all attended London Seasons; they would have known each other. Although all the novels can stand alone, it's fun to see the characters interact across the novels. MACLAREN'S BRIDE is the second book in the newly formed The Heiresses series. I am also working on a new Regency series, and a paranormal series that will cross through contemporary and historical books. After taking more than a decade away from writing, my creative muse is impatient to flow onto paper once more.
I love to hear from readers. You can reach me through the contact page of my website: www.debradier.com. You can also connect with me through Facebook . My tweets are available on Twitter @DebraDier.
A Wedding Gift for MACLAREN'S BRIDE Giveaway
Award winning author Debra Dier is pleased to celebrate the marriage of determined Highlander Alec MacLaren and reluctant bride Meg Drummond by offering one US reader the chance to win an autographed trade paperback copy of DEVIL'S HONOR, an e-book copy of MACLAREN'S BRIDE, and a $25 Amazon gift card. US residents only please. Set in the highlands soon after Waterloo, MACLAREN'S BRIDE is the critically acclaimed novel of lost love and second chances.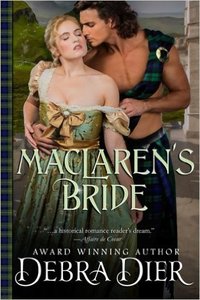 A Determined Highlander and his Reluctant Bride
Meg Drummond was known as the Snow Queen, a challenge to the gentlemen of the ton, for it was said she could freeze a man with a single glance of her green eyes. No one knew the icy castle walls were built to protect the vulnerable girl within. Meg didn't trust easily, not after witnessing the fiery destruction of her parents' marriage. Since she was a child she had only ever thought of one man in terms of happily ever after, and he had never returned her regard.
After leaving the Highlands, Meg managed to change from an awkward hoyden into the elegant lady her English mother expected her to be. Though she allowed her estranged father to believe she would marry an Englishman to spite him, she had no intention of ever allowing any man close enough to hurt her, until Alec MacLaren charged back into her life. She has loved the charming rogue since she was a child. Yet can she trust the wicked Highlander with her heart?
A hero of Waterloo, Alec owed Meg's father his life. Although he had no desire for an arranged marriage, Alec kidnapped and married Meg out of his debt to Robert Drummond. Once he held Meg in his arms he realized there just might be something more to this marriage than he had expected. A suspicious tragedy had made him Earl of Dunleith. Alec doesn't realize a murderer lurks in the shadows waiting to take everything from him.
After years of war Alec longs for a home and family. He knows he must break through the wall of ice surrounding Meg's heart, gain her trust, and awaken her desire to truly make her his bride.