The showers of April will probably be required when you take a look at some of the HOT books on sale now. From feral beasts to dangerous rakehells you'll find a little special treat.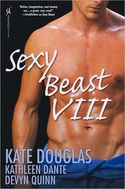 Kate Douglas, Kathleen Dante, Devyn Quinn, SEXY BEAST VIII (Aphrodisia, 3/30/2010, $14.00)
Kate Douglas headlines a brand-new collection in which fierce, feral men aim to fulfill every woman's most carnal desires. In "Chanku Spirit," Anton travels to Florida with Stefan, his lover, and Matt, one of the newest Chanku in a quest to learn more about their sensual shapeshifter history. There they find the goddess who gives their erotic birthright meaning, but only Matt is powerful enough to discover the amazing secrets this mystical woman possesses.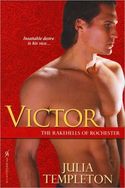 Julia Templeton, VICTOR (Aphrodisia, 3/30/2010, $14.00) Rakehells of Rochester
In the second book in Julia Templeton Rakehells of Rochester trilogy, a rake without a conscience sets out to seduce a virtuous widow, but realizes it is he who has been seduced, heart and soul.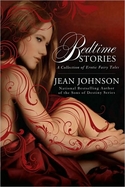 Jean Johnson, BEDTIME STORIES (Berkley Heat, 4/6/2010, $15.00)
Jean Johnson doesn't disappoint with her re-tellings of classics such as Beauty and the Beast, The Frog Prince, Puss n' Boots, and Sleeping Beauty. Jean Johnson reinvents classic fairytales adding futuristic and paranormal settings to the familiar stories. With an erotic undercurrent running through each tale, Bedtime Stories reveals a garden of sensual delights that gives new meaning to the term "happy ending."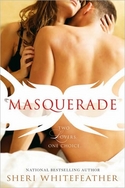 Sheri Whitefeather, MASQUERADE (Berkley Heat, 4/6/2010, $15.00)
Amber Pontiero is a jet-setting, fashion heiress whose main priority in life is looking for fun, and knows she will find it in Luke and Jay. Amber, Luke, and Jay once engaged in one of the most erotic nights of her life, and Amber returns to her former lovers looking to complete the perfect threesome once again. But as their time continues together Amber realizes that she is developing deeper feelings for Luke, and when he starts delving into her family tree, the threesome soon realizes that history has a way of repeating itself.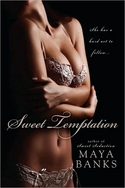 Maya Banks, SWEET TEMPTATION (Berkley Heat, 4/6/2010, $15.00)
Maya Banks returns with a searingly romantic new novel about a by-the-book cop and the woman who knows his deepest secrets. When Angelina Moyano lost her brother, she lost the only family she had, but never gave up on the love she harbored for his best friend and fellow cop Micah Hudson. Now Angelina is running from a dangerous past, and finds herself running straight into the arms of Micah.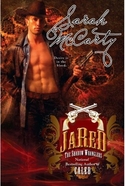 Sarah McCarty, JARED (Berkley Sensation Trade, 4/6/2010, $15.00) (The Shadow Wranglers #2)
Meet Jared–a cowboy with bit–in the latest paranormal romance from the national bestselling author. Jared Johnson has always been a force to be reckoned with, first as an outlaw and now as a vampire. Caught in a war between immortals, he doesn't have time to waste, but when a female vampire is attacked, he can't just walk away. He expects a quick good bye, but what he gets is a vulnerable woman who intrigues and seduces while giving away nothing of the secrets holding her hostage. Forced to accept Jared's protection, Raisa finds it increasingly hard to resist his forbidden allure while keeping the secret that could destroy them both.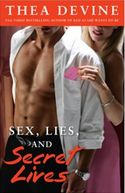 Thea Devine, SEX, LIES & SECRET LIVES (Gallery, 04/27/10, $14.00)
When her identical twin sister disappears, Justine Durant slips into the sex- fueled, high-stakes life she never knew her sister lived. Jillian's missing and Justine immediately leaves her research job, frantic to discover what happened to her globe-trotting model sister. Searching for clues to her sister's disappearance, Justine masquerades as Jillian, plunging into a world of paid carnal extravagance and unleashing a side of herself she never knew existed. And Justine must play this dangerous game to perfection and win . . . if she and Jillian are to survive.