Urban Fantasy…April takes you to celebrity-mad London, to the boarding school where the students aren't quite just "normal" and roommates are hard-to-handle. Or take a trip to Georgia, it's different than expected. All this and more in April Urban Fantasy…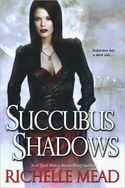 Richelle Mead, SUCCUBUS SHADOWS (Kensington, 3/30/2010, $15.00)
Georgina Kincaid's already complicated life just got a whole lot messier. Her new roommate is stirring all kinds of sexual tension. Adding to her angst, she's being recruited to help plan the wedding of her ex, Seth–and she keeps getting visited by a shadowy force trying to draw her into the dream world. When she finally succumbs, Georgina is captured by dream demons intent on sapping her power. But when Seth turns out to be the only one who can find Georgina and bring her back, all kinds of new questions arise. And the answers will change her world forever.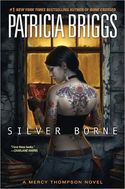 Patricia Briggs, SILVER BORNE (Ace, 3/30/2010, $24.95) (A Mercy Thompson Novel #5)
When mechanic and shape-shifter Mercy Thompson attempts to return a powerful Fae book she'd previously borrowed in an act of desperation, she finds the bookstore locked up and closed down. It seems the book contains secret knowledge–and the Fae will do just about anything to keep it out of the wrong hands. And if that doesn't take enough of Mercy's attention, her friend Samuel is struggling with his wolf side–leaving Mercy to cover for him, lest his own father declare Sam's life forfeit. All in all, Mercy has had better days. And if she isn't careful, she might not have many more to live…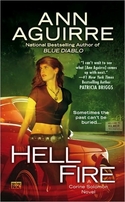 Ann Aguirre, HELL FIRE (Roc, 4/6/2010, )$6.99 (A Corine Solomon Novel #2)
As a handler, Corine Solomon can touch any object and know its history. It's too bad she can't seem to forget her own. With her ex-boyfriend Chance in tow– lending his own supernatural brand of luck–Corine journeys back home to Kilmer, Georgia, in order to discover the truth behind her mother's death and the origins of "gift". But while trying to uncover the secrets in her past, Corine and Chance find that something is rotten in the state of Georgia. Inside Kilmer's borders there are signs of a dark curse affecting the town and all its residents–and it can only be satisfied with death.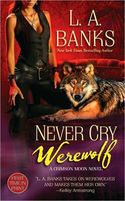 L.A. Banks, NEVER CRY WEREWOLF (St Martins Press, 3/30/10, $7.99)
It's the case that has haunted Stride for thirty years; the brutal killing of his wife's older sister Laura. Now, Laura's best friend has returned to Duluth to write a book about the events surrounding her death. As he unearths the explosive events that led to Laura's murder, Stride discovers that the ripples of her death changed everyone's lives, including his own.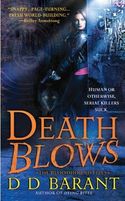 DD Barant, DEATH BLOWS (St Martins Press, 3/30/10, $7.99)
Jace Valchek is an FBI profiler pulled into an alternate world where vampires, lycanthropes and golems make up 99% of the population. She finds herself up against a killer who may be using a bizarre combination of ancient magic and comic book heroes from her world to kill some of the most powerful vampires and lycanthropes and steal their power.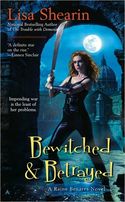 Lisa Sherin, BEWITCHED & BETRAYED (Ace, 4/27/2010, $7.99) (Raine Benares, Book 4)
New from the national bestselling author of THE TROUBLE WITH DEMONS. Raine Benares is a seeker, finding lost things and missing people — usually alive. Being bonded to the Saghred wasn't Raine's idea — neither is hunting down its escapees. Especially not when one of them is also hunting her. He's regenerating his body by taking the lives of powerful victims, along with their memories, knowledge, and most important of all, their magic. The dark mage wants control of the Saghred, and if he gets it, he'll become an evil demigod whom no one can stop. The only thing in his way is Raine.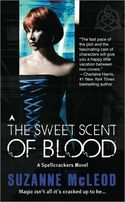 Suzanne McLeod, THE SWEET SCENT OF BLOOD (Ace, 4/27/2010, $7.99) (Spellcrackers.com #1)
Genny Taylor works for Spellcrackers.com. It's a great job, pays the rent, lets her do the thing she's good at — finding magic and cracking it. The vampires have launched a slick PR campaign and are now sought-after celebrities, and Getting Fanged and taking the Gift are the new height of all things cool. But Genny is Sidhe fae and not fooled. When Mr October, a sexy calendar pin-up vamp, is accused of murdering his girlfriend, an old debt is called in and Genny is forced to help prove his innocence, risking her job and the protection it offers — and threatening to expose her own dark secrets.
Click for all the April Fantasy Urban books