Getting Cozy and Giving Thanks
November is an important month for our country. It's a month of freedom and expression. It's a month of giving thanks to the men and women who've served our country in the military. And it's a month to celebrate the unity between the Pilgrims and Native Americans—a spirit of giving that is the core of America's foundation. I'd like to give thanks to the many authors who've visited the Cozy Corner this year and shared their talent and heart-filled stories that give so many readers a break from the pressures of the daily grind.
This week we have three special authors who've gone one step further in the spirit of giving, and have shared three great recipes for you to add to your holiday feast. Three different tastes, three different cultures coming together to bring your family a cozy holiday feast. Enjoy!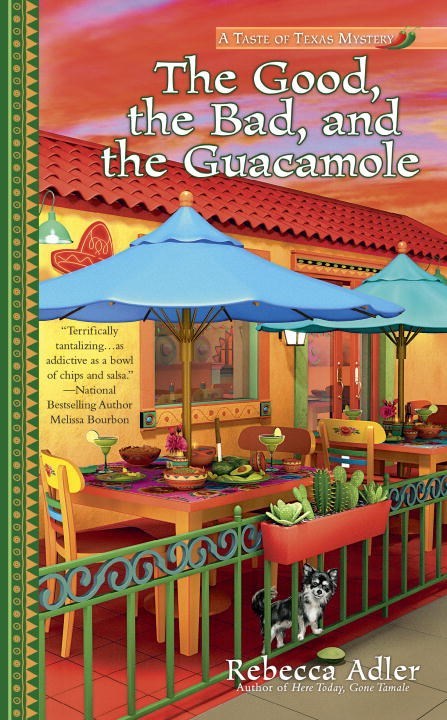 Tex-Mex waitress and part-time reporter Josie Callahan is about to serve up some Lone Star justice in this spicy Taste of Texas Mystery from the author of Here Today, Gone Tamale.
Tourists are pouring into the town of Broken Boot for the annual Homestead Days Music Festival. Opening the celebration at Two Boots dance hall is smooth-talking country singer Jeff Clark, the ex-boyfriend of Josie's best friend, Patti Perez. When the charming Clark woos Patti onstage in an attempt to rekindle some sparks with his old flame, Josie fears her friend will end up as just one more notch on the singer's guitar strap.
To impress her editor at the Broken Boot Bugle, Josie and her Chihuahua, Lenny, pursue the singer to Patti's house, hoping for an interview. Instead, they discover Clark facedown in a bowl of guacamole with a bloodied guitar at his side. With Patti suddenly a murder suspect, Josie must use her reporter skills to find out who had a chip on their shoulder—before the killer double dips….
Mystery Culinary | Mystery Cozy [Berkley, On Sale: November 1, 2016, Paperback / e-Book, ISBN: 9780425275948 / eISBN: 9780698166721]
Simple Guacamole Recipe
Be careful handling jalapeños. Wash your hands thoroughly after handling and do not touch your eyes or the area near your eyes with your hands for several hours.
Ingredients
2 ripe avocados
1 tablespoon of fresh lime juice or lemon juice
½ teaspoon salt (optional)
¼ cup of diced red onion
2 teaspoons jalapeño peppers, minced
2 tablespoons cilantro, finely chopped
a dash of black pepper
½ ripe tomato, seeds and pulp removed, diced (optional)
tortilla chips
Directions
Cut the avocados in half. Remove seeds. Carefully score
the inside of the avocado with a blunt knife and scoop out
the flesh. Place in a bowl.
Mash the avocado with a fork. (Guacamole should be
chunky.)
Sprinkle with lime (or lemon) juice and salt.
Add the diced onion, jalapeños, cilantro, and black pepper.
Peppers vary individually in their hotness. Start with a half of one pepper and add to your desired degree of hotness.
Cover with plastic wrap and chill. Refrigerate until ready
to serve. Refrigerating tomatoes can hurt their flavor. If you want to
add chopped tomato to your guacamole, add it immediately
before serving.
Serve with tortilla chips
Variation
For a quick guacamole take a ¼ cup of salsa and mix it in with your mashed avocados.
I hope you'll visit Josie, Lenny, and their family in Broken Boot real soon. And don't forget to stop in at Milagro to try some of the best Tex Mex in the Southwest. Adiós, amigos!—Rebecca Adler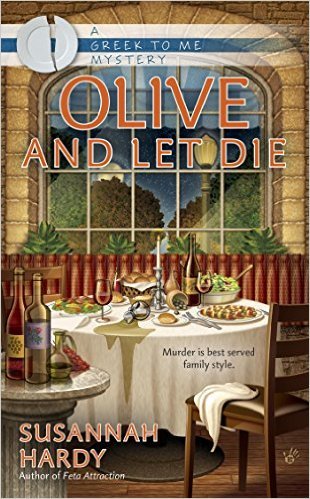 The second Greek to Me Mystery from the author of Feta Attraction
As manager of the Bonaparte House, a historic landmark and Greek restaurant in upstate New York, Georgie Nikolopatos knows her local legends—and her traditional Greek recipes are to die for.
Between her soon-to-be ex-husband Spiro coming out of the closet and her budding romance with Captain Jack Conway, Georgie's life is beginning to feel like a soap opera.  And that's before a surprise visit from her estranged mother Shirley, better known as soap star Melanie Ashley. But the dramatic family reunion takes a chilling turn when another long-lost relative turns up dead.
Just outside Spiro's new restaurant, Georgie and Melanie find the body of Doreen Webber—a cousin Georgie never knew she had. With Spiro's partner Inky on the list of suspects, Georgie begins to wonder what else her mother may be hiding. Is the dead- broke diva capable of murder?  She'd better find out before someone adds a new twist to the family plot.
Includes delicious Greek recipes!
Mystery Culinary [Berkley Prime Crime, On Sale: November 3, 2015, Paperback / e-Book, ISBN: 9780425271667 / eISBN: 9780698140097]
All-Purpose Greek-Style Seasoning
Ingredients
2 tsp. salt
2 tsp. garlic powder
2 tsp. dried oregano
1 tsp. white pepper
1 tsp. dried dill
1 tsp. dried mint
1 tsp. dried basil
½ tsp. dried thyme
1 tsp. cinnamon
½ tsp. nutmeg
1 tsp. cornstarch
Directions
Mix all ingredients together and store in an airtight container in a cool, dark place (I use a cute glass jar with a tight fitting lid). Shake or stir before using in recipes.
This delicious seasoning can be used in many ways:
Mix a teaspoon or two with olive oil and lemon juice for a delicious Greek Vinaigrette to top salad or steamed green beans or broccoli
Mix 2 tsp. with 2 T. olive oil and brush on chicken before baking until juices run clear. For a deeper flavor, brush the mixture between the chicken skin and flesh, then bake.
Cut 2 pita breads in half (to make four circles), then cut each circle into six triangles. Place on a foil or parchment-lined baking sheet. Mix 2 tsp. seasoning with 2 T. olive oil and brush lightly on each triangle. Bake at 375 degrees for 7 to 10 minutes, or until crispy and lightly browned. Keep an eye on them, as they go from perfect to burned very quickly. Enjoy with Tzaziki (see Olive and Let Die or the author's website susannahhardy.com for the recipe).
This Greek-style seasoning mix has many uses, flavoring main dishes, appetizers, and snacks. Shhh, don't tell anyone, but this is the secret to many of the wonderful savory dishes Georgie serves at the Bonaparte House in Bonaparte Bay, New York. Enjoy! –Susannah Hardy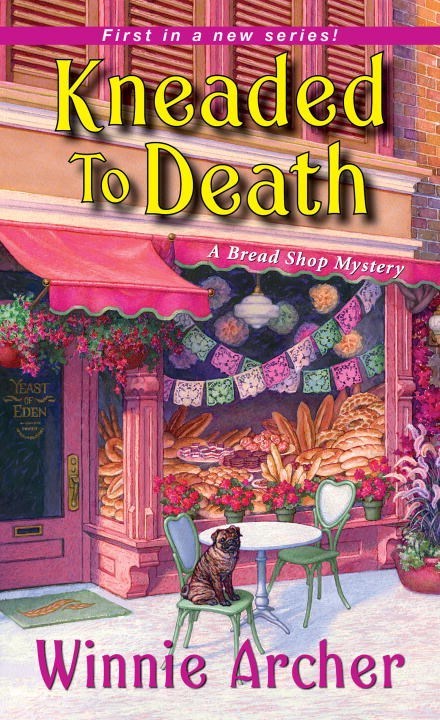 Everyone swears by Yeast of Eden, the Mexican bread shop in town. But tonight, the only thing on the menu is la muerte . . .
Struggling photographer Ivy Culpepper has lots of soul-searching to do since returning to seaside Santa Linda, California. That is, until the thirty-one-year-old enters a bread making class at Yeast of Eden. Whether it's the aroma of fresh conchas in the oven, or her instant connection with owner Olaya Dias and her sisters, Ivy just knows the missing ingredients in her life are hidden among the secrets of Olaya's bakery . . .
But Ivy's spirits crumble when a missing classmate is suddenly discovered dead in her car, riddled with stab wounds. Even more devastating, the prime suspects are the Dias sisters themselves. Doubting the women could commit such a crime, Ivy embarks on a murder investigation of her own to prove their innocence and seize the real killer. As she follows a deadly trail of crumbs around town, Ivy must trust her gut like never before—or someone else could be toast!
Mystery Cozy [Kensington, On Sale: February 28, 2017, Paperback / e-Book, ISBN: 9781496707727 / eISBN: 9781496707734]
Gruyère and Black Pepper Popovers (16)
INGREDIENTS
2 cups whole milk
4 large eggs
1½ teaspoons salt
½ teaspoon freshly ground black pepper
2 cups all-purpose
¾ cups Gruyère cheese, cut into small cubes.
Grated Gruyère cheese on top just after baking.
Directions
Preheat the oven to 450̊ and place the rack in the bottom third of the oven. Place a dot of butter in the bottom of each muffin or popover cup and allow to heat in the oven while you make the popover batter.
Use a small saucepan to warm milk at medium heat. It should be hot, but do not bring to a boil. Remove from the heat.
In a separate bowl, whisk the eggs with the salt and black pepper until smooth. Stir in the warm milk.
Add flour to the egg mixture. Combine. The batter should be the consistency of cream. A few lumps are okay!
Remove the muffin pans from the oven. Spray the pans generously with nonstick cooking spray. Pour about ⅓ cup of the batter into each of 16 muffin cups or into the popover pan. Place several cubes of cheese on top
of the batter in each cup. 6. Reduce the oven temperature to 350. Bake the popovers until the tops puff up and are golden brown, about 40 minutes. Remember, do not open the oven door while baking. You don't want the popovers to collapse!
Turn onto a wire cooling rack right away to preserve the crispy edge of the popovers. Using a sharp knife, pierce the base of each popover to release the steam. Sprinkle grated Gruyère over finished popovers, if desired, and serve immediately.
This recipe was inspired by Jodi Elliott, owner and chef of Foreign & Domestic Food & Drink in Austin, Texas. Stop in and see her!—Winnie Archer (Misa Ramirez)
**Giveaway Alert!**
Look for my Giving Thanks Giveaway on Fresh Fiction and enter for your chance to win a signed copy of my Dead Man's Carve mystery, all proceeds of my Tickled to Death Mystery go to wounded veterans.
Until Next time, get cozy and read on!
Kym Roberts is a retired detective sergeant who looks for passion, mystery and suspense in every book she reads and writes. She can be found on the web at kymroberts.com, on Facebook at Kym Roberts (author) and on Twitter @kymroberts911. Look for her new romantic suspense release, Red Lace, A Hard Men of the Rockies Novella and upcoming mystery release, Fatal Fiction, A Book Barn Mystery available for pre-order now.