Oops, did I say "tips?" I think I meant "trips." Not the sort of trips that cause you to fall down (though I'm an expert at those.) I mean the kind of trips when you get into a car and go somewhere. It might be where you planned to go. Or it might not.
Here are some of the research trips I've taken while researching my Deputy Donut Mysteries:
Find Donuts. You have to learn more about donuts, and for that, I went to the experts, Cops & Doughnuts. When the Clare City Bakery in Clare, Michigan, which had been in constant operation since 1896, was going out of business, the local cops, all nine of them, bought it. They make the best donuts! I expected to feel safe there. I did escape, eventually. With donuts.
1 Learn from the pros. The Writers' Police Academy was held in Wisconsin. Obviously, I had to attend that, and drive a real cop car. Can't I pretend that we were supposed to knock down every single orange pylon and drive through all of the invisible pedestrians??? I mean, it wasn't like I could see those pretend pedestrians, and although I could definitely see the pylons, well, hitting them all took several tries and a special sort of skill.
2 Get Lost. I'd already invented and written about Deputy Donut's 1950 Ford Delivery car painted like a police cruiser when we made a wrong turn in Bennington, Vermont, and saw the car of my dreams. Yes, the photo got a little editing. It still needs a donut lying flat on the roof, a donut with white icing with colorful lights imbedded in the icing and serving as both sprinkles and strobe lights. But finding it was very exciting.
3 Take a hike. Wisconsin has no lack of woods, waterfalls, rivers, and lakes. I took a trip to many of them. I did not trip and fall at any of them. The Fallingbrook River above Fallingbrook Falls might be a little like this.
4 Visit a friend and give him one of your books. He might make donuts from one of your recipes and share them with you.
5 Visit a cat and give her cat a catnip-filled donut. Or simply hug a cat (when she's not investigating catnip-filled donuts.
I don't know how many of these tips will help your writing, but if someone tells you to get lost or take a hike, don't take it as an insult.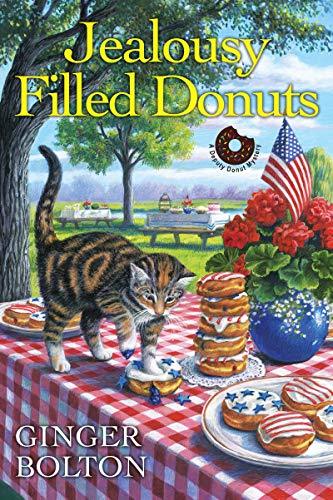 When a firecracker becomes a murder weapon, Emily Westhill pursues a killer with a short fuse. . .
 
It is a truth universally acknowledged–cops and donuts go together. Exhibit A: Deputy Donut Café, owned and operated by detective's widow Emily Westhill and her father-in-law, the retired police chief of Fallingbrook, Wisconsin. Named after Emily's adored and adorable tabby, the donut shop is a favorite among cops, firemen, and EMTs, as well as tourists and townspeople. So when Fallingbrook needs donuts for their Fourth of July picnic, Emily's shop gets deputized.
But a twisted killer has found another use for Emily's treats. At the picnic, a firecracker is hidden in a stack of raspberry-filled donuts and aimed at the unwitting queen of the festivities. When it explodes, she is killed. Having her jelly donuts involved puts Emily in a sticky situation, and when a shady shutterbug tries to frame her with incriminating photos, she finds herself in quite a jam. To preserve her freedom and her shop's reputation, Emily needs to solve this case–before the fuse-lighting felon goes off again. . .
Mystery Cozy | Mystery Woman Sleuth | Mystery Amateur Sleuth [Kensington, On Sale: August 27, 2019, Trade Size / e-Book, ISBN: 9781496711915 / eISBN: 9781496711922]

Donuts can be deadly….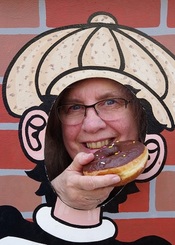 Ginger Bolton is very fond of donuts, coffee, and coffee shops that encourage patrons to linger and chat. Ginger lives in a rural area surrounded by cozy villages. When she isn't reading, writing, or daydreaming while gazing out windows, she walks her dogs, plays an electric piano (she uses earphones so as not to frighten the wildlife,) creates minor disasters in her kitchen, and has been known to take part in local amateur theater productions, which, intended or not, were comedies. As Janet Bolin, Ginger also writes the Threadville Mystery Series–murder and mayhem in a village of needlecraft shops.