I recently spoke to a group of fourth graders. I know, a romance author talking to kids about books, how dare she? I spoke about the joys of being an author, making sure to leave out the bits about the crippling self-doubt that keeps us up at night and also failing to mention anything about coffee and sometimes booze being part of our main food group. I promise I was well-behaved and didn't disclose the subject matter of my books. Instead, I took a different approach. I explained just how many people it actually takes to create a single book. The look on their young faces was priceless. As they passed around a few paperbacks I had brought for them, I heard whispers of how cool this was. After I went into detail about the work it takes to make what they held in their tiny hands, I got to thinking about how lucky I am to be doing what it is that I do and how cool it is to be a part of the fantastic book world.
These children listened intently as I spoke passionately about the reasons
behind my literary journey. They asked really excellent questions about how a story idea is born and some of their questions impressed me. Several future bestsellers in the group shared with me what they were currently writing. I even spotted a few potential book review bloggers in the group. My heart swelled with joy as I connected with the students, especially the ones who truly loved books. I passed out bookmarks with candy attached because bribery not only works on my readers but also these kiddos. My presentation was a success.
All good things must come to an end and after we wrapped up, the students were allowed to see a mock book signing table I had set up for the students to view. I proudly displayed my paperbacks, swag, and tons of marketing material that I'd told them about. I wanted them to get the experience of how authors and readers connect besides the words on the pages. Some of the children had no idea that book signing events even existed. As the students were ushered back to their classrooms, a line formed at my table. It consisted of those future book reviewers and bestsellers I told you about.
Do you know what these students wanted? Because at first, I had no clue why they were sticking around. There they were with excited smiles and admiration shining brightly in their eyes; they wanted those bookmarks signed. These are the future readers who will attend those awesome book signings. These were miniature versions of fangirls, my favorite people on Earth. Something else unexpected happened. Those teachers who stood almost as impatiently as the students in line wanted to purchase my paperbacks. They said that the presentation inspired them to read again.
I had done what I had set out to do. I wanted to encourage the hundred and fifty plus group to read and fall in love with books as much as I had at their age. But I had no idea I would've stuck a chord with these teachers. This is why I love being an author and a speaker. Motivating people of all ages to read is something I enjoy very much and I guess I'm even sort of good at it. Go figure.
In REELING IN LOVE, the first book in my brand new erotic contemporary series, Single In Seattle, my characters' love what they do. When I write, a piece of me always seems to find its way into the story, but it's my characters who become a part of me. I live vicariously through my characters' crazy adventures because trust me, I'm not nearly as fun as they are. Yet, as I stood there in front of all those young faces, telling them of my adventures in the book world, I realized maybe I'm not so boring after all. At least not in their eyes.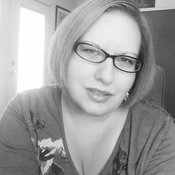 Gloria Herrmann is a contemporary romance author living in beautiful eastern Washington. All of her books have been set in Washington and she is proud to show readers how gorgeous her state is.
An avid reader and lover of words, becoming an author has been a dream come true for her. She still pinches herself all the time and wonders how she got so lucky.
Gloria remembers her mom giving her a paperback romance novel when she was a teenager. It was a pretty exciting book, filled with suspense, love, and an overall excellent storyline. That was it. She was hooked. Gloria began to devour these romance stories that varied over the years from sweet to sultry, consuming thousands of books and stories. Each time she finished reading a novel, the desire to write her own grew stronger. As ideas for books were born, her go to genre was contemporary romance. Why romance? She simply loves it. That's why she writes it. What is there not to love about falling in love and finding that special person to share your life with? Who doesn't wish for a little passion, butterflies fluttering in your stomach, and that happily ever after? In Gloria's eyes, that's what it's
all about.