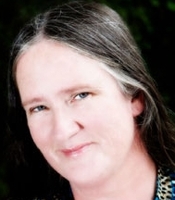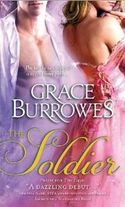 The temptation to trade places with my heroine is great and the reason obvious: when the candles have been doused and the book closed, Emmie Farnum gets to end up with Devlin St. Just! The temptation to trade places with Devlin St. Just is even greater: He heals from a tremendous load of grief, pain, and heartache to find true love, a way back to the family who loves him, and a way forward to his happily ever afters.
And then there's Winnie… A happily ever after bestowed on a child has to rank right up there as one of the best things about crafting a novel. She also gets a dog of her own, and if early warnings are any indications, she's soon to have her own pony too.
But… I am the author, and so if I had to pick one character to be, it would be Lord Valentine Windham, whose job as a secondary character is love everybody in the story. This most closely approximates my role as author. I observe, as Lord Val observes. As he does, I ache for my story people as they suffer their travail, I yearn for their happiness and I do all in my power to help them achieve it.
Lord Val shows little Winnie the joy of music, and indulges her as a doting uncle indulges a beloved niece. Val is a source of comfort to Emmie, silently acknowledging her particular troubles, sometimes with a hug, sometimes a smile, or a cup of tea. And for St. Just, Lord Val provides the first experiences of loyalty and fraternal devotion our weary soldier permits himself after the rigors of war have taken their toll.
Valentine is a good man and the stuff a hero is made of. When at the end of the Napoleonic wars, the rest of the Windham family is wringing their hands and not quite sure what to do for St. Just, Valentine gets himself to Belgium and retrieves his brother from the jaws of hell. Val does this, when St. Just still pictures his baby brother as a skinny, dreamy adolescent, missing entirely that the adolescent has grown up, filled out, and can use those talented hands for a great deal more than just spinning tunes at the keyboard. St. Just comes to realize that he and Val share more than paternity–they share loss, loyalty, history, love for their family, and a certain determination and honor in the way they go through life.
Anybody would be pleased to have Lord Valentine Windham for a brother, myself included. Perhaps this is why Val's story had to come next after St. Just's, though there are five other siblings whose books might have been written instead.
And then there's Val's prodigious ability at the keyboard–who would not envy him such an accomplishment?–his sense of humor, his appeal to the opposite sex, his skill on the dance floor and his ability on horseback. On wonders how the fellow endured two entire books fulfilling the supportive role for both of his brothers, when he has so much heroic potential of his own…
THE SOLDIER BY GRACE BURROWES–IN STORES JUNE 2011
Even in the quiet countryside he can find no peace…
His idyllic estate is falling down from neglect and nightmares of war give him no rest. Then Devlin St. Just meets his new neighbor…
Until his beautiful neighbor ignites his imagination…
With her confident manner hiding a devastating secret, his lovely neighbor commands all of his attention, and protecting Emmaline becomes Deviln's most urgent mission.
ABOUT THE AUTHOR
Grace Burrowes is the award-winning and New York Times bestselling author of THE HEIR, also a 2010 Publishers Weekly Book of the Year. She is a practicing attorney specializing in family law and lives in rural Maryland, where she is working on the next books chronicling the loves stories of the Windham family. LADY SOPHIE'S CHRISTMAS WISH will be in stores in October 2011, and THE VIRTUOSO will be in stores in November 2011, with more to come in 2012!  For more information, please visit www.graceburrowes.com.
Tell us about your feelings of family, two commenters will win a copy of THE SOLDIER.
To comment on Grace Burrowes's blog please click here