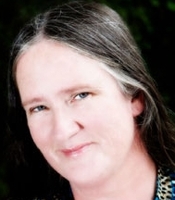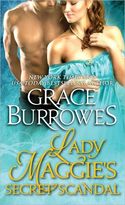 As romance authors, we're often told to "Torture the hero!" Make him a deeply conflicted, wounded (irresistibly attractive) fellow, and spend the next 376 pages having the heroine drag him, entice him, lure him and goose him toward love and healing.
I thus considered it required research to ask a bunch of guys how to bring a man to unbearable pain. Most of them looked at me like I was nuts, but my brother Dick—a hero in my eyes if ever there was one—said, "Make him choose between the competing demands of honor."
I think he got it in one, and his advice has been tremendously useful.
With LADY MAGGIE'S SECRET SCANDAL, I more or less knew what to do with my hero. Benjamin Hazlit has been living half a life, traveling under a nom de guerre to hide from a family scandal, hiding his parliamentary responsibilities, and hiding, generally from his right to pursue happiness. Benjamin feels responsible for the things that have gone wrong in his family, and has dedicated himself to making sure other families' potential scandals are diffused quietly.
And for his sins, Maggie Windham does, in fact, drag him kicking, screaming (and occasionally, um, kissing) into the warmth and sunlight with her love.
So: Torture the hero? Check.
But what about the ladies? Woman suffer deeply, though I've yet to hear a workshop presenter tell authors to "Torture the heroine!" The concept is inherently repugnant on the one hand, and—I'm guessing here—too obvious to need emphasis on the other. Lady Maggie showed me how this works.
She has been raised since early childhood in the ducal household, has loving siblings, and ducal parents who consider her just as precious as their other children—and in some ways more precious. Maggie dodged every offer of marriage and keeps to herself, though it breaks her Windham family's heart to see it.
The loneliness of such an existence, and the knowledge that she's somehow disappointed her ducal family breaks Maggie's heart too (though Benjamin has 376 pages of plans for her, so fear not). Maggie is trying to strike a balance between her loyalty to her maternal roots (which promise her she does not deserve to be happy), and her loyalty to her ducal family.
She is making herself choose between the competing demands of love, and she's so torn up with it, maybe she deserves honorary hero status. Her situation makes me ponder the differences between love and honor, and to conclude there are none of any significance.
Torture both hero and heroine with an irresolvable dilemma of the heart, and their happily ever after will resound in the hearts of readers.
Have you ever had to make an impossible choice? Ever faced a situation where every option came at too high a cost? Has love ever dragged you into the sunlight? Lady Maggie and her dashing swain Benjamin (and I) want to know.
Lady Maggie Windham Has Secrets…
And she's been perfectly capable of keeping them…until now. When she's threatened with exposure, she turns to investigator Benjamin Hazlit to keep catastrophe at bay. But Maggie herself intrigues Benjamin more than the riddle she's set him to solve. As he uncovers more and more of her past, Maggie struggles to keep him at a distance, until they both begin to discover the truth in their hearts…
Praise for LADY MAGGIE'S SECRET SCANDAL
"Delicious… Burrowes delivers red-hot chemistry with a masterful mix of playfulness and sensuality, and her themes of healing and familial strength give this page-turner unusual depth. Charming and original with superb characters ready to walk off the page, this is a splendid addition to any Regency fan's bookshelf." —Publishers Weekly Starred Review
"An unconventional tale of strikingly unique characters with realistic emotions and exciting antics. It's always a delight to read one of Burrowes' creations…" —RT Book Reviews, 4 Stars
ABOUT THE AUTHOR
Grace Burrowes is a prolific and award-winning author of historical romances. Her debut, THE HEIR, received starred reviews from Publishers Weekly and Booklist, and was selected as a Publishers Weekly Best Book of the Year for 2010 in the romance category. Both THE HEIR and its follow-up, THE SOLIDER, are New York Times and USA Today bestsellers. She is a practicing attorney specializing in family law and lives in a restored log cabin in western Maryland without a TV, DVD player or radio because she's too busy working on her next books. Please visit http://www.graceburrowes.com/, follow her on Twitter: @GraceBurrowes, and check out www.sourcebooks.com for more information.
To comment on Grace Burrowes's blog please click here.