I won't lie: When my husband and I decided to open our marriage, I thought, "This is going to be interesting … I better take notes!" And the events of that first two years, getting to date again, having new lovers, shaping our sexual identities—did not disappoint, gifting me with the kind of rich, dramatic material that make books compelling. "Taking notes" spiraled into "processing," which evolved into blogs, and then into a memoir.
Writing WIDE OPEN often felt like slipping between two worlds and landing in a miracle zone. I was writing about possibly the most magical time in my life. Revisiting the discovery that I could have both my husband of twenty years and my new love, Oz, was a delicious treat. And another lovely morsel: writing candidly about open marriage grew an unprecedented loyal readership of people eager to share information and insight on the taboo subject of open marriage; having this supportive audience was a boon, especially since there were times when I felt put in the line of fire. Before publishing the book, I was threatened with a lawsuit and was forced to take a pseudonym. Some family and friends confessed to me that the subject of my writing made them uncomfortable. Acquaintances who knew about my soon-to-be-released memoir sometimes made ignorant, insensitive comments. Writing a memoir filled with sex-positive candor and personal truths often felt like standing nude in front of my community—and getting critiqued.
We're socialized with the damaging notion that we have limited choices around sex and intimacy if we are married. But truth be told, if you have authentic conversations about desire and sex with your partner—and you can surpass staid cultural fears and judgments—your choices around your erotic identities can be numerous. I wanted to share this revelation with others in ways that were consistent with my values: with respect, candor, and humor. I also wanted to do it in a way that would foster empowerment in others. So, while finishing my memoir, I wrote an article on compersion–the joyful feeling that a polyamorous person has when his or her lover or spouse walks through the door after spending the afternoon making love to his or her new girlfriend or boyfriend. My article went viral. I received many e-mails from people describing a full spectrum of compersion, from getting hot watching their partner have sex to monogamous relationships in which people felt joy when their partner was simply thriving. Seeing the gradients of compersion made me feel like I was on to something, that romantic love was viable in more ways than we are taught in fairy tales.
Emboldened by my readers, in a follow-up article I described the compersion I felt for my husband as I listened to him describe a spontaneous make-out session with another woman: "I felt slightly freakish that I was exuberantly happy for him. But it was at a point in our marriage when romance in the bedroom was at an all-time low – between financial stressors, raising kids, and working like crazy there wasn't a lot of fun to be had. Quite frankly, I was happy to see that my husband was still sexual. But it also felt scary. Not because it wasn't a great way to love someone, but because of the anticipated judgment from – the marriage police, those traditionalists descended from our Puritan ancestors who feel put on this earth to defend and enforce the status quo. These are people I run into at PTA meetings, school sporting events, and at my suburban grocery store. They would resoundingly disapprove of my husband having a lover and would heap even more disapproval on me for being happy for him!"
This article generated many heartfelt letters from readers who were curious and sometimes even desperate to explore other possibilities in their love lives and marriages. One e-mail stands out. The anonymous writer referred to me by my non-pseudonym name. It read: "I do see you at PTA meetings and the grocery store. I am so impressed with what you are doing. I wish I had the courage to change my life in similar ways." I wrote back offering my support but never got a reply. It reminded me of quote by Henry David Thoreau: "Most men lead lives of quiet desperation and go to the grave with the song still in them." Being in a marriage where your needs for affection, sex, love and romance are going unmet can lead to a deadening of aliveness.
I understand this dilemma and write about it in WIDE OPEN. I also understand the trepidation to step forward and speak your truth and make changes. The pushback I received from the status quo was has been both painful and sometimes shocking. Challenging the paradigm of American marriage was the act of a rebel. Pointing out bold truths can be risky—the kid who exclaimed that the Emperor had no clothes probably got dragged behind the castle, where an angry mob beat the crap out of him.
Nonetheless writing my memoir and creating a readership has been a joy. I am passionate about creating a safe zone where people can reach out to me, tell me stories about their marriages, relationships, and sexual desires. Sometimes I feel like the Emily Post of open marriage. I have written about jealousy, compersion, couple privilege, cheating in an open relationship, how to set up a threesome, and general etiquette for ethical non-monogamous situations. The subject of satisfying desire and mastering the art of relationship is woven into nearly everything I've been writing these days. As Marc Chagall said "In our life there is a single color on an artist's palette, which provides the meaning of life and art. It is the color of love."
You can contact Gracie X at GracieX.com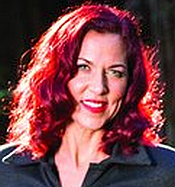 Gracie X is a Writer, Director, and Actress. She is the author of "Wide Open: An Unconventional Love Story" now available wherever books are sold. She started a relationship odyssey nearly a decade ago that inspired her to create an unconventional polyamorous chosen family. For the past several years the idea that people can authentically construct their relationships, marriages, and families while meeting the needs of everyone involved– has cracked her wide open. She can't stop writing, talking, or thinking about it. Her main message is do it your own way. "There is so much more spaciousness in our relationships to get our needs met—and there's not one correct way to do it. There are a spectrum of options from monogamy to polyamory and all the nuances in between." She encourages people to create a unique 'relationship mission statement' and set up their marriages, poly relationships and families in the way that works best for them. She has been a principal on "Nash Bridges", and numerous local TV and commercials. Her short film which she directed and co-stars premiered in the San Francisco Gay and Lesbian Film Festival. It has played at "The Outfest" in Los Angeles, Amsterdam, Germany, Seattle, Orlando, and on San Jose's Public TV channel KTEH. Her plays have been produced by 'Brava! For Women in the Arts", The Climate Theater, Solo Mio, The Chi Chi Club, The Fringe Festival, The Marsh and Josie's Juice Joint. Gracie X has toured throughout San Francisco, Vancouver and Los Angeles. A graduate of Bard College, she has worked with Peggy Shaw and Lois Weaver at the WOW Cafe in New York City. She currently lives in Northern California.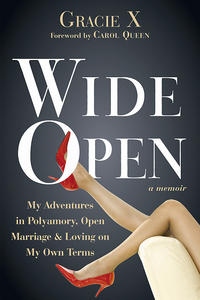 My Adventures in Polyamory, Open Marriage, and Loving on My Own Terms
At a time when society no longer imposes many sexual taboos, why is open marriage still considered beyond the pale? Written by Gracie X, Wide Open is an enthusiastic, honest, and sometimes raw account of one woman's experience living polyamorously within the context of her average American family.
Gracie X—a suburban mother of two—has been married to her loving husband, Hank, for 25 years. The problem is that their once-vibrant sex life has shriveled to nothing. Meanwhile, she has fallen in love with another man, for whom she has an overwhelming physical yearning. Frustrated and conflicted but determined not to give up her hard-won home life and wonderful husband, she is desperate for a creative solution. Can she somehow keep both men in her life without resorting to divorce or dishonesty?
A friend introduces Gracie to polyamory: loving and being faithful to more than one person at a time. "Poly," it turns out, is a whole new world, with dedicated counselors, parties, and dating sites. Convincing Hank ended up being the easy part: he quickly found a girlfriend and accepted Gracie's terms. Their children, although upset at first, adjusted to having their parents' "special friends" around, and having Hank and his girlfriend in one duplex, with Gracie and her new boyfriend, Oz, next-door, seemed like an inspired solution. But would trying to go poly create as many problems as it was trying to solve?
In her candid and provocative memoir, Wide Open, Gracie details the years she has spent exploring the poly lifestyle and creating her "chosen family." A fiercely intelligent feminist, she challenges traditional ideas about monogamy, fidelity, and sexuality. From swinger parties and strip clubs to sex toys and pornography, this is an edgy and thought-provoking read. Yet erotica and tenderness share space here, with Gracie's true love for both Hank and Oz—as well as her two children—coming through very clearly.
Wide Open reveals—with humor, integrity and heart—how one woman blended love, sex and marriage in unconventional ways and found the fulfillment she was looking for.