Some of my all time favorite films are holiday romances. I'm not even sure why this is, but I suspect it started in childhood. Maybe it was from watching White Christmas on TV for the first time. I still remember being mesmerized by that final scene when they're all dressed up in the beautiful Santa inspired costumes and the little sugarplum ballerinas, and suddenly the wall behind them opens up to show the snow falling in the night—and it's all in living color! For a little girl, it was magical.
But even as an adult, I still love Christmas. And since it's also my husband's birthday, well, it just seems like a perfect time for some sweet romance. And, really, what's more romantic than a crackling fire, snow falling outside, and cup of something warm to drink with your significant other next to you. But when some or all of those elements are missing, what about watching Miracle on 34th Street or While You were Sleeping? Count me in—I'll be there with popcorn and cocoa. As much as I like some of the new flicks like The Holiday or even the latest Hallmark movie, I really do enjoy the oldies.
I love the quirky ones like Christmas in Connecticut or The Shop Around the Corner or The Bishop's Wife or It Happened on Fifth Avenue. And I'm not one of those purists who only enjoy holiday romance movies during December. You can catch me watching in the middle of July.
But that's partly because I'm usually writing a Christmas book in the summertime—and a holiday film helps to get me in the Christmassy mood. That's when I wrote THE CHRISTMAS JOY RIDE (this year's Christmas novella) complete with an unexpected romance amidst a crazy road trip along Route 66 in the middle of winter.
Speaking of Christmas books, my newest Dear Daphne novel, HOME, HEARTH AND THE HOLIDAYS is set at Christmastime too. Although it's not exactly a romance per se, Daphne has several men pursuing her—and thanks to her aunt's will she really needs to find a husband. But poor Daphne won't get her romantic life completely figured out until the final book in this series (A Will, a Way, and a Wedding) which comes out next spring. Still it's a fun read and puts you in the mood for Christmas—and romance!
Maybe the real reason I think holiday romances are so special is because I believe the best love story of all was set at Christmastime. God loves all of us so much that he sent his beloved son to earth as our never-ending Christmas gift. Now that's a love story!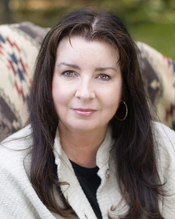 Melody Carlson has written around 200 books for teens, women and children. That's a lot of books, but mostly she considers herself a "storyteller." Her books range from serious issues like schizophrenia (Finding Alice) to lighter topics like house-flipping (A Mile in My Flip-Flops) but most of the inspiration behind her fiction comes right out of real life. Her young adult novels (Diary of a Teenage Girl, TrueColors etc.) appeal to teenage girls around the world. Her annual Christmas novellas become more popular each year. She's won a number of awards (including the Rita and Gold Medallion) and some of her books have been optioned for film/TV. Carlson has two grown sons and makes her home in the Pacific Northwest with her husband and yellow Lab dog.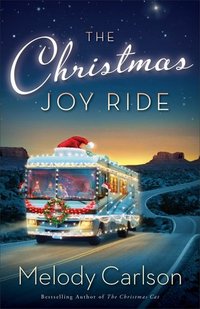 Miranda did not put adventure on her Christmas list, but thanks to her eighty-five-year-old neighbor Joy, that's exactly what she's getting this year. When Joy tells Miranda that she plans to drive an old RV decked out in Christmas decorations from their Chicago neighborhood to her new retirement digs in Phoenix–in the dead of winter, no less– the much younger Miranda insists that Joy cannot make such a trip by herself. Besides, a crazy trip with Joy would be more interesting than another Christmas home alone. Unemployed and facing foreclosure, Miranda feels she has nothing to lose by packing a bag and heading off to Route 66. But Joy has a hidden agenda for their Christmas joyride–and a hidden problem that could derail the whole venture.
No one captures the heartwarming fun of the Christmas season quite like Melody Carlson. Fasten your seat belt, because it's going to be an exciting ride!