How did it get to be summer already? Part of my brain is still wondering if I got everyone Christmas presents like I intended. But the rest of me is fully enjoying tank tops and stretchy shorts. I'm not as thin as I used to be, but fortunately, my fashion sense has completely disappeared. Instead of being shamed by the way I look in shorts and a thin tee, I think about how comfortable I feel and don't look at the lumpy cellulite in my thighs.
So now that we're all cringing from that mental picture, how about I distract you with a question? Guess what my favorite thing to do in summer is.
Cook out! Or maybe barbeque. Anything that involves meat and eating outdoors in the sunshine!
Rollerblading. If it's too hot to walk on pavement, just pull out the in-line skates and let the hot breeze push you along. If your wheels melt to the pavement, well, it was time to buy new ones anyway, right?
Basement movie nights. It's cool and dark down there. Perfect time to watch The Accountant or Logan. Who doesn't love tortured hotties in cool, dark places?
Ice Cream. Yeah, I'm lactose intolerant. What of it? Ice cream is the best when it's hot outside. Or cold outside. Or any time.
Answer: D – Those of you who know me well, know I don't cook. I once went on a raw food diet out of laziness. So anything with the word "cook" in it, isn't for me. That cuts out answer I do love rollerblading and I've been known to do it in very hot temperatures, but it's hard and sweaty work. So, I enjoy it but it's not my favorite summer activity. We're getting closer with answer C, basement movies. I do love movie night, and The Accountant and Logan were two great movies I saw just this past weekend. But nothing compares to my love of ice cream. Yes, I am indeed lactose intolerant, but OMG, eating ice cream at the local parlor is my all time beloved summer activity. And that's answer D!
Now here's a trick question. What sport am I going to be watching this summer? Hint: it has to do with my next series for Entangled Publishing.
Surfing. Hot guys, water, the potential for sharks. What could be more fun?
Bear baiting—historical of course because we don't do this anymore. But you know about my grizzly bears, right? FOR THE BEAR'S EYES ONLY is up for a PRISM award! Where else am I going to see bears in action except on some old timey youtube?
Racquetball. On the court, off the court, I love it. It's my favorite sport.
Baseball. My hubby is a huge fan of the Tigers and we watch every game. Why? Because I'm launching a baseball trilogy next year. So if I am forced to watch guys with tight pants whack at a baseball, then who am I to argue?
Answer: D – I do enjoy guys in tight Speedos, but I competed in springboard diving, so I'm more likely to watch that for my wet hottie fix. Cliff diving has good scenery too! As far as I'm aware, bear baiting is not on youtube, and I'm not sure I could stomach it even if it was. I am continuing my grizzly bear shifter series (yeah!) so be sure to pick up the first three books before the next set comes out! I do love racquetball, but I like playing more than I like watching. And sadly, I haven't yet sold a sports romance series with racquetball in it.
Maybe next year! So the last choice is the right one: baseball! I'm writing a trilogy about a made up baseball team in Indianapolis. Which means I have to figure out what phrase like "late season call up" and "screwball" really mean. But don't worry, I'll explain all about it next year closer to release.
So now it's your turn. Tell me what you'll be doing this summer and one lucky commenter will get an e-copy of either of my two PRISM finalists. FOR THE BEAR'S EYES ONLY is about grizzly bear shifters. Roar! And "Rock Hard" (part of the Stone Men series) is about a regency gentleman trapped in a statue until someone special brings him to life. Both are up for PRISM awards and I couldn't be more excited!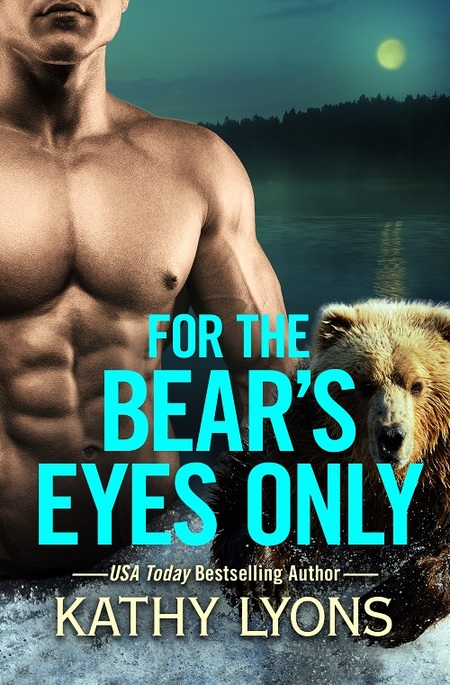 BEAR ON THE PROWL
Life as Alan Carman knew it is over. After he was captured and tortured by a mysterious enemy, the lawyer's latent grizzly-shifter DNA was triggered. The old Alan is gone, and in his place is a terrifying vicious beast that lives and breathes for revenge. He will track down the person who did this to him-and it'll be the last thing he ever does.
Tonya Kappes refuses to let Alan run headlong to his death. A bear-shifting deputy-and the Gladwin Clan's beta-Tonya faces Alan with one weapon: the love that's lingered between them since they were kids. But the idealistic man she knew has changed…into something raw, primal, and unbelievably sexy, igniting every lustful cell in her body. And, if Alan can't learn to love the beast inside himself, maybe he can love the animal in her . . .
Romance Paranormal [Forever Yours, On Sale: November 15, 2016, e-Book, ISBN: 9781455540990 / eISBN: 9781455540990]

Alan has lost himself, can Tanya save him?

She's the beta of her clan, but the alpha of his heart!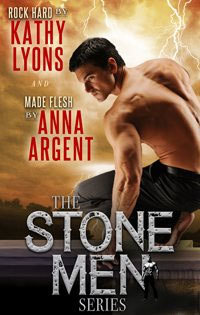 2 books in one
Meet the Stone Men—Kane Addison and Dolton Thatcher— slaves of the hedonistic goddess Pyrenia, their bodies and consciousness imprisoned in stone until needed.
To break the curse, each must find true love. But what modern woman believes in real magic? That statues can come to life? Or that the evil goddess Pyrenia will do anything to keep her playthings enslaved?
Book 1: ROCK HARD: Regency gentleman, Kane Addison, sacrificed himself for the family title only to discover true hell as a cursed slave of goddess Pyrenia. To break the curse, Kane must give one woman a moment of True Bliss. But after centuries of shagging, Kane discovers the truth: only true love breaks the spell. Now 200 years out of his own time and filled with despair, Kane must battle evil minions, selfish goddesses, and the lady's mother to win his beloved Jacqueline.
Book 2: MADE FLESH: After inheriting her uncle's statue of a hot, naked man, Sue Sullivan is shocked when it animates to save her from a brutal attack. Now cast into a magical world filled with warring goddesses, Sue strikes a bargain to give her stone man, Dalton Thatcher, a precious week of freedom. But what begins as a simple bargain is about to cost Sue and Dalton everything, if they can't outwit a goddess.
Paranormal Romance | Romance Paranormal | Fantasy [Self Published, On Sale: August 9, 2016, e-Book, ISBN: 9781614178644 / eISBN: 9781614178644]
Kathy Lyons is the fun, contemporary side of USA Today Bestselling author Jade Lee. She loves sassy romance with lots of laughter and sex. Spice is the variety of life, right? Okay, so maybe two kids, two cats, two pennames, and writing over 50 books has messed with her mind, but she still keeps having fun.
Or hang out with her sexy historical half, Jade Lee. Titled heroes with dark secrets are Jade's passion. Especially when they fall for women who add more than just spice to their lives.