I'm so excited to finally share AUTUMN'S HEALING. It's a bit of a departure for me, dabbling in the paranormal genre.
Mikaylah MacDonough is dealing with an empty nest for the first time and when I started writing this story, so was I. It was a difficult topic for me to tackle. Normally writing is therapeutic and often helps me through life's hurdles. But not this time. This was one of those stories I began, then had to put away for a while, until I was certain I was ready to face my own fears, as I'd found the worst of them wending their way into the plot.
Though Mikaylah and I are both moms, I am the proud mama of three and married to my high school sweetheart for… well… what seems like ever — Kaylah is a single-mom of an only child and about to jump back into the dating game, at the urging of her teenage daughter. That's about where the similarities end. This too is where I get to live vicariously through my characters, as Kaylah opens up to former serviceman, the scrumptious, Jerusalem Aames. A man who is struggling with reacclimating to civilian life with some pretty serious hurdles of his own.
But what's common, I think for all of us, who at some point are forced to relinquish our most precious gifts to the cold harsh world, it's excruciating letting our children go. Not that we want to smother or stifle them, but that worry, that overwhelming need to keep them close and safe, is something that never seems to go away, or get any easier, no matter how old our babies get. But what I've learned, is watching them mature and change, to learn and thrive, and find excitement in all their new endeavours, holds another joy, one I was afraid to let them attempt but knew I had to find the courage to. I had to let them fly.
AUTUMN'S HEALING is a story rife with new beginnings — some of them heart-wrenching — for not only the characters but the writer as well.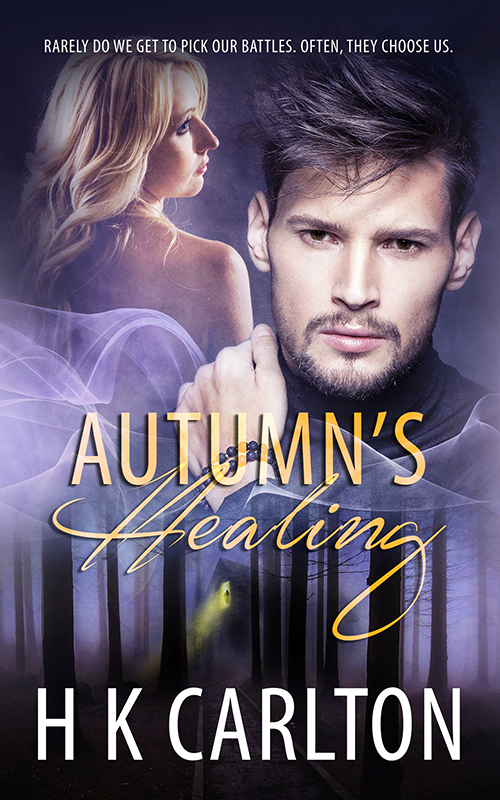 Rarely do we get to pick our battles… Often, they choose us.
Single mom Mikaylah MacDonough and her only daughter Autumn have been on their own a long time. So, when Autumn goes off to school, it seems only natural for Kaylah to pull up stakes and follow, though with some clear-cut boundaries, of course. She's determined to give Autumn space to enjoy the whole college experience but remain close enough for emergencies, meals and laundry. But when the closing date of the current house overlaps with taking possession of the 'new' house, along with orientation week, Autumn has to go it alone. From that moment on, Kaylah's dreams of a new beginning turn into a complete and total nightmare.
When former serviceman Jerusalem Aames drives up to the century-old Cleary house, he sees dollar signs for himself and his all-veteran crew. The rundown, old place would finally put his fledgling construction-renovation firm in the black. But the moment he meets the gorgeous homeowner who had been duped into buying the money-pit, his attraction is swift and instantaneous.
However, there's something very strange going on in the dilapidated house that has nothing to do with rotting timbers or shoddy wiring. Whatever it is, it's affecting Kaylah's state of mind, and Salem finds himself in a battle he's not sure he can win.
Romance Contemporary [Totally Bound Publishing, On Sale: May 16, 2017, e-Book, ISBN: 9781786511539 / eISBN: 9781786511539]
H K Carlton is a multi-published Canadian author of romance and its varied sub-genres, including contemporary, paranormal, historical, and erotic, mf, mm and ménage.
Variety is creativity's playground — It's where you'll find me