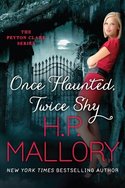 ONCE HAUNTED, TWICE SHY is the second book in the Peyton Clark series and picks up where the first book, GHOULS RUSH IN, left off. In this series, new divorcee, Peyton, relocates to New Orleans after inheriting an antebellum mansion in the Garden District. It isn't long before she realizes her house is haunted and the ghost in question, Drake Montague, is a Casanova and then some!
When Peyton is put into a difficult situation regarding the safety of Drake's soul, she makes the decision to allow Drake to possess her. In so doing, he is able to see and hear everything she does and he also bears witness to all of Peyton's innermost thoughts.
While it was incredibly fun to write about Peyton and Drake's bizarre relationship, I can't imagine wanting to share my head with anyone, living or dead! I had to put myself into Peyton's shoes while I was writing about her interactions with Drake. In doing so, I had to imagine what it would be like not to ever have any privacy (luckily, Peyton can tune Drake out when she wants to). So, while I would never want to share my head with anyone, I do think it would be fun to play the role of Drake and have access to other people's minds! Seems like a great way to know what people are really thinking! Or, on second thought, maybe I wouldn't want to know…
Here's a scene with Peyton while she is out with her boyfriend, Ryan. But since Drake is currently residing in her head … well, let's just say it complicates things.
Ryan looped his fingers through mine before bringing my hand to his lips and kissing it. I smiled up at him and felt my heart rate increase as our eyes met. I wondered if he'd kiss me, right here in public.

"Please instruct le barbare to keep his distance. I do not appreciate being touched by a man!" Drake ground out. "L'indecence!"

"If you don't like it, you can always move out!" I responded. "Speaking of which, when is that day coming?" It was a question that suddenly begged for an immediate response. I never considered exorcising Drake previously because I wanted to ensure my house was no longer haunted before I allowed Drake to re-haunt it…that is, unless of course, he chose to go toward the light or whatever it was that promised him a happy forever.

The idea of him leaving my life suddenly overwhelmingly and inexplicably depressed me. That, in itself, surprised me because I usually felt nothing besides irritation where Drake was concerned.

"I have no answer for you to that question, ma minette. It is something you must answer for yourself," he responded.
About ONCE HAUNTED, TWICE SHY
Sassy, spirited Peyton Clark is back—and she's not alone!
After agreeing to let the spirit of Drake Montague inhabit her body, Peyton soon discovers that the twentieth-century French policeman may be dead but his lothario longings sure aren't. Now she has to find a way to explain to her sweet, sexy boyfriend, Ryan Kelly, that a spirit has taken up residence in her head, whispering French words of affection day and night.
While Peyton is torn between her love for a living man and her growing affection for one deceased, supernatural activity in New Orleans spikes—and something wicked this way comes. With the help of her friends (and a little voodoo), Peyton learns that the demonic spirit of the Axeman may still dwell in her home. To stop bloody history from repeating itself, Peyton will have to travel back a century to confront the Axeman at his roots, with the help of a certain handsome—and suddenly flesh and blood—police officer in the Big Easy.
About H.P. Mallory
H. P. Mallory is a New York Times and USA Today bestselling author of the Jolie Wilkins series as well as the Dulcie O'Neil series. She began her writing career as a self-published author and after reaching a tremendous amount of success, decided to become a traditionally published author and hasn't looked back since. H. P. Mallory lives in Southern California with her husband and son, where she is at work on her next book.