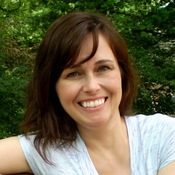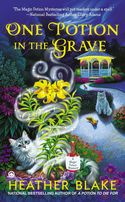 As an author, I've found that inspiration for books can come from anywhere. And I truly mean anywhere. For example, the idea seed for the Magic Potion mysteries sprouted at a rest stop off I-75 in southern Georgia.
More than a decade ago, my family was making its way from Ohio to Florida (16 hours in the car—have mercy!), and we were somewhere in southern Georgia—the part of the trip where slap happiness and delirium sets in and snacks have run out—when we knew it was time to stop for a bit. Walk around. Guzzle caffeine. Restock Peanut M&Ms. We'd just begun looking for a place when we spotted a roadside attraction billboard that contained the magic road-trip words: Clean Restrooms.
It was called Magnolia Plantation, and I'm not even sure if it's still there. Back then, it was a delightful oasis of sights (aisles and aisles of stuff) and smells (pecans, mostly) and sounds (love a Southern accent), and it did, in fact, have clean restrooms.
As we wandered around, our delirium slowly wearing off, I spotted a small section of books. And I found this gem (see picture!).
I knew immediately that it had to come home with me (it helped that it was so cheap!), and that I had to somehow use these old Indian remedies in a book. It took a while (early 2011—just after my first Wishcraft book went into production) for the idea to fully come to me. And when it came, it came full-force. I had to write a book about a healing witch who cures people using herbal recipes mixed with dewdrops from a magical flower. I *adored* this idea, and I couldn't have been happier when my editor at Obsidian loved the idea, too. The Potion Shop mysteries were born.
The moral of this story? When you make those highway pit stops…be sure to take a good look around. You never know what you'll find, or where it might lead you.
Do you have a favorite roadside attraction?
Don't miss Heather's giveaway!
Heather is running a month-long ONE POTION IN THE GRAVE Witchtastic giveaway via Rafflecopter (9/23 – 10/23). Win a set of "Cast a Spell" measuring spoons, a set of three Yankee Candle potion bottle tea light holders, a Lego minifigure witch, and a $20.00 gift card to Barnes & Noble -or- Amazon (winner's choice). Enter here or here.
About Heather
Heather Blake (aka Heather Webber) is the author of more than twenty novels and has been twice nominated for an Agatha Award. She's a total homebody who loves to be close to her family, read, watch reality TV (especially cooking competition shows), drink too much coffee, crochet, and bake cookies. Heather grew up in a suburb of Boston, but currently she lives in the Cincinnati area with her family and is hard at work on her next book. Visit Heather's website, Facebook, and Twitter @booksbyheather.