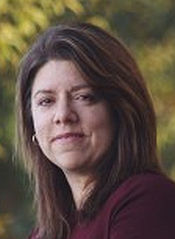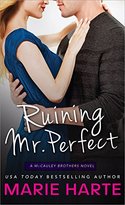 It's never easy being a middle child, and that's kind of how I think of book 3 in my McCauley Brothers series. RUINING MR. PERFECT deals with Cameron, the youngest McCauley sibling, but the book is sandwiched between two books that made me cry at times when writing them.
It's a challenge to write a story about four brothers and not have them all be the same. They're raised in the same house, by the same people, but must have different flaws and vulnerabilities. Yet they can't be so polarizing that they're caricatures instead of characters. Big difference.
In book 1, THE TROUBLEMAKER NEXT DOOR, Flynn is a charming, decent guy who hasn't found Ms. Right yet. Enter Maddie, stage left.
In book 2, HOW TO HANDLE A HEARTBREAKER, Brody has some secrets that have molded him into the man he is today. He's sexy and funny, but wounded emotionally. Abby is just the woman for him, because she won't take less than she deserves, and that she knows he can give.
Book 3, RUINING MR. PERFECT, pits Cameron against a stubborn woman with a hard heart and a troubled parent with a hard head. Cam has always been the odd man out in his family. His father and brothers all work with their hands. Plumbers and construction workers. Cam is a financial genius working in a white collar world, and while his family loves him, they don't always understand him.
Then we cut back to book 4, WHAT TO DO WITH A BAD BOY, where Mike has to fight his inner demons, handle his son, and deal with grief and loss before moving on with his life. But the woman who wakes him up is nothing like the woman who was once his whole world.
Lots of angst bookending Cam's story. While Brody and Mike delve into emotional quagmires, Cam is more straightforward. Cam and Vanessa are awesome characters, because they're so different from the others. Cam is more refined. Vanessa cold and logical, a female Spock or Sheldon, if you will. (Fans of Star Trek and The Big Bang Theory will understand the references.) Yet they both have warm hearts and just need the right person to understand who they really are.
In the end, family rallies around them both, and that's the strength in this series. It's about family and the relationships we make and sometimes take for granted.
I'm also a fan of the McCauley clan's parents. Just because people get older doesn't mean they don't need love, sex, and understanding. I had a blast continuing James and Beth's story in RUINING MR. PERFECT.
If you haven't read the first two books, you can still read this one and understand the plot. But it's a richer read if you can continue from events that occurred in books 1 and 2.
Here's a short teaser from RUINING MR. PERFECT. Enjoy!
Excerpt from RUINING MR. PERFECT
As she rummaged in the cabinet for her organically grown corn kernels and oil for popping, the backdoor rattled. She turned to see Cameron's face in the window, and her heart raced.

Exhaling a long breath, she forced herself to be calm and unlocked the door. "Yes?"

It was either move back or be walked over, so she stepped back while he entered and shut the door behind him.

"Just checking on the little guy," Cam said in a low voice. "Mike is such a dweeb about the kid."

She frowned. "Really?"

"No, not really." Cameron smiled at her.

How she'd ever called him average with a straight face, she didn't know. The man was her every fantasy made flesh. A great body, handsome face, and amazing mind. And God, he could kiss. As much as she wished she didn't continually replay their embrace, she hadn't forgotten that kiss at Christmas.

"Oh?" Damn, she sounded out of breath.

Cameron stalked her until she realized he'd backed her against the corner of the kitchen, away from the view from the hallway.

"Cameron?"

He planted his hands on either side of her on the counter. What the hell?

"The guys are on break while we order pizza. The crap kind from a chain." He sighed. "What can you do?" He glanced at her popcorn and grinned. "Oh, that's my favorite. Just a bit of oil and it pops up a storm." He looked back at her mouth. "Great taste. I just came over to say what a good job you did being firm with Colin."

"Ah, okay."

He moved in closer.

"Cameron?" she squeaked on a whisper, for some odd reason not wanting the others to know he was here with her.

"Your lips are so red. So pretty. Do you wear lipstick?" He leaned in and kissed her before she could answer or even think to refuse.

Hell, who did she think she was kidding? The moment he'd put his hands on either side of her, all thoughts had just stopped. Vanessa stood still, letting him control the kiss, his lips soft yet firm, his tongue sipping then penetrating slowly. No rush, but a leisurely exploration that turned her knees to jelly.

He moaned low in his throat and deepened the kiss. Not enough to overpower her, but enough that she felt to her toes a raging lust to wrap her legs around him and hold on until the storm passed.

Instead she remained frozen, her hands somehow on his waist, her mouth under his.

He eased back. His blue eyes looked cloudy, his lips slick from their kiss. He smiled, and the curl of that grin shook her foundation, made her want with a passion that shocked her.
About RUINING MR. PERFECT
It's not easy being right
Vanessa Campbell is a CPA by day and a perfectionist by night. She's fit, successful…and decidedly lonely. She can't stop thinking about the youngest McCauley brother, Cameron. He's just like her: smart, attractive, and usually right—except when dealing with her.
…But someone's gotta do it
Cameron McCauley likes Vanessa a little too much. She's a blond goddess with a razor-sharp tongue. She hates to be wrong, just like him. But she can hold a grudge and is stubborn to a fault—also like him.
A past disagreement has them rubbing each other the wrong way. Cam is dying to shake Vanessa up—get her to let loose. But if he succeeds, can his heart handle it?
About Marie Harte
Caffeine addict, boy referee, and romance aficionado, New York Times and USA Today bestselling author Marie Harte is a confessed bibliophile and devotee of action movies. Whether hiking in Central Oregon, biking around town, or hanging at the local tea shop, she's constantly plotting to give everyone a happily ever after. Visit her website and fall in love.