I've always had a fascination with the paranormal, so it's really no surprise to me that I started writing witches, psychics, and empaths… My early love of I Dream of Jeannie, Bewitched, and more recently, my slight addiction to Long Island Medium have all have influenced me. But alas, I'm not a witch. Or a genie. Or a psychic. Instead of writing what I know (a common phrase in fiction writing), I simply write what fascinates me.
Beyond pop culture influences, I've also had some personal incidents in my life that have made me take note of the paranormal. When my twenty-two-year-old son was three, it was early morning when I heard him talking in the other room, having a full conversation with someone I couldn't see… When I asked him who he was talking to, he said quite seriously (yet calmly), "The man."
Spooky, right? It was for me too—at first. But my grandfather had died the week before, before he'd had a chance to meet my son… I like to believe that they were getting to know each other.
For years, I've noticed that when I get into my car, my rearview mirror is tilted. If I run an errand and come back to the car the mirror is askew. Not every time, but enough times to make me wonder who's riding along with me.
It's situations like these — and others I hear about — that keep me writing about things that can't easily be explained. I write books that deal with things that go bump…all day long. All of it is unexplainable. All of it so very fun.
Fun, because my preference is to take supernatural experiences and keep them light, to find the humor in them, or to take an emotional look at how these things can impact the lives of those around them…for the good. Despite writing murder mysteries, I prefer to focus on the good, not the evil, which comes across in every book I've ever written. There's too much dark in the world as it is—which is why I don't like scary movies…or watching the news. Instead you'll catch me watching repeats of Bewitched.
Have you had anything go bump lately?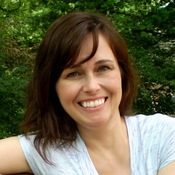 Heather Blake (aka Heather Webber) is the author of more than twenty novels and has been twice nominated for an Agatha Award. She's a total homebody who loves to be close to her family, read, watch reality TV (especially cooking competition shows), drink too much coffee, crochet, and bake cookies. Heather grew up in a suburb of Boston, but currently she lives in the Cincinnati area with her family.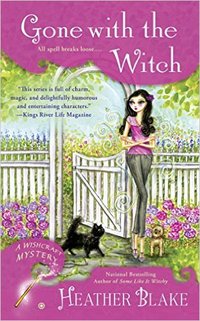 Wish-granting witch Darcy Merriweather's powers are put to the test when murder takes first prize at the local pet show. . . .
Darcy and her dog Missy are determined to put their best foot forward at the Enchanted Village's annual Pawsitively Enchanted pet contest. She's happy to lend a hand when the show's organizer hires Darcy to keep an eye on things among growing suspicions that someone is sabotaging the event. But Darcy's quest for justice is thrown off the scent when her lead suspect is found dead at the competition.
As if a murder weren't bad enough, someone begins snatching up prize-winning pets right from under their owners' noses, and Darcy is determined to protect the pampered participants at whatever cost. But she'll have to work fast to sniff out the thief while also trying to find a killer who's intent on stopping Darcy dead in her tracks