I'm very excited to be here on Fresh Fiction today to celebrate the release of A PROTECTOR IN THE HIGHLANDS! This book is the second in my Highland Roses School series about two sisters who journey into Scotland to start a school for ladies in the 1690s. The theme around the series centers on empowering women at a time when they were often treated as inferior. Women were left out of inheritances, business dealings, education, and decision making. Their purpose in life was to bear children and manage the home. And if a woman found herself in a domestic abuse situation or attacked, she was often blamed with no way out.
When researching for my series, I read a wonderful book about two sisters living in the mid-1600s in England (A Court Lady and A Country Wife by Lita-Rose Betcherman). One sister birthed several children and managed her home mostly in the country while the other one became an influential woman at court. Both ladies were considered a success in their circles, although they had many limitations placed upon them because of their sex. Even though the court lady was a friend to the queen of England, she still had to have a man sign a contract for her to acquire land in Ireland. She had to wait years in order to gain monies from her investment because she couldn't secure the cooperation of the man. The country wife was headstrong and managed her family's finances with an iron fist, keeping them afloat in very strained times. Yet she was considered a shrewish wife because of her strength. The book, which uses true events about the contrasting sisters in the English Percy family, very effectively shows the manacles that were placed upon women of the time.
On top of the legal restraints on women, society also put physical restraints on women with their binding costumes. I was fortunate enough to commission Victoria Vane to create a 17th-century court gown and set of stays for me. I journeyed down to her studio for the final fitting, which was so much fun. I only wore the stays for two hours, but they were a challenge, and I swear that they moved my internal organs around! I had lines from the boning etched into my skin when I took them off. While wearing the costume, I couldn't bend very well or walk quickly or do more than pose. Granted, I haven't been raised in stays and heavy, cumbersome gowns. However, the full, beautiful costume would have made defending myself or running away nearly impossible. Talk about being trussed up!
When I started the Highland Roses School series, I decided to make a way for ladies of the 17th century to become more independent and able to protect themselves. I, of course, had to stay within the lines of history and cultural norms of the time. Yet, as a writer, I had the fun opportunity to create a school where women could learn, not only to read, write, and pour a proper cup of tea, but they could also learn how to break out of an attack and even fight back. The purpose of the school is to teach women how to protect themselves, both physically and through knowledge. They build confidence and are empowered during a very restraining time for women.
In A PROTECTOR IN THE HIGHLANDS, Scarlet Worthington, one of the two Worthington sisters who came from England to start the school in Scotland, slowly rebuilds her confidence after being the victim of an assault. She learns to pick up the pieces of her shattered life to create something beautiful with them. The entire series, but especially this book, is about empowering women, something we are still working on today.
Highland Roses School Book 2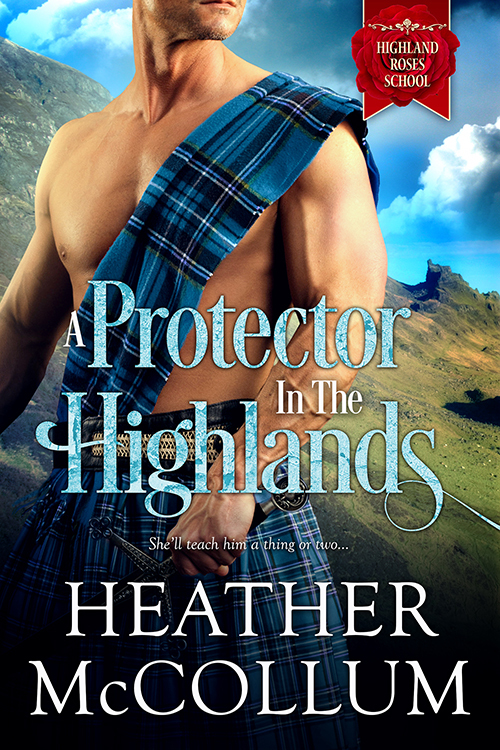 With few other options, Scarlet Worthington flees from her home in
England to the wild Highlands of Scotland to help her sister run a
school for ladies. There, Scarlet begins to rebuild her own shattered
confidence by recruiting a fierce Campbell warrior to teach her and the
students how to protect themselves from villains and scoundrels. The
intimidating Aiden Campbell both infuriates Scarlet and ignites a fire
inside her as she works closely with him to hone her new skills.
Burned in a fierce fire, set by English soldiers, Highland warrior, Aiden
Campbell, has finally healed enough to take temporary command of his
clan. That's where his focus should be instead of dealing with the
feisty, beautiful Sassenach who asks him to teach her students.
When Scarlet's past stalks her up into Scotland, her nightmares come
alive, and Aiden's lessons are put to the test. With his own ghosts from
the past making him despise English women, Aiden fights the inferno of
passion that's grown between them, a different kind of wild fire that
could prove just as deadly.
Each book in the Highland Roses School series is STANDALONE:
* A Rose in the Highlands
* A Protector in the Highlands
Romance Historical [Entangled: Amara, On Sale: November 26, 2018, e-Book, / ]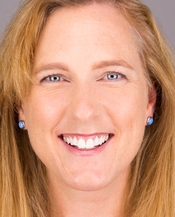 Heather McCollum is an award winning, historical romance writer. She is a member of Romance Writers of America and the Ruby Slippered Sisterhood of 2009 Golden Heart finalists.
The ancient magic and lush beauty of Great Britain entrances Ms. McCollum's heart and imagination every time she visits. The country's history and landscape have been a backdrop for her writing ever since her first journey across the pond.
When she is not creating vibrant characters & magical adventures on the page, she is roaring her own battle cry in the war against ovarian cancer. Ms. McCollum recently slayed the cancer beast and resides with her very own Highland hero, rescued golden retriever & 3 kids in the wilds of suburbia on the mid-Atlantic coast.