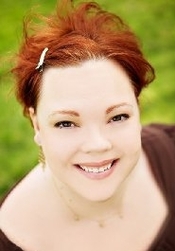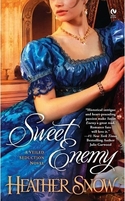 SWEET ENEMY…A Veiled Seduction Novel ~ Book One
"Historical intrigue and heart-pounding passion make Sweet Enemy a great read. Romance fans will love it." ~#1NYT Bestselling Author JULIE GARWOOD
Geoffrey Wentworth, a war hero and rising political star, never wanted to be the Earl, but when his brother dies, he knows his duty—take up the responsibility for his family's estates.  His mother's definition of duty differs from his, however, and can be summed up in one word—heirs.  When Geoffrey rushes home to answer her urgent summons, he finds himself host to a house full of women, all vying to become the next Countess of Stratford.  But his love is Parliament, where he wields his influence and reputation to better the lives of ex-soldiers, until a tempting houseguest and a secret from his past threaten his freedom…and his heart.
Liliana Claremont, a brilliant chemist, doesn't want to be any man's wife, much less a countess.  If she had tuppence for every time she'd been told her place was filling the nursery, not experimenting in the laboratory, she could buy the Tower Bridge.  However, when she receives a coveted invitation to the Earl's house party, she trades in her beakers for ball gowns and gladly takes on the guise of husband hunter—for the chance to uncover what the Earl had to do with the murder of her father.
Liliana believes the best way to get the answers she needs is to keep her enemy close, though romance is not part of her formula. But it only takes one kiss to start a reaction she can't control…
When I sat down to write SWEET ENEMY, my debut Regency historical with a touch of mystery, I knew I faced some challenges in getting my characters to a happily-ever-after.  After all, the title implies that something stands between my hero and heroine that would make them enemies. I already knew what my mystery was going to be:  My lady chemist heroine, Liliana, would be going undercover as a husband-hunter at a country house party to investigate her father's murder—and that she was pretty certain someone in the hero's family was responsible.
That's not just something a girl gets over just because the hero is handsome and gives her flutters in her tummy.
Then, just because I like a challenge (or am a glutton for punishment—you decide), I heaped on a little more.  My hero, Geoffrey, is a war hero who is using his political influence to better the life of ex-soldiers.  I knew my mystery was related to something that happened during the Napoleonic Wars, so I decided to make the secret Liliana is trying to uncover a treasonous one.  Geoffrey would be devastated, both personally and politically, if it turned out he or someone in his family had been a traitor…and he would hate Liliana for bringing it to light and destroying everything he'd worked for.
Add in the fact that I gave Geoffrey a manipulative, deceptive mother and a gut-deep disdain for any woman even remotely like her, then had him view Liliana throughout the book as the most refreshingly honest woman he'd ever met?  Well, you can imagine what would happen when he finds out she has been there under false pretenses all along…
So here I was now with all this great, page-turning conflict.  But how in heavens was I going to get these characters from there to happily-ever-after?
Well, first I had to move slowly, and ignore all of those who said that readers would be impatient and who insisted there must be a sex scene earlier in the book.  There was no way Liliana was going to just jump into bed with a man she perceived as her enemy.  Nor would Geoffrey actively pursue a woman invited by his mother to a match-making farce of a house party.  I couldn't force them into bed any sooner than was natural for their characters.
I had to carefully create situations that put them together, against Liliana's best intentions to avoid discovery and Geoffrey's best intentions to avoid marriage-minded females (which he believes Liliana to be).  I had to mold them into characters who were so very different on the outside, but so utterly perfect for each other on the inside—characters who were so strongly bonded that when the truth came out and their hearts were torn in two, they could still find their way back to each other, to their happily-ever-after.
And the only way to do that was to make them friends first.  I had to use what was within my characters' souls—their goals, their desires, their personalities, their passions—to help each other grow into a person they couldn't be without the other.  And to my delight, rather than impatience, readers have found Liliana and Geoffrey's relationship refreshing:
"I adored both Geoffrey and Liliana. Their progression from slightly antagonistic and adversarial, to a true friendship based on mutual respect and admiration was a joy to read."~ Manic Readers
"The chemistry between these two was wonderful: their initial attraction packed enough spark to intrigue them, but what developed between them was much more than physical attraction. I guess what made me fall in love with SWEET ENEMY was that the hero and heroine got to know each other, and their love grew from the deep understanding and appreciation of the other's character. Their love was sweet and deep. And wonderful to read about!" ~Book Lovers, Inc.
"I loved the chemistry between both Liliana and Geoffrey. I liked that it was a slow build to a relationship. They didn't just hop into bed with each other within moments of meeting one another. In fact, they both try to stay away from the one another and in doing so they start to realize that there may be more to the other. Geoffrey and Liliana are both able to be themselves while around each other and it was refreshing to watch them slowly grow closer and then eventually to love one another." ~ Ramblings from this Chick
"The discovery of both Geoffrey and Liliana and their love for each other is slow, lovely and surprises both of them."~Maxine, Goodreads reader
Now, just because the romance develops slowly, have no fear that the story does as well…
"Readers won't be able to put SWEET ENEMY down. A fast paced plot and captivating characters make SWEET ENEMY a must read for all historical romance fans. Well deserving of the Perfect 10 rating, readers, myself included, will be eagerly anticipating another novel by this delightful author." ~ Romance Reviews Today
SWEET ENEMY does have a high sensuality rating, as well.
We all know that anticipation is one of the sweetest parts of a love affair.  What do YOU anticipate the most when reading a romance?  Two random commenters will receive a signed copy of SWEET ENEMY (open internationally).
About the Author:  Heather Snow is a historical romance author with a degree in Chemistry who discovered she much preferred creating chemistry on the page, rather than in the lab.  She is forever trying to wrangle her left and right brain to work together (some days with more success than others!), but if her two sides had to duke it out, left would win every time—which can be a creative challenge.  Luckily, she loves challenges…she just goes about solving them analytically.
Heather lives in the Midwest with her husband, two rambunctious boys and one very put upon cat. She sincerely hopes you find her stories have just the right chemistry…
Please visit her at www.HeatherSnowBooks.com, on Facebook Facebook or on Twitter
SWEET ENEMY is available wherever books are sold and at these fine retailers.
Rainy Day Books (Heather's local Indie)
Books-A-Million
Barnes and Noble
Indiebound
I-Book
To comment on Heather Snow's blog please click here.