Ever since I watched the TV series, I've always been fascinated by Wonder Woman. Lynda Carter really pulled off that tiara-camisole-shorts look which could have been ridiculous on anyone else… Her version of a demigoddess warrior princess was amazing. Warrior? Yes, Wonder Woman is a warrior with awesome god-forged weapons that can't be referred as gadgets. How cool is her Lasso of Truth, indestructible bracelets, razor-edged throwing weapon-tiara? And what about her silent and invisible plane controlled by mind?
Wonder Woman, Princess of Themyscira, aka Diana Prince, is definitely the ultimate female warrior. An Amazon who inspired me when I began writing about Rose, the female lead character of my New Adult paranormal love story, the Black Angel Book series.
Although twenty-two-year old Rose starts out as a heart-broken, emotionless cutter in TWICE UPON A TIME (Book 1 in the series), she grows into a stronger woman facing emotions and facts she's not quite equipped to deal with…until she is.
Step by step Rose gains strength, overcome her fears and learns to embrace her challenges head on. That's no surprise why she chooses to dress as Wonder Woman to her cousin's Halloween party in DEADLY EVER AFTER (Book 2), that was released on June 2nd. She picks an alternate costume version yet her attitude fits the character.
As the series unfolds, Rose is no longer scared or numb, she fights. For truth. For justice. For love. She stops overthinking and overanalyzing everything before acting…a more masculine way to handle life, a more feminist way, I think. An Amazon.
Rose realizes that she's the one holding the key to her life, nobody can make it happen but her. That doesn't mean she's happier alone, far from it. Rose understands that she needs to be at peace with herself and believe in herself to fulfill her unorthodox fairytale.
And since it's a romance series, her fairytale leads her to a roller coaster of emotions, most of them due to her not so typical prince. ONCE UPON A DREAM (Book 3) and MADLY EVER AFTER (Book 4), soon to be released in 2016, will give other twists and turns to their love story. Each of them is a strong main characters yet they'll become even stronger together.
My goal was to bring multi-layered characters, such as Rose and her prince, to the readers. Characters who have weaknesses and flaws. Characters who fight for what they think is right. That's probably why none of them are quite what they appear to be in the beginning of the series. I hope you'll enjoy reading about them as much as I enjoyed writing the series.
Happy reading!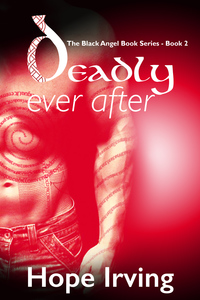 I, Virgil, know that people prefer to remember the happily ever after ending rather than the dark side in every fairytale. I know better. I learned about the dark side of those stories and the consequences. The fairytale I inherited from the Irish star-crossed lovers didn't turn out so well the first time. I had a shot at bringing the souls of the monk and the witch back together last summer and I failed miserably.
How foolish of me to believe in the awakening of the princess thanks to the handsome prince's kiss when I am no prince! Sharing our true nature with Rose, my clueless soulmate, is a necessary evil. I am on a mission. I trust my soul and our attraction to succeed. I don't trust Bruce, her providential knight in shining armor. He's not who he claims to be. Rose can't be with him. She can only fight our chemistry and her growing magical powers for so long. I need to step back into her life. Woo her, with a vengeance. I'm deadly serious.
I, Rose, used to be numb, until I discovered what it was to feel again, thanks to Virgil. He messed up my mind and overwhelmed my heart with unknown sensations. For once, I was willing to welcome some of those irrational emotions. It's unfortunate that Virgil's indecisions sent me to New York with my summer fling.
How foolish of me to believe in the perfect fairytale Bruce offered me when I am no princess! Some say I am an Amazon. My mind is content with my life but my heart yearns for the wolf to change its course. What if I decide to be an Amazon princess? I'm deadly serious.
Could we actually be soulmates, brought back together by an ancient spell, destined to embrace this unorthodox fairytale and a happy ending?
That would be deadly wicked.
Hope Irving is the proud mother of a lovely and witty young lady, and the lucky wife of a loving and supportive husband. She's a debut indie author who lived in Paris, France, most of her life and also in the US, where she graduated with a master degree.
She loves Nutella and Camembert cheese (not together), carrot cake and cinnamon Altoids.
Her favorite fictional characters are Eric Northman (Sookie Stackhouse series, Charlaine Harris) and Sean Bateman (The Rules of Attraction, Bret Easton Ellis).