By Aunt Bess from THE CALAMITY CAFÉ by Gayle Leeson
That's what I tell people who say I'm too old to do this or that. I say, "Hide and watch me!" I'm eighty-two. So what? That's nothing but a number. I can go and do just about as good as I could thirty years ago.

For my eightieth birthday, I decided I wanted to get in on all this Internet stuff the kids are doing. So I asked for a computer. My niece Jenna—she lives with me, you know—said, "Now, Aunt Bess, you don't need a computer. You can use mine."

"Well, I don't want to use yours," I said. "I want my own."

So she and her daughter Amy and my granddaughter Jackie all went in together and bought me this little laptop. That's what they call it. It's a computer you can put on your lap. But if you put it on your lap and don't have a tray or something underneath it, it's gonna get your legs hot, I'll tell you that. And that's not necessarily a bad thing in the winter, but I'd rather not burn up in the summer. That's why I had Jackie go over to the store and get me this contraption that has a wooden top like a desk and a beanbag bottom. It's nice. It's curved to fit around your middle, so you can plop your laptop right down on that desk of a thing and surf around that Internet all day or until a good program comes on, you decide you'd rather be reading, or your battery dies—whichever comes first.

One of the sites I like is the Pinterest. Do y'all have the Pinterest? It's a wonderful thing. You sign up for an account—for free, they don't charge you a thing—and they let you make what they call boards. You give these boards names and then you can put pictures up on them. For instance, one of my boards is called People I've Outlived. That can be a sad, sad board. It has pictures of Elizabeth Taylor, Rock Hudson, Cary Grant, one of the neighbor women, Princess Diana and Robin Williams (those two purt near broke my heart when I added them), and Saddam Hussein. It didn't really bother me too awful much to put him up on the board. I didn't know him, and they said on the news that he was real mean.

I have this other board called Things I'd Love to Eat. That's one of my favorites. If you've never been to the Pinterest, they have the biggest bunch of recipes you ever did see. They have recipes for specific diets, foods you can make in a hurry, party foods, and desserts. I love desserts. I've pinned me a whole slew of desserts on my Things I'd Love to Eat board. The thing is, Amy and Jackie use that board to see what I might want to have when they come over to cook me and Jenna Sunday lunch.

One time, Amy asked me, "Aunt Bess, you do know there are other foods out there besides dessert, don't you?"

I told her, "Yes, ma'am, I do, but I'm eighty-two years old. And if I want to have a meal that's all desserts, by crackie, I'll have it."

She laughed and gave me a kiss on the cheek. She'll be old one of these days, and I'll remind her of that little remark about the desserts.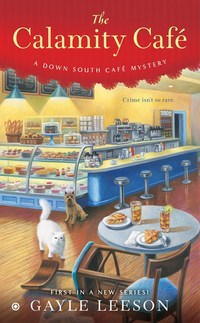 First in a new cozy mystery series featuring Southern cooking that is to die for.
Aspiring chef and small-town Virginia native Amy Flowers is ready to open her own café offering old-fashioned Southern food. But her dream may go up in smoke when someone kills the competition…
Tired of waiting tables at Lou's Joint, Amy Flowers doesn't just quit—she offers to buy the place from her bully of a boss, so she can finally open the café of her dreams. Amy can't wait to serve the kind of Southern, down-home treats and dishes that her grandmother always loved to the kooky cast of regulars at the restaurant. She knows her comfort food will be the talk of the sweet, small town of Winter Garden, Virginia.
At first Lou Lou refuses to sell, but when she seems ready to make a deal, she tells Amy to come see her. Showing up at the eatery ready to negotiate, Amy is shocked to find her former employer murdered. As the prime suspect, Amy will have to clear her name by serving up the real killer—and with Lou Lou's stack of enemies, that's a tall order.
Includes delicious Southern recipes!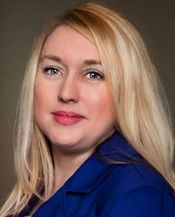 Gayle Leeson is a pseudonym for Gayle Trent. I also write as Amanda Lee. As Gayle Trent, I write the Daphne Martin Cake Mystery series and the Myrtle Crumb Mystery series. As Amanda Lee, I write the Embroidery Mystery series.
I live in Virginia with my family, which includes her own "Angus" who is not an Irish wolfhound but a Great Pyrenees who provides plenty of inspiration for the character of Mr. O'Ruff.