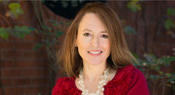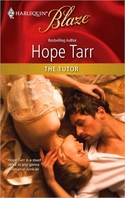 What would you do if you knew you had seven sexy days and nights in your very near future? We're talking passion so scalding, so unbridled, and so primal that most mortals never know the like.
The catch: those same seven sexy days and nights are most likely going to have to last you the rest of your life. Oh, and you're not quite twenty-one which means "the rest of your life" promises to be a very, very long time.
Lady Bea Lindsey confronts that very scenario in THE TUTOR, my Victorian-set romance published with Harlequin's super sexy Blaze line. At the opening of THE TUTOR, Bea has gotten herself engaged to a very nice, very dull gentleman.
Conventional wisdom counsels that a young woman on the cusp of twenty-one, in this case a young woman of noble birth, purse-poor dowry, and an impulsive nature, dare we say "wild streak" should settle down safely and quickly. But conventional wisdom is not always…wise. And Bea is very much a modern girl-modern in the context of the 1890's. She may be willing to settle for a dry-as-toast husband at the dining table but when it comes to the boudoir, she is going to need a little jam.
Only a disastrous dry run of the wedding night (pun intended) has demonstrated that if she wants any pleasure in her marriage bed, she'll have to take the lead. But first she needs to be taught. And who better to take on the role of tutor than the oh-so-sexy Ralph Sylvester, a former East London street rogue and her brother-in-law's private secretary?
Never did Ralph imagine that the woman of his dreams, a lady born, would proposition him and on the very night her engagement to another gentleman is announced! But when Bea shows up at Ralph's bedchamber door after midnight wearing a red velvet cape and nothing beneath, he knows she means business. Armed with a contraband copy of The Kama Sutra and nine months' of shored up lust, he sets about tutoring her in the loving arts. It's every man's fantasy, until the pupil surpasses the teacher.
I hope readers enjoy THE TUTOR because I certainly enjoyed writing it. I also hope you'll take two ticks and check out MY LORD JACK, my digital release with CarinaPress.com. First published with Berkley in 2002, MY LORD JACK has gotten a face lift, if you will. Freshly edited and with a beautiful new cover, Jack is back and better than before. I'm really excited to share this special, dare I say "out of the box" story with a new generation of romance readers.
Hope Tarr is the award-winning author of thirteen historical and contemporary romance novels including THE TUTOR. MY LORD JACK and A ROGUE'S PLEASURE,originally published by Berkley, release digitally with Carina Press on July 12th and August 16th, respectively. "Tomorrow's Destiny," her first novella, will appear in a single-title Christmas anthology, A HARLEQUIN CHRISTMAS CAROL, with Jacquie D'Alessandro and Betina Krahn this November 10, 2010. Hope will read THE TUTOR (on July 5th) and TOMORROW'S DESTINY (on December 6th) at Lady Jane's Salon, New York City's first and only monthly romance reading series, which she co-founded. Visit her online at her website, where you can read her blog and enter her regular contest.
To comment for a chance to win on Hope's blog please click here.