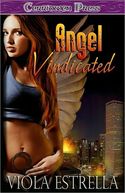 January 2010
On Sale: December 30, 2009
Featuring:
Abby Angel; Simeon Keller
292 pages
ISBN: 1419920685
EAN: 9781419920684
Trade Size
$14.99
Romance Paranormal
Buy at Amazon.com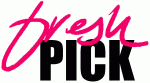 2010 Romance Writers of America RITA Finalist for Best First Book
Angel Vindicated
by Viola Estrella
Abby Angel doesn't always enjoy her job, but she excels at it. Deporting unruly demons back to Hell is her specialty. Her personal life, on the other hand, could use a little work. The virtuous gene seems to be missing in this particular Angel, getting Abby into more trouble than she likes to admit. To date, her biggest vice has been Siméon Keller, a half-demon/half-human, who effortlessly managed to seduce Abby five years ago. She's avoided him ever since but can't seem to knock the bad reputation the blunder has branded on her. Now the threat of a demon rebellion has Angels, Inc. overwhelmed and Abby must trust Siméon to help her find the fiends threatening to destroy Earth's only salvation. Staying out of Siméon's bed is the least of her worries as she fights for the lives of all Angels and humans everywhere.