Life can be frustrating, especially at this time of year with vampires, goblins and wizards–both real and imaginary. Sometimes a girl's gotta have a little fun. So sit back and relax with these hot October romances.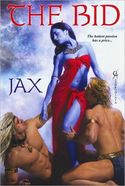 THE BID, Jax (Aphrodisia, October 2010, $14.00) As Jax, Jacquelyn Frank—New York Times bestselling author of the Nightwalkers and Shadowdwellers series—makes her Aphrodisia debut with a blisteringly hot erotic novel set in an exotic paranormal world. Strapped and chained on the block, a masterpiece of naked flesh and muscle turns slowly…the eyes of the crowd devour the sight of Vejhon, whose platinum-white hair marks him as newly captured from a wild planet on the outer edges of space. His cat-green eyes blaze with fury at the noble men and women in a bidding frenzy—and stops on a man named Najir. This strikingly handsome man who strangely resembles him cries out the winning bid on behalf of the lady he serves. Hanna Drakoulous must and will have a matched pair of the finest males in the galaxy. Shackled, Vejhon can only marvel at the mysterious beauty with blue skin and shining eyes whom Najir clearly worships. But Vejhon refuses to humble himself—until Hanna's kiss strikes him like lightning. First dominant, then sensually tender, she arouses him to explosive sexual passion that goes beyond the limits of physical pleasure. What manner of mistress has bought him and what does she want? Freedom is what he wants, but will she be worth the price?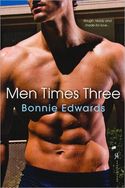 MEN TIMES THREE, Bonnie Edwards (Aphrodisia, October, $14.00) Bonnie Edwards—author of Thigh High, Midnight Confessions, and The Hard Stuff—brings her trademark heat and sensuality to three interwoven romances revolving around the O'Banion brothers, three sexy builders who are very good with their hands.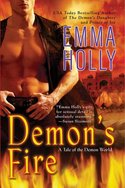 DEMON'S FIRE, Emma Holly (Berkley, 10/05/2010, $7.99) Escaping a routine life, Beth joins an archaeological dig with her long-time friend Charles. The desert is perfect for adventurers—especially when it comes to exploring forbidden appetites like Charles's shameful desire for a demon. But as Charles and Beth are about to learn, some demons find humans equally irresistible.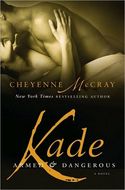 KADE, Cheyenne McCray (St. Martin's Griffin, 10/26/2010, $14.99) After a bitter divorce, reporter Kelsey Nichols has erected a border around her heart too strong for any man to cross. She's not ready for a relationship of any kind with any man. But when Kelsey meets Kade she can think of nothing but being in his powerful arms and in his bed. Intelligence Agent Kade Owen is hot on the trail of a notorious smuggler when the sensual blonde reporter comes into his life. Once he gets a hold of Kelsey, nothing will stop Kade from winning her heart.
What hot romances are you reading in October? comments