You could spend the month of Halloween with some pretend supernaturals. . . Better yet, why not spend this October with some real vampires, wolves and wizards oh my. Time to the let magic, fur and fangs fly. . . . Check out these new October paranormal titles.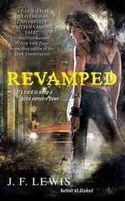 REVAMPED, J. F. Lewis (Pocket, 09/28/10, $7.99)
Eric survived a vicious showdown with his double-crossing former best friend and some angry lycanthropes—barely: he's lost his strip club, his treasured red Mustang, his love life, and even his body. But with a little magic, the die- hard Vlad returns to corporeal form, and "Fang the 'Stang" is restored—with an unlife of its own. Now Eric's ready to match wits with one of Void City's most powerful demons to rescue the soul of Marilyn, the love of his (mortal) life. But salvation comes at a high price, forcing Eric to enter his own worst nightmare, vampire High Society, to uncover the truth about the origin of his powers. Having to deal with the Void City elite is bad enough, but the more Eric sniffs around, the more it looks like someone is after his soul, too. Now blood will flow and fangs will be bared, because revenge is never pretty-and Eric has plenty to pass around.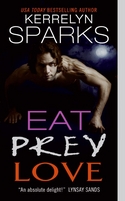 EAT PREY LOVE, Kerrelyn Sparks (AVON, 9/28/2010, $7.00)
Carlos Panterra is looking for a mate, a woman who will love and care for the young orphans he's recently taken under his wing (or paw, as the case may be). When the shape shifter spies the beautiful Caitlyn, it's like sunshine amidst the darkness. At last, he's found the perfect woman, except. Caitlyn Whelan is mortal. Worse, her father is the head of a CIA agency bent on hunting the undead. Still, Caitlyn knows that Carlos is the man for her, shape shifter or not. So she jumps at the chance when her sister offers her a job to work with him, determined to show Carlos their attraction is more than just animal magnetism. But danger lurks in the night, and their unleashed, untamed passion might just get them both killed.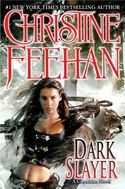 DARK SLAYER, Christine Feehan (Berkley, 9/28/2010, $7.99, Carpathian)
Ivory Malinov has lived centuries without love. Then she picks up the scent of a man. Her salvation. Her lifemate. The curse of all Carpathian women. He is Razvan, a dragonseeker. In spirit, in flesh and in blood, in love and in war, Ivory and Razvan are made for each other. For as long as they dare to live.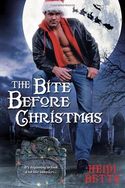 THE BITE BEFORE CHRISTMAS, Heidi Betts (Brava, October 2010, $14.00)
The perfect gift for vampire enthusiasts everywhere—a trilogy of sexy, witty, irresistible vampire novellas from bestselling, award-winning author Heidi Betts. Where do single vampires go when they're looking for romance? To Love Bites, of course, Angelina Bertolli's highly successful, top secret vampire dating agency. Angelina prides herself on her ability to help vampire couples find true love. But sometimes, even mortals need a little help from the undead… Like Jillian, the party planner who Angelina knows is just perfect for holiday- loving vampire Connor in "All I Vant for Christmas." Then there's Vivian, a lovesick vamp pining for her mortal co-worker Nick in "A Vampire in Her Stocking" -and about to get a very unexpected present. And in "It's A Wonderful Bite," Angelina gets the gift of finding out what her life would have been like if she'd never been turned.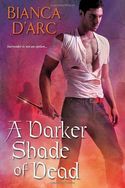 A DARKER SHADE OF DEAD, Bianca D'Arc (Brava, October 2010, $14.00)
The next big paranormal craze after vampires? Zombies. And nobody does it better than Bianca D'Arc in sexy, action-packed novels like A Darker Shade of Dead. Tapped for a classified military program, Dr. Eileen McCormick has nothing left to lose. Bad enough her genetic experiments were used to turn innocent victims into zombies; worse still, a ruthless ex-colleague is threatening to expose her unless she joins his sinister research project. The only way she can set things right is to develop an antidote under the watchful eyes of Commander Matt Sykes— a man capable of uncovering all her deepest secrets. Now, with the zombie virus threatening to reach epidemic proportions, Matt and Eileen's uneasy trust may be their only way to avert catastrophe—if it doesn't get them killed first.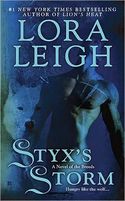 STYX'S STORM, Lora Leigh (Berkley, 10/05/2010, $7.99, Breeds)
To save innocent, young Storme Montague from the claws of Breed slave traders, Wolf Breed Styx is forced to claim her himself—on the condition that Storme will no longer be a virgin by night's end. And though Storme's defenses are up, Styx will free her—in ways she never expects.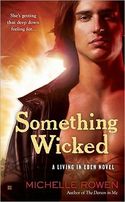 SOMETHING WICKED, Michelle Rowen (Berkley, 10/05/2010, $7.99)
Darrak, the demon inside of Eden Riley, is able to take physical shape during the day. And Eden wouldn't mind getting her hands on him—if it wasn't a threat to her immortal soul. But while trying to rid themselves of the curse that binds them, they could get the distance they need- or each have their own private hell to pay.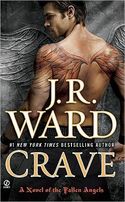 CRAVE, J.R. Ward (Signet, 10/05/2010, $7.99, Fallen Angels)
Isaac Rothe is a black ops soldier with a dark past and a grim future. The target of an assassin, he finds himself behind bars, his fate in the hands of his gorgeous public defender, Grier Childe. His hot attraction to her can only lead to trouble—and that's before Jim Heron tells him his soul is in danger. Caught up in a wicked game with the demon who shadows Jim, Isaac must decide whether the soldier in him can believe that true love is the ultimate weapon against evil.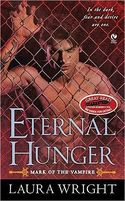 ETERNAL HUNGER, Laura Wright (Signet, 10/05/2010, Mark of the Vampire)
Alexander Roman wants nothing to do with those of his vampire breed. Fate places him at the door of Dr. Sara Donohue, who is dedicated to removing patients' traumatic memories. But as their worlds collide, Sara and Alexander are bound by something even stronger as one becomes hunter and the other, prey. And Sara's only chance of survival is to surrender to the final—and most unimaginable—desire of her life.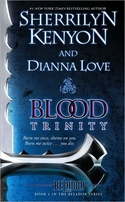 BLOOD TRINITY, Sherrilyn Kenyon, Dianna Love (Simon & Schuster, 10/19/2010, $7.99, Belador)
Supernatural warriors bound by an extraordinary code of honor face an ultimate test of loyalty in the exciting new paranormal thriller from New York Times bestselling authors Sherrilyn Kenyon and Dianna Love. Atlanta has become the battlefield between human and demon.
All her life, Evalle Kincaid has walked the line between the two. Her origins unknown, she's on a quest to learn more about her past . . . and her future. When a demon claims a young woman in a terrifying attack and there's no one else to blame, Evalle comes under suspicion. Now she's on a deadly quest for her own survival. Through the sordid underground of an alternate Atlanta where nothing is as it seems to the front lines of the city, where her former allies have joined forces to hunt her, Evalle must prove her innocence or pay the ultimate price. But saving herself is the least of her problems if she doesn't stop the coming apocalypse. The clock is ticking and Atlanta is about to catch fire.
DAUGHTER OF DARKNESS, V.C. Andrews (Simon & Schuster, 10/26/2010, $7.99)
Beloved bestselling author V.C. Andrews's passion for vampires comes to spellbinding life in a long-awaited novel of dark desires as all-consuming—and forbidden—as in Flowers in the Attic. One night, with the sound of a young man's scream, high school senior Lorelei discovers that her stern but loving father, who adopted Lorelei and her sisters as infants, is no ordinary man. He has raised his beautiful girls for one purpose: to lure young men into their world of shadows. Like her sisters, Lorelei has been trained in the art of seduction and warned never to fall in love. But when she meets a handsome and charming classmate, she boldly defies her family and follows her heart—even if love is a poison.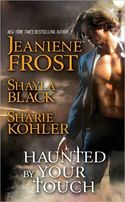 http://freshfiction.com/book.php?id=40531HAUNTED BY YOUR TOUCH, Jeamieme Frost, Shayla Black, Sharie Kohler (Simon & Schuster, 10/26/2010, $7.99)
USA Today and New York Times bestselling author Jeaniene Frost seduces readers into a forbidden new world as she teams up with romance stars Shayla Black and Sharie Kohler for a sizzling collection of original novellas featuring fallen angels, anarchistic demons, warrior wizards, and irresistibly dangerous creatures of the night. Enter the dark realm of Nocturna in Jeaniene Frost's redhot tale, where blisteringly sexy Raphael dominates the demons of a lawless dimension and tries to help a beautiful young woman avenge her cousin's disappearance. In the shadowy world of Shayla Black's Doomsday Brethren, magical warrior Raiden vows to protect his woman and their unborn youngling from evil—and deliver her safely to another man. But once he's saved her, can he let her go? Lycans rule the night in Sharie Kohler's suspenseful story, as a fiery woman stalks mysterious Luc, the undeniably hypnotic being she believes can save her from turning . . . if she kills him. Danger beckons in these captivating paranormal tales that will tempt readers to the edge and leave them begging for more.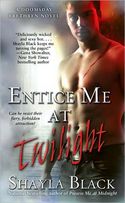 ENTICE ME AT TWILIGHT, Shayla Black (Simon & Schuster, 10/26/2010, $7.99)
In national bestselling author Shayla Black's electrifying new novel, the Doomsday Brethren fight their mortal enemy for the newest weapon in a bloody magical war: the one woman a warrior shouldn't claim . . . yet can't resist. Dangerously handsome Simon Northam, Duke of Hurstgrove, and his uptight brother Mason are hardly close, but crashing Mason's wedding and stealing his fiancée further aggravate their sibling rivalry. Duke's family has no notion he's a wizard, so how can he explain that magickind's fate lies with the beautiful, tenacious bride he longs to seduce? Felicia is an Untouchable, a rare human whose presence disables magic—even the impenetrable forces surrounding Morganna le Fay's tomb. The evil witch's malicious powers could propel nefarious wizard Mathias to ultimate world domination . . . if he can resurrect her. To conceal herself, Felicia must succumb to her smoldering desire for Duke, but he risks binding his life—and sanity— to a lover whose loyalties are forever torn.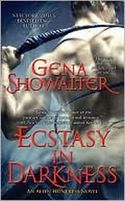 ECSTASY IN DARKNESS, Gena Showalter (Simon & Schuster, 10/26/2010, $7.99, Alien Huntress)
New York Times bestselling sensation Gena Showalter enthralls with a dark, tantalizing world of humans, otherworlders, powers beyond imagining, and a seductive vampire undone by his insatiable hunger for one woman. Growing up poor on New Chicago's meanest streets, Ava Sans had two options: be the predator or be the prey. Now, working for Alien Investigation and Removal, she's been ordered to capture the biggest, baddest warrior of all— a vampire too beautiful to be real, with the ability to manipulate time. Once the leader of the entire vampire army, McKell has been deemed savage and unstable, spurned even by his own kind. Yet the petite, golden-skinned Ava is a fascinating contradiction—vicious yet witty, strong yet vulnerable, lethal but fiercely loyal. Against his better judgment, McKell craves that loyalty, and much more. When the chase leads to seduction, McKell and Ava will race to discover the truth about his past.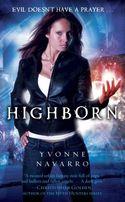 HIGHBORN, Yvonne Navarro (Simon & Schuster, 10/26/2010, $7.99)
Brynna is a fallen angel trying to earn redemption. She's escaped from Hell in search of a new life on Earth, but Lucifer's deadliest hunters are hot on her trail. Police Detective Eran Redmond is after her for a different reason: he needs Brynna to help him find a serial killer who is terrifying Chicago . . . and the trail leads them right to Hellspawned demons of the most dangerous kind. She's also got a very human problem: dealing with a stubborn, attractive cop who makes her long for everything she knows she can't have. Staying alive long enough to earn a shot at Heaven will mean breaking some major rules in the mortal world, as she learns just how complicated and wonderful being human can be. With so much stacked against her, even Brynna has to wonder if she's crazy. But she's not giving in without a fight.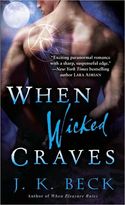 WHEN WICKED CRAVES, J.K. Beck (Bantam, 10/26/2010, $7.99)
Petra Lang is cursed never to love. One touch of her skin unleashes the vilest demons. Sentenced to death by the Shadow authorities, who fear she'll turn her curse against them, Petra is rescued by vampire advocate Nicholas Montegue. As their bodies merge and transform into mist, Petra feels an erotic longing. Nicholas risked his own life to save Petra, yet he knows he can never give in to the explosive attraction he feels for her. But the deep yearning they share tempts them. Together, they must find a way to lift the curse. For only a love this strong has the power to overcome such monstrous evil.
Lots of great paranormal romance choices in October, what's on your list?