Ready for a confession? I have watched Grease 2 at least 300 times.*
If you haven't seen this particular gem of a film, shame on you. First, it starred Maxwell Caufield, basically the hottest guy on the planet in 1982 (the year the movie was released). Caufield plays the nerdy Australian cousin of Sandy from Grease 1. He's visiting Sandy's old high school, where the T-Birds and Pink Ladies still reign. He creates an elaborate disguise (LOL—actually just black skin-tight leathers and goggles) and learns to ride a motorcycle to sweep a certain Pink Lady who can't see past his nerdy exterior off her feet.
Which brings us to point two: this musical involves a young, unknown Michelle Pfeifer singing, dancing, and straddling a ladder in an entirely suggestive way as she describes her dream of finding a motorcycle-riding bad boy to sweep her off her feet.
For those who know the film, you're probably already humming Cool Rider. Yeah. I know. For those who missed it, go watch this awesome clip from the film:
https://m.youtube.com/watch?v=RYB317pljts
(You're welcome.)
Why, other than the fact that it's fabulous, am I bringing up Grease 2? Well, here's a secret–Temptation (Bad Angels #2), was originally going to be a modern retelling of Grease 2.
I know, right? GENIUS.
My editor was not a fan.
Deep sigh.
My husband and daughter were similarly unsupportive. They had a hard time seeing goggles and a set of black leather pants and jacket disguising Connor from Zoe (who's known him for years). They kept saying things like "how will they kiss without him taking off his helmet?" And "Why would Zoe make out with a guy she didn't know?
Valid points.
Anyway, Temptation is not about Connor disguising himself as a motorcycle-riding stud in black leather. But he does have a motorcycle. And Zoe is a sort of modern-day Pink Lady in the form of a bad-ass lawyer who knows what she wants in life and isn't backing down in her quest to get it. She's sexy as hell and not ashamed of that, either. (Thanks to Michelle Pfeiffer for showing me the way on that one.)
So, did you have a teenage crush from a book or movie? Tell me all about it! I've got two e-copies of Temptation to give away to commenters!
* This is a rough calculation. I'm probably low-balling it by a factor of two.
Bad Angels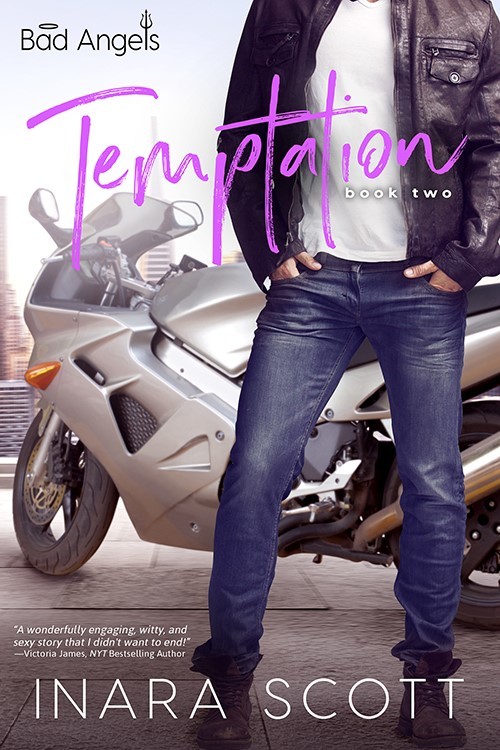 As close friends and coworkers, attorney Zoe Riva and tech genius Connor Ashton know they can never get involved. 
Never.
Ever.
Until a scooter accident lands Zoe in Connor's arms—and his overnight custody—and she starts to see a man she's never seen before. With her career and her heart on the line, Zoe can't afford to take any chances. But when combustible chemistry takes over, even the smartest people in the room can make the biggest of mistakes…
Romance Contemporary [Entangled: Amara, On Sale: August 26, 2019, e-Book, ISBN: 9781640638945 / ]
Inara Scott grew up on a steady diet of true love, heaving bosoms, and happily ever after. Romance inspired her first (terrible) novel, penned at the age of 14, titled A Wild and Stormy Passion. Today, Inara writes anything and everything, including adult romance and young adult fiction and adult romance. Inara was a finalist for the prestigious RITA award of the Romance Writers of America for her book Reforming the Playboy. Her novels have won numerous awards, including the IPPY Award (Winter Rain), the Oregon Spirit Book Award Honor Book (The Talents and The Marked) the HOLT Medallion Award of Merit (Radiant Desire and Rules of Negotiation). When she's not writing, she loves to spend time wandering around in the woods, paddling around on lakes, and has been known to occasionally dress up her little white dog in princess costumes.