I think every reader has run across a series or two (or three or four) they didn't want to end, with heroines they wanted to go to battle with, and heroes they couldn't help but love. That was the way I felt about the Lola Cruz Mysteries. Lola was feisty and fun, and the series gave readers one caper after another. But then it ended, and tears were shed. How could I say goodbye to these wonderful characters?
The good news? Not all good things must come to an end! Books one through three were re-released earlier this year, and when that happened, I immediately pre-ordered book four–what a treat to finally get What Lola Wants in my library! And what better way to celebrate than to interview the creator, Melissa Bourbon;)
Kym: Welcome back to the Cozy Corner! For fans of Lola Cruz and Camacho and Associates, thank you for bringing back this awesome Latina PI! Did you have the fourth book in the series plotted out in your mind during the last couple of years she's been on hiatus?
Melissa: I'm so excited Lola's back, too! I actually had plotted part of What Lola Wants a few years ago, but the series has been on hiatus for quite a while so I revamped some of the plot before I started writing again. It was so fun to be back in Lola's world.
What was the most exciting thing for you about bringing Lola back to readers?
I really missed Lola and her family, Reilly and the gang at Camacho and Associates, and, of course, Jack Callaghan. I know you're a Manny Camacho fan, and of course, I missed him, too. It was so fun getting into Lola's entire world, honestly. I get emails pretty regularly asking if there will be more Lola Cruz books. Now I can say yes to readers who have also loved her from the start.
As you write, is there any specific person or actress you have in mind playing the part of Lola?
Oh definitely! When I first started the series, I imagined Jennifer Lopez, Jimmy Smits or Mark Consuelo, and Timothy Olyphant as the three lead characters. I still love all of them, but in my imagination, they're still in their younger days. J. Lo's company even read and considered it for a TV series! Maybe that'll happen again.
My more current dream cast is:
Zach Ephron as Jack Callaghan
Gina Rodriguez as Lola
Wilmer Valderrama as Manny Camacho
And as Reilly: Merrit Wever
Holy cow! **fanning myself** What a great cast that would be and I'm crossing my fingers hoping she'll take a second look at the series 😉 Lola has more edge to her than your Magical Dressmaking Mysteries or your cozy mysteries written under Winnie Archer, but it goes with who Lola is. More importantly, the style speaks to the readers in a different way than your other series do. Does this come naturally for you as a writer, or is it Lola who makes the difference for you?
That's a good question. Lola was my first character creation and I didn't have any of the constraints of the cozy mystery genre when writing her. The Lola Cruz Mystery series, as a result, doesn't fit neatly into that genre. I consider them capers. Lola's sass or edge isn't natural to me in real life–at least not to the same degree, but it comes easily as I write her, which is why I liken her to my alter ego–if I were a young Latina PI!
In your fourth Lola Cruz book, What Lola Wants, you've brought your readers deeper into the Latino culture with even more Spanish phrases and Salsa dancing! I love salsa dancing! (no, I don't do it well) Have you gone salsa dancing with your special man, and is it something you do regularly?
I love partner dancing and, in fact, my husband Carlos and I have just started lessons together! We are not great at it, but we want to learn and get better. We do salsa while at weddings and such, but definitely not well. Lola has inspired me to do better! We'll do salsa lessons so we can learn it more proficiently, but we're starting with American Tango. It is so fun, and we love the fact that you move around the dance floor with the more traditional ballroom dancing, as opposed to salsa and borracha. Dancing is something we have fun doing together, which I think is so important for us as a couple.
I'm waiting to see videos on social media! In the book, you address some serious crime issues of our time that threaten youth around the world. Lola's young cousin finds out the hard way about the potential dangers of chatrooms for teens who are gullible enough to believe everything they read from other people: like a member in the chatroom actually being a federal agent. At the same time Lola is investigating an aggravated assault that appears to be an ordered hit on a young teen, she's also going undercover to learn how young women are becoming victims of a sex trafficking ring. As 'old' as our kids want to believe they are, their naiveté leaves them vulnerable. What made you address these two issues together in one book?
I'm not a very successful plotter. As a result, much of my books and the plot points happen organically. Much of my plots are also inspired in one way or another by true events. The chatroom situation was something that really happened, in very much the same way it does in the book. I was fascinated by that story (and horrified) and adapted it for a subplot. It wasn't something that could sustain a complete story arch, however, and the sex trafficking issue is so complex and also horrifying that it felt like something to tackle. The hardest part with writing about heavy topics in a light series like the Lola Cruz books is finding balance and not dragging down the story with too much "reality." Of course, murder is always heavy, but the victimization of a group of people is tough to write about while keeping the story accessibly to the audience. I hope I achieved that with What Lola Wants!
You absolutely did. I've always been Team Manny, (I've vocalized this to the point of becoming annoying) probably because he is the only person in Lola's life who doesn't hold her back in her job as a PI. That's a man after my heart! What advice would Manny give to Lola's boyfriend Jack, if he was inclined to help him win her heart for the long haul?
I know you have! I didn't want to create a very traditional love triangle between the two and Manny's personal life is revealed more in Drop Dead Lola. Get ready, Kym!
In terms of advice, I think Manny would simply cut to the chase and tell Jack that he's going to have to accept every bit of Lola the way she is, or he'll lose her.
Yay! Can't wait for book five! Can you tell us what we can expect from Lola in her next adventure?
In Drop Dead Lola, Camacho and Associates–Lola specifically–is hired to look into the apparent suicide of a childhood friend of Jack's. Things are more complicated than they first appear but leave it to Lola to get to the bottom of things!
What else do you have working right now?
I'm finishing up Dough or Die, the 5th book in the Bread Shop Mystery series. Flour in the Attic, book 4, comes out on August 27th! August has been a busy month. After I wrap up Dough or Die, I'm diving back into Lola's world for book 6, tentatively titled Lola in a Red Dress.
Thank you for joining us at The Cozy Corner!
Thank you so much, Kym! I love talking to you, and about Lola Cruz 🙂
Until next month, get cozy and read on!
***
A Lola Cruz Mystery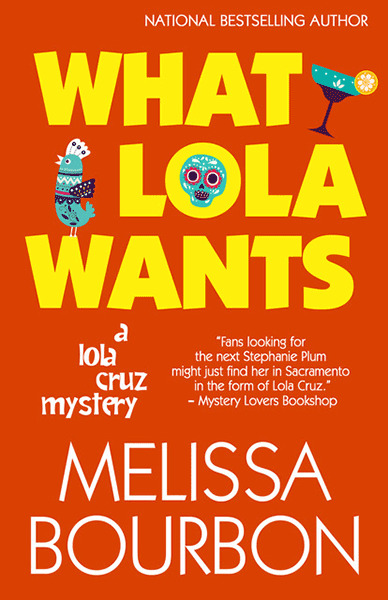 The Sacramento Police Department has hired Camacho and Associates for one specific reason: They need Lola Cruz to go undercover at The Broadway, a salsa club suspected of running a prostitution ring.
She fits the description: Young, Latina, beautiful, and a PI.
But the secrets at the club go much deeper than anyone thought, and Lola finds herself embroiled in a dangerous game she may not be able to win.
WHAT LOLA WANTS by Melissa Bourbon – A Henery Press Mystery. If you like one, you'll probably like them all.
Mystery Woman Sleuth | Mystery [Henery Press, On Sale: July 30, 2019, Paperback / e-Book, ISBN: 9781635115277 / eISBN: 9781635115277]
Melissa Bourbon, who sometimes answers to her Latina-by-marriage name Misa Ramirez, is the marketing director with Entangled Publishing. She is the founder of Books on the House, the co-founder of The Naked Hero and The Writer's Guide to ePulblishing, and is the author of the Lola Cruz Mystery series with St. Martin's Minotaur, A Magical Dressmaking Mystery series with NAL, two indie published romantic suspense novels, and is the co-author of The Tricked-out Toolbox.
***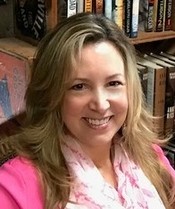 Passion. Mystery. Suspense. Catch the Wave! Because a little PMS can change your world!
Kym Roberts is a retired detective sergeant who looks for passion, mystery and suspense in every book she reads and writes. She can be found on the web at kymroberts.com, on Facebook @KymRobertsAuthor911 and on Twitter @kymroberts911. You can also listen to her new podcast Romance Book Chat with Kym and Misty on iTunes & Stitcher. Amazon bestseller & Book Barn Mystery #5, Killer Classics, was nominated for the Fresh Fiction Awards for Best Cozy Mystery and Best Book! Kym's 3rd Men of Rock novel, Sinfully Wicked, is coming this fall!