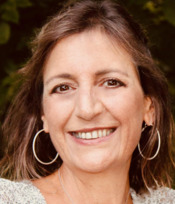 During the Romance Writers of America Conference (RWA) this year I was able to meet with the lovely and talented Wendy Corsi Staub. As a New York Times bestselling author, wife and mother of two her plate is never empty, but she made time to give Fresh Fiction a little behind the scenes look at this talented woman. From young adult novels to psychological thrillers, Staub has made a name for herself and keeps a loyal following of fans waiting for more books, myself included. If you have not heard of her, then do not stop reading now because you are in for a new reading addiction with her "NIGHTWATCHER" trilogy with Harper Collins.
In NIGHTWATCHER, the first book, the story begins in New York City on September 10, 2001, the day before the 9/11 attacks featuring the heroine, Allison Taylor. In the wake of 9/11 you learn more about Allison, who has left a shadowy past behind in the Midwest in exchange for a fresh start in New York's fashion industry. "In the course of the trilogy we see her (Allison) go from a young woman maybe with some different kind of values to a wife, to a mother who is protecting what she loves most," said Staub.
The second book, SLEEPWALKER, picks up ten years later on the anniversary of the serial killings with possible copy-cat killings. Staub laughingly said, "There is a serial killer in the first book who couldn't have committed these crimes or could he?" Then the third book, SHADOWKILLER, picks up six months after the end of SLEEPWALKER.
As a reader, I had to know what sparked the idea for this book, and what led her to set it in such a memorable time for America. "At the time this premise came to me it was triggered by a couple of things. First, I heard on news that crime was drastically reduced in NYC, like regular crime (muggings and murder) because everyone was caught up in what was happening. So, it occurred to me that with the police looking elsewhere and the different departments in chaos, if somebody committed a very serious crime it would be difficult to investigate it properly.
"Second, Lower Manhattan was cut off. It was a ghost town because communication was shut down. That was interesting to me. It felt like it was isolated. That speaks to you as a suspense writer, but it was too raw to write about it at the time. So I waited ten years and wrote all three books last fall. An attack like 9/11 can really push someone who is teetering over the edge of sanity."
The fast-paced NIGHTWATCHER series is full of Staub's trademark style of getting into the head of the serial killer. She seems like such a nice lady that I wondered how she could have such an evil mind to bring these killers to life so vividly. For Staub, it is more about being able to control her fears. And when you are the writer, nothing bad can happen that she cannot control. Alas, her own writing does not keep her up at night with nightmares, but Staub assured me "other people can scare me with their books." For the first time she will release back-to-back adult suspense novels, with NIGHTWATCHER coming out August 28, 2012, then SLEEPWALKER scheduled for September 25, 2012 and the climatic conclusion to the trilogy, SHADOWKILLER, releases January 27, 2013. According to Staub, this series will "have lots of twists and turns and what you least expect to happen, happens…the very last line of each opens the door to the next book." So, for those you that need the next book immediately this is the series for you!
Wondering where you can find Wendy Corsi Staub? If you are in the Dallas area she will be at this year's Readers & 'ritas, which is a fun filled weekend with lots of one on one time. I personally cannot wait. For those not attending, you can find her at her website, www.wendycorsistaub.com, on twitter at @WendyCorsiStaub, and her favorite Facebook, www.facebook.com/corsistaub.
Last and definitely the most important: September is Ovarian Cancer Awareness month. This cause is particularly important to Staub because she lost both her mother and mother-in-law to breast cancer. For the entire month of September, Avon Books is joining with the Ovarian Cancer National Alliance to help educate on the signs and symptoms of ovarian cancer through their K.I.S.S. and Teal campaign, proceeds of which will be donated back to ovarian cancer research. Due to there being no early detection test women must watch for the following symptoms:
Bloating
Pelvic and Abdominal Pain
Difficulty Eating or Feeling Full Quickly
Urinary Symptoms (Urgency and Frequency)
To learn more signs and symptoms I urge you to log onto www.kissandteal.com and start talking with your mothers, wife, sisters and daughters about these signs and help us fight back!