As fall finally starts to creep in we turn our attention toward new holiday reads. Of course Halloween arrives weeks for Thanksgiving and Christmas, so it was only a matter of time before the spooky-sexy books began filling our e-readers. Miranda Owen chatted with Marie Harte about her newest romance ALL I WANT FOR HALLOWEEN, the perfect addition for anyone looking to dig into a new book instead of a pumpkin.
I love Halloween-themed romances, and in ALL I WANT FOR HALLOWEEN, I think you do a wonderful job of maintaining balance between the silly, the sexy and the emotional punch. Do you consciously try to maintain that balance in every book you write, or does it just happen organically? Which comes first, or is easiest to write – the story or the characters?
Thanks! I like humor in my books, and I tend to write on the sexy side. I do strive for a balance between deeper emotion and humor. While I'd like to you feel what my characters feel, I also want you to enjoy the experience, and to me, laughter and tears go together quite well. *grin* Though not all my stories have sad pasts, they have enough conflict to ensure the story isn't without challenges. As far as story or characters coming first, it depends on the story. Some I've imagined a clever plot and then figured out who would fill those roles, and in other stories, I have funny characters in mind then put them through some story ideas. With All I Want for Halloween, Sadie and Gear came first, the story second. Sadie I've always loved, and Gear…I mean, his name is Gear. What's NOT to love?
I love how, in ALL I WANT FOR HALLOWEEN, Sadie is a strong yet realistically flawed woman who speaks her mind, and how Gear loves that about her. Which of your heroines has a personality closest to your own? Who are some of your favorite heroines?
I think I'm probably closest to Sadie, actually. LOL Sadie doesn't play games and likes who she is, but she's also been burned before, so she's afraid to let people in. I don't play games and I'm not into glamming up. I'm fairly confident, but I haven't suffered a broken heart like her, and I don't want to! Some of my favorite heroines are the women who don't quite fit society's mold of what is it to be ideally female. Del from What To Do with a Bad Boy is another favorite.
I love your heroes – like Gear from ALL I WANT FOR HALLOWEEN, and the guys from your Body Shop Bad Boys series – who are a fab mix of strength, sexy, and sweet. I think that sometimes authors and readers can equate strong, alpha-like qualities with alphahole jerk-like qualities. From personal experience, and from reading about heroes like those that you and other favorite authors have written about, I don't equate physical strength with a lousy attitude. What are some qualities you dislike about romance heroes?
I dislike the alphahole types too. A strong hero is strong inside. But the muscles and looks are the pretty wrapping that makes them outwardly appealing. I'm also not a fan of cheaters or indecisive heroes. Again, strength of mind and character comes first. Wishy-washy people drive me nuts.
Who are some of your favorite characters you've created? Favorite hero & heroines written by other romance authors?
I loved all my McCauleys from the very beginning. I so wanted to be a part of that family. And I also love my shifters from my Cougar Falls series. I wanted to move to that town! I think I write characters I want to know, be friends with, heroes I want to fall in love with, heroines I want to be like. I can't pick a favorite, since I like different things about all of them.
I love to read, and some characters that stand out to me from other authors are Ilona Andrews's Kate Daniels and Curran Lennart (Magic Bites)–maybe my all time favorite characters. Nalini Singh's Elena and Raphael (Angel's Blood), and Thea Harrison's Pia and Dragos (Dragon Bound). I've read and reread those books more times than I can count.
ALL I WANT FOR HALLOWEEN is the first book I've read in your Donnigans world. After reading this book, and then JUST THE THING and A SURE THING, Sadie's brother Elliot has grown on me. Do you plan on giving Elliot a story of his own – either a full length book, or as a "B" romance in another character's book?
I would absolutely love to give Elliot his own romance. I've written male-male romance stories in the past and only stopped due to current contracts. Elliot deserves his own happily ever after, and I know exactly who he's going to end up with. I just have to find the time to write the book!
I love the books of yours I've read, but so far, I've only checked out your "Donnigans" series and your "Body Shop Bad Boys" series. Looking over your website, I see that you have a wide variety of romance sub-genres represented.
For readers like me, is there perhaps an overlooked series you'd like to give a shout out to? Is there a particular couple or story that is a personal favorite of yours?
I think the McCauley Brothers are really my standout series if you wanted to start with something I've written. They're cousins to the Donnigans and sprang first to mind when I started writing longer contemporary romance. My Cougar Falls is a terrific paranormal series set in a small town. Paranormal novellas and sexier reads. But I'm still putting those books back out (since my old publisher folded). An overlooked series I enjoyed very much are my PowerUp! books. They are psychic romantic suspense stories with heat. Each is a stand-alone book, connected by the agency they work for and the interconnected characters. But note: they're pretty steamy.
What are you currently working on?
I'm wrapping up a holiday story due out in November called Any Given Snow Day. An ex-NFL star meets a vulnerable single mom with a snarky kid and sparks fly. It's sexy and sweet and perfect for the holidays. It's making me feel Christmas-y already.
Thank you for having me!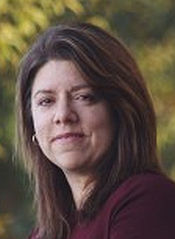 Caffeine addict, boy referee, and romance aficionado, USA Today bestselling author Marie Harte has over 100 books published with more constantly on the way. Writing romance, and in particular erotic romance, across the genres, she's created stories set on other worlds, among paranormal creatures, and between normal men and women seeking true love.
Marie is a confessed bibliophile and devotee of action movies. Whether hiking in Central Oregon, biking around town, or hanging at the local tea shop, she's constantly plotting to give everyone a happily ever after. Visit her website and fall in love.