I love movies and television and will often write with the television on in the background. I'm a very visual person and draw a lot of useful cues from the expressions on the actors' faces, how a shot is framed or the rhythm and words in the dialogue. Eye Candy in some cases. Of course, sometimes I watch just because it's a darn good movie! LOL! So today I'm sharing with you my Top 5 must see movies or television shows!
1. BUFFY THE VAMPIRE SLAYER – I got hooked on this show accidentally when I caught a scene between Buffy and Angel as I was flipping through the channels. After that, I was a loyal viewer all the way to the seventh season. If you're wondering if I'm an Angel or Spike girl, Spike all the way! He always had such passion!
2. X-FILES – So loved all the creepy unexplained phenomena and Sculley and Mulder. The tension that grew between them was so amazing and I could not wait for the movie and that one kiss. . .and then it didn't happen. Sigh. Still waiting for a true happily ever after for them. I am a hopeful romantic.
3. UNDERWORLD – You may be noticing a trend by now, but I swear this list won't be all about paranormal movies and shows. I just love the dark quality of this movie and the really intense story line. The chemistry between vampire Selene and half werewolf Michael was so compelling! Not to mention that Kate and Scott are both very attractive people. I even saw Scott Speedman in LAX one day, munching on granola. When our eyes met . . . he really looked like he hoped I would not realize it was him.
4. DIRTY DANCING – Again, not a romance really. No HEA and yet, I still loved this movie and can watch it again and again. Great music, Patrick Swayze dancing, shirtless no less. Big sigh. My daughter and I even headed out on opening night to see DIRTY DANCING: HAVANA NIGHTS. It was awesome to see Patrick again in that movie, if only for a short time.
5. LOVE, ACTUALLY – I love this movie and always think of it as a romance, but when you really dig down, there's really not a lot of the stuff that makes a romance. Why? Because so few of the relationships are truly healthy or end up with what I love most – the happily ever after. Still, this movie really appeals to me and the cast is absolutely amazing.
I have to confess it was really hard to narrow the list to just these top five because there are some other really worthy mentions, like PRETTY WOMAN, TITANIC, A WALK TO REMEMBER, 10 THINGS I HATE ABOUT YOU, KIND ARTHUR (THE CLIVE OWEN VERSION) and SHAKESPEARE IN LOVE, just to name a few. I'd love to hear from you what are some of your favorite movies or television shows.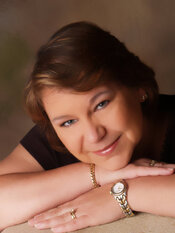 Caridad Piñeiro® is a multi-published and award-winning author whose love of the written word developed when her fifth grade teacher assigned a project – to write a book that would be placed in a class lending library. She has been hooked on writing ever since.
From the start, Caridad's novels have received acclaim and have helped redefine the landscape of modern romance novels. In 1999, Caridad was published by Kensington as part of Encanto, the first line of bilingual Latino romance novels. In 2000, Caridad was one of the first Latino authors featured at the launch of BookExpo America's Spanish Pavillion. In December 2006, Caridad helped Silhouette launch its successful Nocturne paranormal line with DEATH CALLS, one of the novels in the award-winning THE CALLING Vampire series. In addition, Caridad has appeared at BookExpo America on numerous occasions and has captained both the multicultural and vampire genre panels at the RT BookClub Conventions.
Caridad's CHICAS novels, including her seventeenth release, SOUTH BEACH CHICAS CATCH THEIR MAN from Simon & Schuster's Downtown Press, have garnered praise from both fellow authors and reviewers and are helping to make Latina fiction a vital part of the publishing mainstream.
In recognition of her work, Caridad has received various awards and honors. In 2007, a year marked by the debut of six novels from Harlequin and Pocket Books, Caridad received the Golden Apple Award Author of the Year Award from the New York City Chapter of the Romance Writers of America. Other honors that Caridad has received include the selection of DANGER CALLS and DEATH CALLS as the Top Fantasy Books of 2005 and 2006 by CATALINA magazine, the Cataromance Reviewers Choice Award for Best Nocturne in 2006 and the New Jersey Romance Writers Golden Leaf award in 2001 for Best Short Contemporary. Her other titles have received a number of nominations, such as the Harlequin Readers Choice Awards and RIO Reviewers Choice Awards. Both DANGER CALLS and SEX AND THE SOUTH BEACH CHICAS have been book club selections.
Caridad's eighteenth novel, MOON FEVER, a paranormal anthology with Maggie Shayne, Susan Sizemore and Lori Handeland, debuted in late September 2007 as #32 on the New York Times Extended Bestseller list and #123 on the USA TODAY Bestseller List. HOLIDAY WITH A VAMPIRE, a paranormal anthology with Maureen Child, made the BookScan Top 100 Adult Fiction list.
Caridad's paranormal romance, THE LOST was nominated for the 2012 RITA Award for Best Paranormal. The RITA is the Romance Writers of America top award for writing.
In 2014, Caridad participated in the Lucky 7 Bad Boys Contemporary Romance Boxed Set which debuted on the NY Times and USA Today Bestseller lists and in the Dangerous Dozen Romantic Suspense Boxed Set which debuted on the USA Today Bestseller list.
Caridad has appeared on Romance Novel Television, Fox Television's Good Day New York Early Edition, New Jersey News' Jersey's Talking with Lee Leonard and WGN-TV's Adelante Chicago. Articles featuring Caridad's works have appeared in the New York Daily News, Catalina, RT BookClub, NJ Monthly, Star Ledger, Home Tribune News, Sun Sentinel, Variety Yahoo! Online News, Latina and the Waterbury Republican-American.
When not writing, Caridad teaches workshops on various topics related to writing and heads a writing group. Caridad is also an attorney, wife and mother.