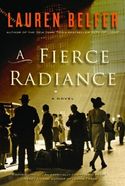 Modern medicine is fascinating. We all know that the medical breakthroughs that scientists discover today will significantly change the world in which we live. With the help of technology, the wealth of resources available gives us hope that cures for arthritis and cancer are on the way. It's hard to imagine how disease affected our world, even just fifty or sixty years ago, before today's common vaccinations were discovered.
This month's Jen's Jewels Lauren Belfer tackles that very question in her latest release, A FIERCE RADIANCE. Author of The New York Times Best-selling novel CITY OF LIGHT, she takes the reader on a fictional journey into the discovery of penicillin in her spell- binding new novel. Incorporating true medical advances of the 1940's within the framework of her romantic suspense tale, she creates the perfect novel to kick- off the long, summer months.
As part of this interview, Harper Collins Publishers has generously donated five copies for you, my favorite readers, to try to win. So, don't forget to look for the trivia question at the end. And, thanks for making Jen's Jewels a part of your summer reading.
Jen: The path to publication can sometimes be as interesting as the story itself. So that my readers may have a better understanding of the woman behind the words, please share with us your educational and professional background.
Lauren: I grew up in Buffalo, New York, where my dad taught high school history and my mom taught art and design at the local college. I attended Swarthmore College, outside Philadelphia, where I majored in Medieval Studies. After graduation, I moved to New York City. I have an M.F.A. in fiction from Columbia University. I've worked as a paralegal at two law firms, as a fact- checker at several magazines, as an assistant photo editor at a newspaper, and as a file clerk at an art gallery. For eight years, I worked at CBS News, where I started as a secretary, and afterward I worked freelance in documentary film production as a researcher and associate producer.
Jen: What was the driving force behind your decision to become an author? Did you dive in head first, or did you write while working?

Lauren: I decided to become a fiction writer when I was six years old. I can't recall what prompted this decision. I do remember that I always enjoyed hearing and telling stories. One day I woke up and knew that I wanted to become a writer. Except for a time in my early 20s when I thought about becoming a photojournalist, I never wavered in that conviction. When I was eight and nine years old, I wrote stories about animals and about powerful princesses. In high school I wrote poetry, for which I received rejection letters from all the best publications around the country. After I finished college, I still dreamed about becoming a fiction writer, but I had to earn a living, too. I'd get up early, before going to my job, to work on novels and short stories.
The first short story I ever published was rejected 42 times before it found an editor who loved it. The second short story I published was rejected only 27 times. This felt like a huge triumph, to go from 42 rejections to 27. All these rejections taught me a lesson about the subjectivity of literary judgments: what one reader hates, another reader loves. Submitting the work for publication is what matters. Persistence has been the hallmark of my writing life.
Jen: Your first novel, CITY OF LIGHT, became a New York Times Best-selling novel. For those readers unfamiliar with your work, please give us a brief overview of the plot.
Lauren: CITY OF LIGHT takes place in my hometown, Buffalo, New York, in 1901 – a time when Buffalo was one of the centers of the nation, one of the most vibrant, exciting, and prosperous places in the country. In 1901, hydroelectric power was being developed in nearby Niagara Falls, and electrification was transforming society. I grew up in Buffalo during its bleak years of recession, however, and I didn't even know about its glory days when I was young. I learned about this years later, when I happened to stop by the local historical society when I was in town visiting my parents. Once I discovered the city's glorious past, I felt compelled to portray it in a novel. CITY OF LIGHT centers on a strong, independent woman, Louisa Barrett, whose position as headmistress of a prominent school for girls gives her access to the most important people in the city. But Louisa has a secret, and everything she does is to protect that secret.
I was very lucky with CITY OF LIGHT, which was chosen as a New York Times Notable Book, a Library Journal best book of the year, a number one BookSense pick, and a Main Selection of the Book-of-the-Month Club. CITY OF LIGHT was a bestseller in Great Britain and has been translated into seven languages.
Jen: In terms of the creative process, what was the most challenging part of writing your first novel? And, what did you learn about yourself in the process?
Lauren: CITY OF LIGHT took six years to research and write, and I did the research and writing simultaneously. Often I'd discover something unexpected in my research that I decided to include in the novel, and I'd work it into the lives of the characters. For example, one day when I was waiting in the library for some rare books to be brought out, I glanced at a history magazine which included an article about the awful conditions in orphanages around 1901. What I read was so horrifying that I knew I had to portray it in my novel, and I created a subplot to include this. Alternately, as the characters took on lives of their own, they'd become interested in various issues that in turn I'd research, so that I could help them pursue their interests. (I say this somewhat facetiously, but in fact, when fiction writing is going well, the characters do seem to take over.)
During the six years that I worked on CITY OF LIGHT, I sometimes wondered if anyone would ever want to read what was turning into a five hundred page book about Buffalo. Sometimes I felt despair about whether I would be able to combine all the subplots I had in mind and keep the plot suspenseful for the reader. Whenever I thought about giving up, however, I remembered the 42 rejections for my first published short story, and the 27 rejections for the second, and I pushed myself forward.
Jen: Your latest release, A FIERCE RADIANCE, is a superb historical novel which includes intrigue, romance, and even espionage. Set in New York City in December 1941 after the attack on Pearl Harbor, it follows the scientific discovery of penicillin as a viable medication. How did you arrive at the premise? And, what made you want to explore this topic?
Lauren: The topic of A FIERCE RADIANCE is very personal to me and touches on my own family. For all the years I knew her, my aunt kept on her bureau a photo of her brother in the 1920s, when he was 9 or 10 years old, a blond boy paddling a canoe with his father, both of them laughing, in high spirits. This was the last photo she had of him, because he died at age 11 from a fast-moving infection contracted after a Fourth of July celebration. Antibiotics probably would have saved his life – except antibiotics didn't exist then. Years after his death, my aunt mourned him. She reflected on the future he was denied and told me about the never-ending anguish of her parents. The light and happiness went out of her parents' spirits after he died, she said, and she grew up in a home filled with sadness. Her mother never hugged her again, and her father slipped into depression. I wondered how different my aunt's life would have been, and the lives of her parents, if he'd survived.
When I spoke to friends about this story, they often responded by telling me stories of their own: about a grandmother or grandfather, an aunt or uncle, a brother or sister, son or daughter, who died from a sore throat, or from the scratch of a rose thorn, or from a blister caused by new shoes – the story of a beloved family member who died because antibiotics didn't exist.
These stories compelled me to write A FIERCE RADIANCE.
Jen: In terms of research, approximately how much was needed in order for the story to ring true with its readers? And, what was one of the most fascinating facts you uncovered?
Lauren: I struggled with how much science to put into the novel so that readers could understand the issues involved with the development of antibiotics but not be overwhelmed by this part of the story. I never lost track of the fact that I was writing fiction – about individuals and their families. The science had to be presented through the eyes of the characters and through their struggles and dreams. I knew nothing about the history of antibiotics when I began to work on the novel, and the research took years. In trying to learn and understand this history, I felt as if I were learning a foreign language – and I had to become fluent in this language, before I could create rounded, believable characters who were living and pursuing the science every day.
The most compelling piece of information I learned during my research was that antibiotics won't work forever. The problem of resistance has already become so severe that several strains of bacteria are resistant to even the strongest antibiotics. Scientists are trying to develop new types of antibiotics, that will kill infectious bacteria in new ways, but it's a tough battle. My great fear is that in a few decades we'll return to the era when children died from a scratch on the knee.
Jen: Your main character Claire Shipley, a well-respected photographer for Life Magazine, is given the monumental assignment of documenting the clinical trials of penicillin. Why did you choose to tell the story from a woman's perspective?
Lauren: I always conceive my stories and plot lines from a woman's perspective. I hope I create strong male characters, too, but my lead characters are female. This gives me (as a fellow woman) a passionate concern for the complex issues that motivate the central characters in my novels. I need to feel close to my characters in this way, and give them some of the experiences which I'm familiar with, in terms of raising children, being married, and balancing work with family life.
Jen: Her love interest, Dr. James Stanton, is the mastermind, if you will, behind the trials. Why does he allow Claire to play an active role in the process? What does he see in her that allows him to let down his guard?
Lauren: James Stanton first meets Claire Shipley in her professional capacity, as a prominent photographer for Life Magazine assigned to do a story on a medical test that he's conducting. They fall in love as equals, each successful in their chosen work. Claire's independence allows him to let down his guard. Later they discover the vulnerabilities that each has tried to hide.
Jen: How does Claire's relationship or lack thereof, with her ex-husband significantly impact the way she deals with her estranged father and even with Dr. Stanton? Is her need for independence merely a defense mechanism to protect herself from further disappointment and pain?
Lauren: Independence is part of Claire's nature. Because she's so independent-minded, she reacts to disappointment and pain by taking refuge in her confidence that she can support herself and her son both emotionally and financially.
Jen: Detective Marcus Kreindler has the gargantuan task of finding the killer despite the roadblocks from the government. What about this case makes it so personal for him?
Lauren: For Detective Marcus Kreindler, this case is indeed very personal. He thinks of the murder victim (and I don't want to reveal too much to people who haven't read the book) as his daughter. He'll do anything to find the killer. In a broader sense, he's fiercely independent, with years of work experience, and the more the government fights him, the stronger his commitment becomes to resolve the case on his own terms.
Jen: Consisting of over 500 pages, this novel depicts a volatile period in our country's history. You touch briefly upon the Japanese internment camps mandated by FDR. In your opinion, what can we do to ensure that history will not repeat itself in spite of the constant threat of terrorism in our country today?
Lauren: History is constantly repeating itself, and sadly I'm not sure there is anything that we, as individuals, can do to stop this. Blind prejudice tends to triumph when people are afraid, or are made to feel afraid, about their futures and the futures of their families. As a fiction writer, I'm interested in how individuals react to the pressures put upon them by their societies and by history itself.
Jen: What do you hope your readers take away from this novel?
Lauren: Most important, I hope readers will enjoy A FIERCE RADIANCE as a good story, with compelling characters. I hope readers will come to care about these characters, about their choices and their fates, as if the characters were members of their own families. I also hope readers will take away a sense of the fragility of life, and of the appreciation we must always have for our loved ones, who can be taken from us in an instant, whether from war, or disease, or an accident crossing the street.
Jen: What's next for you?
Lauren: I'll be spending the next few months visiting book stores to talk about A FIERCE RADIANCE. After so many years spent home alone writing, I can't wait to be out in the world again meeting readers.
In addition, I'm well into my third novel – but I'm very superstitious about work in progress, so I can't say anything more than that.
Jen: Do you have a website? E-mail notification of upcoming releases? Do you participate in author phone chats? And if so, how would my readers go about scheduling one?
Lauren: My website is www.LaurenBelfer.com.
On the HarperCollins website, readers can sign up for Author Tracker, so they'll know where I'll be appearing. And I love to do phone chats with readers and learn what's moving and interesting to them. Readers can contact my publicist at Heather.Drucker@harpercollins.com to set up events, or they can learn more about my novel at Harper Collins
Jen: Thank you so much for taking the time out of your touring schedule to stop by and chat with my readers. A FIERCE RADIANCE is a phenomenal novel. I look forward to seeing it at the top of the New York Times Best-seller List. Congratulations!
I hope you have enjoyed my interview with Lauren. Please stop by your favorite bookstore or local library branch and pick up a copy today. Better yet, how would you like to win one instead?
What is the name of the man in charge of the penicillin trial?
Next month, I will be bringing to you my interview with Cecily von Ziegesar, author of the popular Gossip Girls series. You won't want to miss it.
Until next time…
Jen