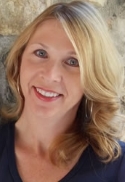 Jen's Jewels
Get the lowdown on your favorite authors with Jennifer Vido.
I have always been fascinated with the art of knitting. As a child, I would watch in awe as my mother would create beautiful afghans and colorful scarves. She always seemed so relaxed and at ease while masterfully designing her next creation. When the time finally came for me to join in on the fun, it didn't take long for the "ooh" and "ahh" factor to quickly fade away. Knit one. Purl two. Whatever! Let it suffice to say that it's not as easy as it looks!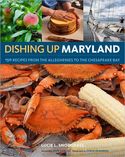 Cooking has always been an interest of mine despite my lack of aptitude. Sure, I can whip up a tasty meal courtesy of my ever-reliable crock-pot. As far as I am concerned, being able to cook an entire meal in one pot is worth its weight in gold. However, when the task of grilling meat while simultaneously sautéing veggies with perhaps a side of you-name-it comes into play, that's when I call in the reinforcements…my husband and sons!
This month's Jen's Jewels Lucie Snodgrass is always a welcomed guest in our home. A culinary expert in her own right, she has cleverly combined her passion for cooking with her love of our bountiful state in a delightful new cookbook, DISHING UP MARYLAND. From each of the four seasons, she shares with us some of the most scrumptious recipes indigenous to this area. From the novice cook to the professional chef, there is something here for everyone.
As part of this interview, Storey Publishing has generously donated five copies of DISHING UP MARYLAND for you, my faithful readers, to win. So, don't forget to look for the trivia question at the end. And as always, thanks for making Jen's Jewels a part of your reading adventure. Bon appétit!
Jen: Cookbooks such as yours are a special treat! Filled with delectable recipes and anecdotal tales, DISHING UP MARYLAND is a delightful adventure from the Alleghenies to the Chesapeake Bay. So that my readers may have a better understanding of the woman behind the words, please share with us your educational and professional background.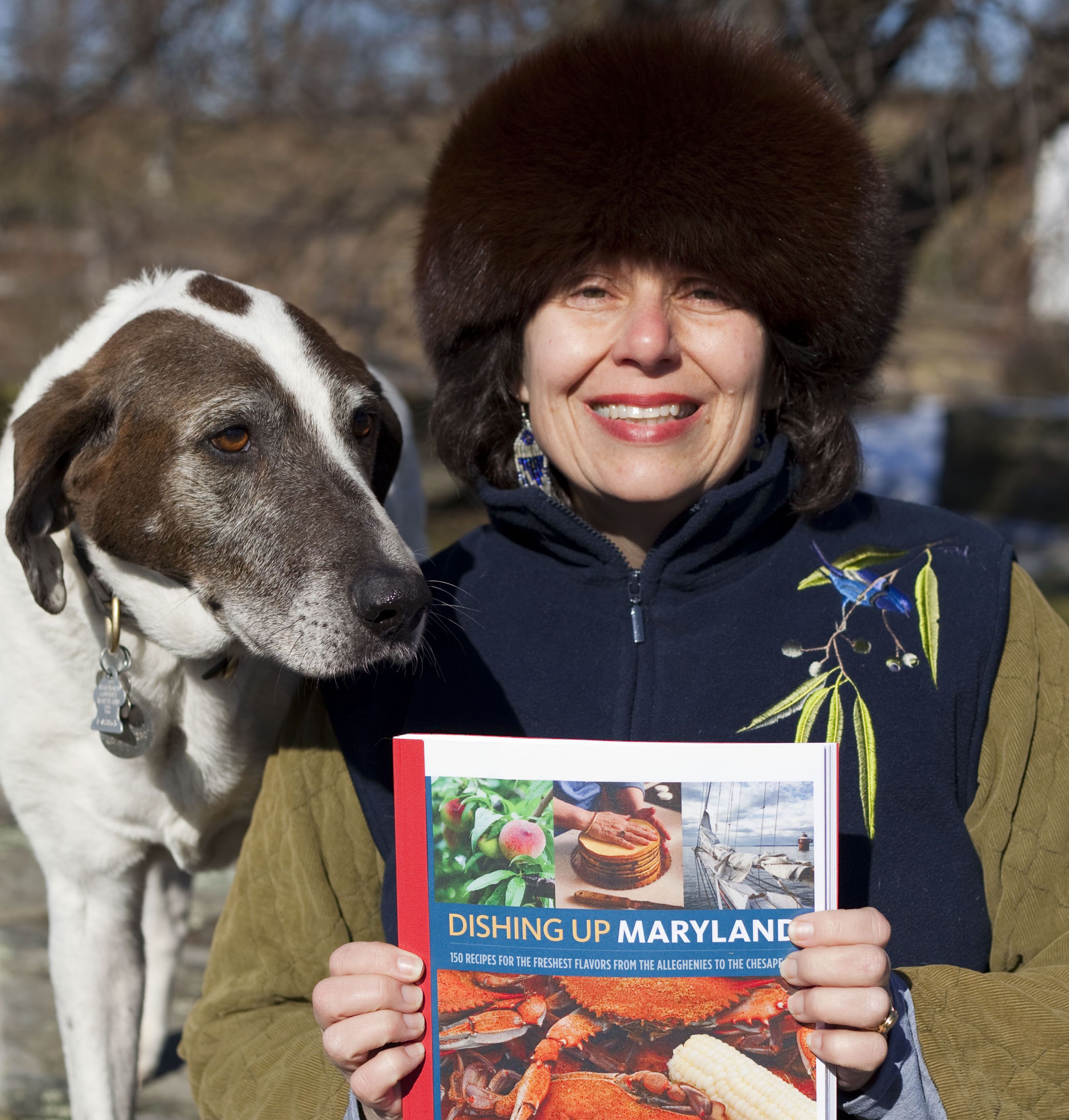 Lucie: My background is in public policy, although I also have a Master's degree in writing. My undergraduate education was a double major in English and Political Science from Vassar College. I also have a Master's in Public Policy from Harvard University and a Master's in Writing from Johns Hopkins University. I think it's fair to say I've always done a lot of writing in my public policy jobs, and I've brought public policy to some of my writing. I've worked as a legislative assistant on Capitol Hill for U.S. Senator Barbara Mikulski of Maryland, I was in Legislative Affairs at the State Department during the Clinton administration, I spent years at a senior level in county government, and I went back to work for Senator Mikulski in 2009 as her State Director. In between that, I worked as a freelance writer for numerous magazines and newspapers and I co-authored a horticultural book with my husband, Ed.
Jen: Not only are you married to a horticulturist (Edmund Snodgrass), but also your background in agriculture stems from your love of nature and the environment. Quite naturally, your passions lead to the writing of this book. Describe for us the evolution of the project.
Lucie: Well, as you know, I married into an old farming family, so that in addition to gaining a wonderful husband and two terrific boys, I came to live on a farm. And I just fell in love with the farm community in our county and became a committed supporter of local farms. Both Ed and I are passionate about preserving his family's land, but we're equally dedicated to preserving the farmers who live on farm land. There's a popular bumper sticker in our part of the state that says "No Farms, No Food," and that about sums it up for me. Food doesn't come from supermarkets, it comes from farms and farmers, and too many of us – especially children – have lost all connection with where our food originates. It's why I agreed to co-chair my Governor's Agriculture Transition Team and why I helped to bring about cookouts at the Governor's mansion featuring Maryland foods, and why I was on the steering committee to start "Maryland Homegrown Lunch Week" in our public school system. This book grew out of my desire to help reestablish that relationship for people in Maryland and show them how many wonderful local food choices exist here – year round! And I also wanted to tell them that when they buy local oysters or watermelon or rockfish or strawberries or any of the other myriad foods that are grown or harvested in Maryland, that they're supporting a family and a lifestyle that is part of the essence of our country. I also wanted to encourage people to eat seasonally, because that helps to support our local food producers, as well. When you eat a tree ripened peach that was picked that morning, it didn't come from 1500 miles away, expending hundreds of gallons of fuel in the process. It probably came from less than ten miles from where you purchased it. But part of that equation is that you can only find local peaches from July to September in Maryland. I'm fine with that, partly because I can my own peaches and so have them for the whole year, but also because it makes the seasons meaningful to me and gives me the pleasure of anticipation. Sure, we all buy bananas and many other things that aren't local or seasonal– I love them as much as everyone else does – but I consciously try to grow or buy as much local food as I can, cooking and eating what's in season as much as I can. In the book, I try to show that there are lots of good things to eat in each season, but that it varies, so that you won't find strawberry recipes in December, say.
Jen: At the forefront, how did you go about deciding on the format? How did you choose which farms to include? And, what was the most challenging aspect of organizing the writing process?
Lucie: Well, I knew that I wanted to organize the book seasonally, so that gave me the structure I wanted. I then made a list of the ingredients that I wanted to include in the book, starting with asparagus in spring and ending with cabbage and kale in winter, for example, and then adding in seasonal seafood like oysters and crabs, and then including local meats, cheeses, etc. Then I began thinking about farmers and watermen and chefs who might be good to include because of a crop they grew, or livestock they raised, or for their commitment to purveying local ingredients in the food they cook. The hardest part of the book, by far, was having to limit the number of farmers, watermen and other people I could include. I had so many wonderful choices from across the state that it was agonizing having to make cuts. I did try to feature a farm or a waterman or a chef from every part of Maryland, and I'm proud to say that I was able to do that, and I attempted to include a lot of diverse products – like maple syrup – that people wouldn't necessarily associate with Maryland. Now, I'm sure someone will say that I didn't do enough about their part of the state, and they're right. That will give me the excuse to write "Dishing Up More of Maryland!"
Jen: Dividing the book into seasonal sections makes the cookbook very user friendly. With that being said, how much research was needed prior to each season in order to be prepared for its arrival? At any point in the creative process, did you feel time constraints due to the necessity to use seasonal ingredients?
Lucie: I wrote the book in a year, so I went through all the seasons as I was writing and cooking, which worked well. I began in the fall and finished in the late fall, although the book starts with spring. I did research as I went along, shopped at farmers markets around the state, and I relied on lots of tips from the Maryland Department of Agriculture and from others across the state who became interested in the project. The only real pressure I felt was when Edwin Remsberg, the talented photographer for the book, asked to do the crab feast shoot in February, for scheduling reasons. I cheated then and my sister in law and her husband, who own a seafood business, shipped up crabs from their plant in Texas and we bought Florida corn and cooked it and arranged the whole spread on newspaper, just like you would in the summer, and it turned out wonderfully. And I hate to admit it, but those Texas crabs were tasty, too, even if not as sweet as Maryland crabs!
Jen: Are the recipes your own? If not, from where did you collect them?
Lucie: The book has a mix of recipes. Many, probably half, are my own, while others come from farm families, from chefs, from watermen, etc. It's a great mix of old and new, borrowed and blue (as in crabs!).
Jen: A question I just have to ask, did you actually prepare each recipe included in the book? If so, which was the most challenging and why?
Lucie: Yes! I did prepare just about every recipe in the book, often multiple times to get it right, with a very few exceptions, and those dishes were prepared by the chefs who created them. And truth to tell, I despise oysters, probably because I'm allergic to them, so I left the oyster dishes to others. Other than that, I cooked like a mad woman for months on end, and let me tell you I had the highest food bills you've ever seen, although I was so fortunate to get lots of meat and cheese and fruits and vegetables and seafood donated. And if you're wondering who ate all of that food, it was my husband's staff. His nursery business is on our farm and he has a business partner and a staff of six to nine, depending on the season. So I would spend the morning cooking and then carry the food across the lawn to the old dairy barn, where their offices are, and we'd all eat lunch together. It was such fun, because I made them critique the food as part of the bargain, and we shared a lot of laughs over the occasional failures. On the whole, they were one fat and happy crew of people, I can tell you that.
Jen: Let's talk about a few of the people included in the narrative. I especially enjoyed learning about Michelle and Jimmy Hayden from Dorchester County. They are a part of a dying breed of watermen. No insurance and very long hours, their passion for the Chesapeake Bay keeps these two afloat. From your encounter, what sets these two individuals apart, and warranted their inclusion in your book? And, how has the economy affected their business?
Lucie: Well, many things set them apart: their young ages in that field, the fact that they worked together, their determination to stick with (most would say) a dying way of life, and their love for what they do. They work so hard and are beset by huge challenges, including a serious health condition that Michelle is now facing, and yet they don't give up. There was both nobility and lunacy in what they're doing, and I just couldn't leave them out of the book. I spent one of the coldest mornings of my life dredging oysters, thinking they were crazy for doing it willingly every day, but there was such beauty in the gray winter sky and such a sense of freedom, being out there all alone. And there were so many others who touched me, too, like Leo Shinholt, who has been tapping maple trees for maple syrup for over half a century. He refuses to raise his prices to where average families can't afford it – despite plenty of opportunities to make more money. I just loved him for that! Over and over, I found wonderful people who worked the water or the land because they loved doing it, regardless of how much or little they earned. And all of us are richer and eat better for knowing those people. The Haydens, like many other families, have been severely affected by the downturn, which is why Michelle makes and sells jewelry on the side and Jimmy works construction and odd jobs to keep food on the table. I want people to think about the choices they make when they buy their food and the impact their purchasing power has on local farmers and watermen.
Jen: Surprisingly, Maryland has 14 registered bison farms around the state. Who knew?! I certainly didn't! On the menu at The Savage River Lodge, one can find this delectable meat. What makes this charming hide-a-way a favorite destination year after year?
Lucie: The Savage River Lodge is just a wonderfully romantic, relaxing, beautifully run lodge in Western Maryland, where, among other things you can cross country ski and tap your own maple syrup in winter. Jan and Mike, the owners, have decades of experience in the hospitality industry, and it's apparent in everything at the lodge, from the wonderful food and roaring fireplaces to the beautiful cabins and the excellent wine list – including, let me say, some great Maryland wines. Plus, it has great hiking trails where the occasional bear and bobcat are spotted – again, don't you just love everything that Maryland has to offer?
Jen: Our very own Broom's Bloom Dairy in Harford County has the best homemade ice cream I have ever tasted! What makes Kate Dallam's treat so sweet?
Lucie: Kate is one of the smartest, pluckiest women I know, and I think her ice cream tastes so good because she puts so much of herself into it. She buys local fruits when she can, so summer offers some especially delicious flavors for my taste, and she or one of her employees makes the ice cream fresh every day. It's no wonder that there are long lines out the door year round. And Kate and her family just do everything right, from the fact that you can look over to the dairy barn while eating your ice cream, to the homey ice cream parlor and store that was built by her brother with local hardwoods, including a downed cherry tree from their farm, artifacts from Kate's parents' farm, including some old doors, and a chalkboard with the day's flavors written on it. I've never met a person who went to Kate's who didn't think it was one of the most special places around. If she wanted to, she can franchise her business or open locations all over, but she doesn't want to, because she knows that part of what is so special about Broom's Bloom is that families get to come to a working farm that's been in her husband's family since the 1700s.
Jen: A fact my readers may not know is the abundance of wineries in our state. As you mention in the book, some of these vineyards are second and third career endeavors by their owners. In addition, their processes for grape production are unique. For example, Black Ankle Vineyards utilizes biodynamic principles. Please share with us its core principles and how this affects our environment.
Lucie: Biodynamic principles were developed by the Austrian philosopher Rudolph Steiner in the 1920s. They are rooted in organic farming, but they go beyond that, relying on the rhythms of the sun, moon and planets for planting; utilizing vegetable and animal waste and fermented herbal and mineral composts to boost the soil, and operating farms as self-nourishing and sustaining entities .
Jen: Crabs, crabs, crabs! I'd be doing a disservice to my readers if I didn't mention our favorite crustaceans. For all those non-Marylanders out there, what is a soft-shell crab? And, what is the best kind of crab to use in crab cakes and why so?
Lucie: Soft shell crabs are those that have molted, which crabs will do 20 or more times in the course of their lives. Immediately after they have molted and before the next shell begins to harden, the crabs can essentially be eaten whole. I will say that many non-Marylanders are totally revolted by soft shell crabs, which are most often prepared by dredging them lightly in flour and frying them. To that, Marylanders simply say, "More for me, thank you!" It's our version of haggis; you may have to grow up eating them to love them. As for crab cakes, you want to use either jumbo lump or backfin crab meat, because you'll get nice chunks of crab meat and don't have a lot of cartilage and shell to deal with. Claw and "special" crab meat is used for other crab dishes, like soups and appetizers.
Jen: As the ink dried on the very last page, how did you feel as your beloved project finally came to an end?
Lucie: It was bittersweet, of course. I loved writing the book and in one way didn't want that experience to end. I'm an introvert, so writing the book gave me a legitimate excuse to poke my nose into other people's lives, which I'm usually too shy to do, so I adored that. Plus, I love learning new things, so the process was wonderful. But I'm really a results oriented person, and so I'm delighted to finally see the book come out, and more than anything, I'm excited to have the spotlight shining on our farmers and watermen.
Jen: What's next for you? Will you undertake another grand project? Or, is it simply time to savor the sweetness Maryland has to offer?
Lucie: As you know, I'm always on to something new. My fulltime job as State Director for a U.S.
Senator keeps me very busy, but I also have a huge garden, which I'm gearing up for, and I'm sure I'll start on another writing project soon – maybe a novel this time – like my dear friend Jen Vido!
Jen: Thank you, friend, for taking time out of your very busy schedule to share our bountiful state of Maryland with my readers. I look forward to trying my hand at some of these tempting recipes. As the French would say… bon appétit!
Lucie: It's been a joy doing this, Jen. Thank you! And remember, eat locally!
I hope you have enjoyed my interview with Lucie. Whether you live in Maryland or as far away as Washington State, this cookbook is a must have. As an added bonus, I have included an audio link. Please check it out. http://remsberg.com/soundbooks/lucie_web/
Also, please stop by your favorite bookstore or local library branch and pick up a copy today. Better yet, how would you like to win one instead? What is the name of the farm that makes the best ice cream in Maryland?
Next month, I will be bringing to you my interview with Alafair Burke. Her upcoming release 212 is a roller-coaster ride of suspense. You won't want to miss it.
Until next time… Jen
To win a copy of this book, please enter the contest or comment