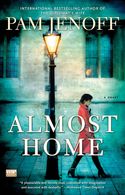 Books, that is. One of the topics authors, agents and editors spend a lot of time discussing is the publication of a book in hardcover or paperback. Like many new authors, I had long imagined walking into a bookstore for the first time and seeing that shiny hardcover on the shelf. So I was a little disappointed when I learned that the publisher had decided to publish my first novel, THE KOMMANDANT'S GIRL, as a trade paperback instead. The reason was simple: numbers. The sales force had discovered they could get a lot more books into the stores in trade paperback format than hardcover.
For me, the decision turned out to be a winner. Not only were we able to get more books into the stores, but we were able to get into stores that only have a limited book selection and tend to take more paperbacks, such as Sam's Club, which otherwise might not have been possible. Trade paperbacks seem to be a natural fit for book clubs and other reading groups, too. And let's face it, it is far easier to ask family and friends to shell out $12-$15 for a trade paperback than $20 plus for a hardcover. So I was quite happy to have my second novel, THE DIPLOMAT'S WIFE, published as a trade paperback as well.
For my third novel, ALMOST HOME, the publisher decided to go with a hardcover. I discovered there were advantages to that approach as well. Libraries seem to prefer hardcover books, since they hold up better against all of the frequent borrowing and handling. Hardcover books also seem to generate more attention for book reviews. And with hardcover, there is usually a paperback at some point down the line, so you get two bites at the apple.
My informal survey of reader preferences suggests that they are all over the map. Some prefer hardcover for its sturdiness or as a permanent addition to a book collection. Others like trade paperback for the cost and ease of transport on commute or vacation. And this debate doesn't even take into account mass market paperbacks (the smaller sized paperback you often see in supermarkets and airports.)
At this point, I'm indifferent – I just enjoy being published and read. And if I earn more per book with hardcover, I sell more copies with trade paperback, so that seems to be a wash too. But I'm curious: as readers, which format do you prefer and why? Let me know here or email me through my website.
To comment on Hard or Soft…How Do You Like Yours please click here.