Kym: Welcome to The Cozy Corner, Winnie!
Kym: Many readers may not know that Winnie Archer is a pen name for your new series, and that you're actually Melissa Bourbon, Misa Ramirez, and Melissa Bourbon Ramirez. What challenges have your new name brought you as an author?
Winnie: I have trouble keeping things straight myself! Different publishers like you to have different names on your books. I've migrated everything to either Winnie Archer or Melissa Ramirez. The challenges are maintaining the different websites for each author, finding time to do everything that needs doing, etc. But I love both series and the other books I've written, so the challenges are worth it!
Kym: Your new series, A Bread Shop Mystery, is set in Santa Sofia, California. Can you tell our readers how this series ties together your life from California to Texas?
Winnie: My Magical Dressmaking Mystery series is set in the small town of Bliss, Texas. We moved to Texas from California 8 years ago and I really wanted to set that series here, but when it came time to write the Bread Shop mysteries, I wanted to set it in my home state. I think it was the perfect decision. I love the town, and now I have an excuse to go visit California every now and then!
Kym: I love the town of Santa Sofia. What was your inspiration for the town's name and the actual town itself?
Winnie: I love the ocean and the California coast, so the fictional town of Santa Sofia was based on a cross between Santa Barbara and San Luis Obispo, with a dollop of Santa Cruz thrown in. I named it after my daughter, Sophie, because…why not? It was the perfect fit for the bread shop, Yeast of Eden, Ivy Culpepper, Olaya Solis, and Penelope Branford.
Kym: Ivy's mom's sudden death made her return to her hometown where Ivy finds a delectable outlet for her grief. Is there a Mexican bakery that inspired Yeast of Eden, or was it family recipes?
Winnie: Most people don't associate bread with Mexican baking, but bread actually has a long history in Mexico. Long rises are Olaya's secret. I did a lot of research and baking on my own to figure out what recipes I wanted to write about and include. I'm never opposed to baking bread!
Kym: You have family members with special dietary needs. Will there be any specialty bread recipes included in the series that can be adapted for readers with diabetes and/or celiac?
Winnie: I have thought about this, but I'm not really sure. Do you think readers would like recipes that are gluten free?! I'd love to hear from readers if they think this is something they'd want to see. I guess we'll have to wait and see 🙂
Kym: What is it about Ivy that makes you identify with her? What about her drives you crazy?
Winnie: I really love all my heroines and I think there is a little bit of me in each of them. I also hope there's a little of each of them in me. In terms of Ivy, I love that she's a little older than many of the female sleuths out there. She's 36, divorced, and figuring her life out after losing her own mother. She's not broken, by any means, but she's also not completely settled. She's mature, grounded, knows what she likes, what she wants, and while she is interested in Miguel Baptista, her high school boyfriend (there's history there), she doesn't need him. I think these are the things I love most about Ivy.
Kym: What personal challenges will Ivy face in up-coming Bread Shop Mysteries?
Winnie: That's for me to know and you to find out! Actually, I just finished book two and I'm really loving it. Ivy and Penelope Branford are up to their antics together. There's bread, a Winter Wonderland Festival, a missing produce man, photography, and…did I mention bread?
Kym: Can you share the cover of your next Bread Shop Mystery?
Winnie: Oh yes!! I really love it.
Kym: I loved your Magical Dressmaking Mysteries you wrote under Melissa Bourbon and your Lola Cruz Mysteries you wrote under Misa Ramirez. Are there any plans to continue with these two great series?
Winnie: Thank you! The Magical Dressmaking mystery series may be continued. We're waiting to see. I hope so! I'll also be releasing the Lola Cruz mysteries myself this summer. I'm excited to have them back in the reading world. Stay tuned!
Kym: What's next on your calendar?
Winnie: I'm brainstorming and working on book 3 in the Bread Shop series and I hope we'll be able to keep going with it, so keep reading! If I'm able to, I'll continue with the Magical Dressmaking series, as well. So many books to write, but not near enough time.
Kym: Where can our readers find you on social media?
Winnie: I'm on Facebook more than Twitter (there's that time thing that interferes with things, although the daytime teaching job certainly plays a part!).
Kym: Thank you for joining us on the Cozy Corner!
Winnie: Why, of course. Thank you for having me 🙂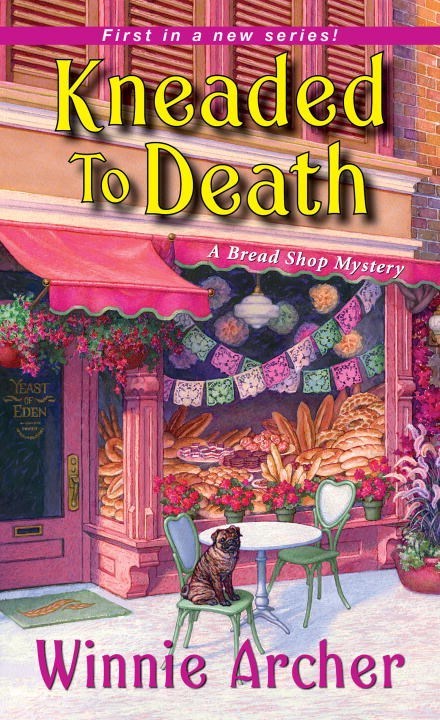 Everyone swears by Yeast of Eden, the Mexican bread shop in town. But tonight, the only thing on the menu is la muerte . . .
Struggling photographer Ivy Culpepper has lots of soul-searching to do since returning to seaside Santa Linda, California. That is, until the thirty-one-year-old enters a bread making class at Yeast of Eden. Whether it's the aroma of fresh conchas in the oven, or her instant connection with owner Olaya Dias and her sisters, Ivy just knows the missing ingredients in her life are hidden among the secrets of Olaya's bakery . . .
But Ivy's spirits crumble when a missing classmate is suddenly discovered dead in her car, riddled with stab wounds. Even more devastating, the prime suspects are the Dias sisters themselves. Doubting the women could commit such a crime, Ivy embarks on a murder investigation of her own to prove their innocence and seize the real killer. As she follows a deadly trail of crumbs around town, Ivy must trust her gut like never before—or someone else could be toast!
Mystery Cozy [Kensington, On Sale: February 28, 2017, Paperback / e-Book, ISBN: 9781496707727 / eISBN: 9781496707734]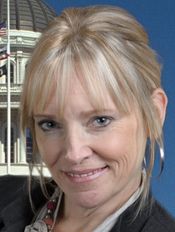 The indefatigable Winnie Archer is a middle school teacher by day and a writer by night. Born in a beach town in California, she now lives in an inspiring century-old house in North Texas and loves being surrounded by real-life history. She fantasizes about spending summers writing in quaint, cozy locales, has a love/hate relationship with both yoga and chocolate, adores pumpkin spice lattes, is devoted to her five kids and husband, and can't believe she's lucky enough to be living the life of her dreams.