And it came true!
Kylie Logan is just one of the many pseudonyms used by National Bestselling Author, Casey Daniels. To the enjoyment of many, she released a brand new series in May that will wet your whistle and change your palate. I was delighted when she accepted my invitation for an interview at the Cozy Corner. Please welcome, Kylie/Casey!
Kym: Hi Casey! Welcome to the Cozy Corner!
Casey: Thank you! It's always fun to be here.
Kym: You've written under a lot of different pseudonyms, can you tell us a little bit about each one, and what defines her?
Casey: There have been a lot of them (probably more than anyone suspects) so I'll just concentrate on the two most recent. One of them is Casey Daniels. Casey writes the Pepper Martin mysteries about a woman who works at a historic cemetery and solves mysteries for the ghosts there. They are light, funny, sassy. The other name I'm writing under these days is Kylie Logan. Kylie writes more traditional mysteries (no paranormal elements) in the cozy tradition. So far, she's written the Button Box mysteries and the Chili Cook-off mysteries (neither series is around anymore) along with two series that are ongoing-the League of Literary Ladies and the Ethnic Eats mysteries.
Kym: You have a fascinating new release you wrote under the pen-name Kylie Logan titled IRISH STEWED, An Ethnic Eats Mystery. Can you tell our readers about your heroine, Larel Inwood?
Casey: Laurel is an interesting woman. She started out life in the foster system and consequently, is used to being on her own, making her own decisions and her own way. When she was a teenager, she was taken in by a foster mother named Nina who taught her to love good food and to appreciate hard word. Years later, Laurel became the personal chef of a Hollywood superstar. I won't go into details, let's just say that things didn't work out the way Laurel hoped. At loose ends, Laurel goes to Hubbard, Ohio (the suburb of a small town!) to help Nina's sister run what Laurel's always been told was a classy restaurant. Only when she gets there, she finds out that Sophie's is a greasy spoon diner in an old train station. Business is dying thanks to all the new trendy places in the area, and Laurel's got to think fast if she's going to save the restaurant. It would be easier without the smothering interference of Declan Fury who runs the Irish gift shop across the street. Declan is part of huge, crazy family and family is something Laurel doesn't understand. And then there's the body that Laurel finds her first day on the job. That complicates things, too!
Kym: There's always a secondary character that readers love and you have a great cast of supporting characters, from Laurel's aunt Sophie to Declan Fury-shop owner, suspect, and charmer extraordinaire. Who got under your skin the most? Who did you identify with, and who has a tendency to steal the show if you allow her/him to?
Casey : Oh, I'm pretty sure Declan could steal the show-or anything else!-if I let him get away with it. You're right, he is a charmer and that made him fun to write. But Sophie's pretty charming in her own way, too. She likes to play the old lady card to get her way, but she's cagy and clever, the perfect sidekick!
Kym: The series is set in a "run-down greasy spoon" in Hubbard, Ohio that immediately made me think of Harvey's at Kansas City's Union Station. Harvey's, however might be the type of restaurant your heroine was looking for when she packed her bags and moved to Hubbard;) Tell us a little bit about the diner Laurel is determined to rescue.
Casey: Sophie bought the Terminal at the Tracks years before Laurel arrived in town. It's one of those small town staples, a place where people gather after bowling or church on Sundays. And Sophie loves the place with her whole heart. Laurel, not so much. The décor is outdated, and so is the menu. Fried baloney? Meatballs and rice? For a woman used to working with the finest ingredients and all the trendiest cuisines, this is a come down, indeed! But there is real heart at Sophie's Terminal at the Tracks. The guys who lost their jobs when their factory moved to Mexico gather there every day for lunch. Families still stop by after softball games and to celebrate birthdays. If only Laurel could think of a way to attract more attention to the diner (a way that doesn't include a murder victim) she might be able to help Sophie keep the place afloat. That way comes to her in a flash of inspiration-ethnic foods! Everyone's comfort food favorites. And with charming, handsome, maddening Declan always hanging around, it's no wonder she chooses to start with Irish food!
Kym: What was the biggest challenge you had to over-come with this book?
Casey: Good question because every book has its own set of challenges. With "Irish Stewed" I think a big part of the challenge was getting Declan's family right. He's part of this huge, chaotic Irish family, and maybe it's no coincidence that my husband comes from a huge, chaotic Irish family. That certainly helped me with the research! Coming up with trend cuisines and recipes that Laurel tries out at the Terminal was hard, too, because I am not a cooker of fancy food. Tonight, it's pork chops. Last night was red beans and rice. It's hard for me to relate to exotic ingredients.
Kym: Your stories gravitate toward cooking and Ohio. Is that because of your love of the two, the genre, or something else?
Casey: Ohio is a natural because it's the only place I've ever lived. And there are so many cool places to write about! In the Pepper Martin books, its historic Ohio cemeteries, and there are so many and they are endlessly fascinating to me. In the Kylie books, I write about the Lake Erie islands (League of Literary Ladies) and of course, the small town in Ethnic Eats. As for the food connection, I've already confessed that I'm not much of a cook. But like so many other people, I sure like reading about food and thinking that someday, maybe someday, I'll try out all the delicious recipes I come across.
Kym: Can you tell us a little bit about your next Ethnic Eats Mystery, French Fried?
Casey: What fun it was to get into the whole French culture thing! In "French Fried" we meet a friend of Sophie's who came to this country from France years ago. She's got secrets, and so do some of the other people who happen to be in town, including a bestselling romance novelist, a man who's an expert on the Statue of Liberty and someone who doesn't want one whisper of his past to get out. Laurel's going to have to her hands full, that's for sure!
Kym: Do you have another release coming soon under one of your other pseudonyms?
Casey: Yes, the 10 th Pepper Martin mystery will be published by Severn House Publishers this fall. It's called "Graveyard Shift" and in it, Pepper has a chance to work with legendary lawman, Eliot Ness.
Kym: I have not read your Pepper Martin mysteries with paranormal elements, but am totally intrigued by the series. Can you tell our readers a little bit about it?
Casey: I happen to have a special place in my heart for these books and for Pepper. To tell the truth, in book #1, she was pretty shallow and self-centered. She's the daughter of a cosmetic surgeon who went to prison for Medicare fraud and when he did, Pepper's spoiled lifestyle went down the drain. Forced to (gasp!) get a job, she takes the only one she can find, as a tour guide in a historic cemetery. As if that's not bad enough, she finds out she can see the ghosts there and since she's the only one who can, they go to her for help. Over the course of nine books, she's really grown up and she's worked with a dead Mafia don, a novelist, a prison warden and even a dead president! As I mentioned earlier, in this latest book, she's working side by side with Eliot Ness who in addition to being the leader of the Untouchables in Chicago, was once Safety Director of Cleveland. Pepper's chip-on-his-shoulder, tough-as-nails cop boyfriend, Quinn, is back and there's a new and far more annoying man in her life, too, Caleb Beauchamp, a country boy who knows more about the paranormal than he should.
Kym: What's next on your calendar?
Casey: Something really different-under the Casey Daniels name, I'm writing my first historical mystery! Tentative title is "Miss Barnum and the Feejee Mermaid Murders" and it's about a (fictitious) sister of PT Barnum who works with him at his American Museum in New York City. Talk about research! What do I know about New York in 1842? Truth is, not much, but I do know a delicious setting when I see one and a museum filled with mummies, "freaks," ancient statues, and performing seals sounded too good to pass up. I don't have a firm date yet, but I'm thinking the book will be out in mid-2017.
Kym: Where can you be found on social media?
Casey: I've got Facebook pages under both names, and a website for each persona:
Where all my books are listed.
Kym: Thank you for joining us at the Cozy Corner!
Casey: Thank you for the opportunity! It's always great to check in with readers!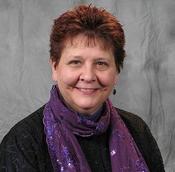 Kylie Logan is a pseudonym used by Casey Daniels. She's the author of several mystery series. As the daughter of a Cleveland Police detective and head of security for the Cleveland Library System, she came by her love of cops and books naturally.
***Casey is giving away one copy of And Then There Were Nuns, her latest League of Literary Ladies Mystery to one of our fab readers who comments on this post, and a copy of Irished Stewed, An Ethnic Eats Mystery to another reader who comments! How awesome is that!***
Good Luck and until next time, get cozy and read on!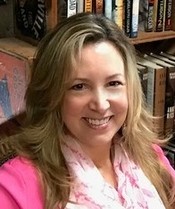 Kym Roberts is a retired detective sergeant who looks for passion, mystery and suspense in every book she reads and writes. She can be found on the web at kymroberts.com, on Facebook at Kym Roberts (author) and on Twitter @kymroberts911. Author of DEAD MAN'S CARVE, A Tickled to Death Mystery and DEAD ON ARRIVAL, A Malia Fern Mystery.