1–What's the name of your latest release? 
What is it about?
A fantasy world that's rebuilt after an apocalypse and is now in danger again, three people trying to reconcile the past with their current situation, and the value of standing together against oncoming threats.
What word best describes your heroine? 
Pragmatic.
What makes your hero irresistible? 
Amris combines a slightly old-fashioned formality with the ability to accept people for who they are–and blends a sense of honor with a sense of humor.
Who are the people your main characters turn to when they need help?
That's a good question! Both Darya and Amris are fairly isolated: Darya by her role as a Sentinel, Amris by not being in his own time any longer. Darya has Emeth and Katrine, as well as other Sentinels that she's friends with, but they aren't in the same place most of the time. She and Amris both are generally closest to Gerant, which makes their relationship very awkward. 
What do you love about the setting of your book? 
The mythology is near and dear to my heart: a good spider goddess, a good goddess of death and vengeance as well as love and healing, and an evil god who's basically all about toxic masculinity being The Worst.
Are you a plotter (follow an outline) or a pantster (write by the seat of your pants)?
A bit of both! I'll generally have a vague idea of the plot when I start, and at some point make a more detailed outline, but major details don't really come together until a third to half of the way in. I used to outline a lot more, but that was when I had a day job with a lot of in-person meetings.
What is an ideal writing day for you? 
I've never spent a whole day writing, but I think an ideal day would involve a good breakfast, watching something relaxing on TV, a long walk to get my mind going, and then a solid few hours of writing. And then sushi.
Do you listen to music while you write, need total silence, or do you have the TV on?
I like putting together a soundtrack for my writing, particularly for battle scenes! That said, I can write with background noise as long as it's not people I care about or otherwise engrossing–I've made word count at trains, airports, and cafes. Commuting in New England for a few years gave me practice at tuning out strangers.
How do you approach research?
Usually I'll read a bunch of books about the general time and place (if I'm dealing with history) or the equivalent (if I'm writing fantasy) before I start writing. For specific elements, I'll usually turn to the good old Wikipedia–or I'll ask friends and family, if I know it's one of their areas of expertise. 
What is your publishing journey story? 
I started writing when I was twelve, and published my first short story in college. There were a couple novels that didn't work out, but then Leah Hultenschmidt and Sourcebooks bought No Proper Lady in 2010!
Do you have critique partners/writing groups you want to give a shout-out to?
Not offhand, but I would like to thank my agent, Jessica Watterson, my editor, Mary Altman, and the whole Sourcebooks team!
What're the most frustrating things about being an author? 
Less so now, but when I was young and complained about anything, relatives who knew I wanted to be an author would respond by telling me that I could use whatever-it-was in a book later. They were right, but I don't know what they'd have said if I'd wanted to be a brain surgeon!
What's your favorite scent?
Either roses or baking bread, depending on my mood.
What movie will you watch no matter what if it's on TV?
My Cousin Vinny: it's not long enough to be a major commitment, and there's a plethora of great lines. Plus, Marissa Tomei's outfits are amazing. 
Do you like breakfast, lunch, or dinner best?
Breakfast, for sure! I'm here for pancakes, donuts, and bacon. It helps that my family counts both pie and cake as breakfast food if they're leftovers from the night before.
What's one thing you wish you knew more about? 
Gardening/farming. I tried to grow a number of plants during the pandemic, and the results were fairly tragic.
What's the silliest thing you've recently done?
Not gonna lie, there's a lot to choose from! Possibly singing a version of "Good King Wenceslaus" to my sister's dog in which I substituted "Abbott" and "fuzzy ears" for a number of words with zero consideration of whether the results made sense.
What can readers expect from you next?
The sequels to The Stormbringer, in which the war with Thyran continues and two other Sentinels meet some cute young men! THE NIGHTBORN will be out in April 2021. After that, we'll see!
How can readers reach you?
isabelcooper.wordpress.com is my blog, and you can find me on Twitter, @ICooperAuthor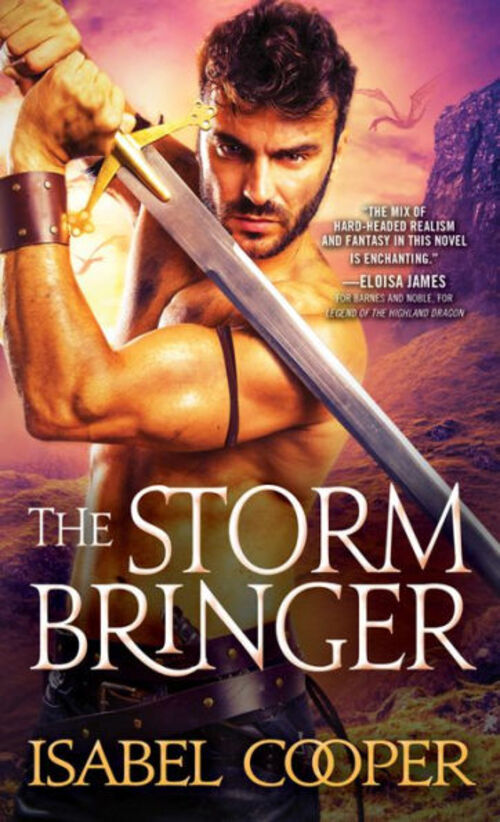 The Witcher goes fiercely feminist in this gripping paranormal romance from noted author Isabel Cooper.
Raised to be weapons against the darkness, Sentinels spend their lives fighting the monsters that prey upon humanity. Their hands will shape the world, and their swords will seal its fate.
A warrior lost to time…
Pursuing her latest quarry deep into the wilderness, Sentinel Darya finds herself in an ancient city that should no longer exist. There she comes upon a handsome warrior in ancient clothing, held in a deathlike sleep—Amris, hero of the last great battle against the Traitor God. His discovery, and the weakening wards about the city, can only mean one thing: the Traitor is gathering his armies again, and the storms are returning.
Amris has been trapped in dreamless sleep since the final battle raged centuries ago. Now he is awake…and so, it seems, is humanity's greatest threat. Determined to save the world from being swallowed by the oncoming storm, Amris and the fiercely beautiful Darya must learn to trust each other—and the powerful bond that's formed between them—as they fight their way through a land swarming with monsters in a last desperate bid to get word back to their allies before it's too late…
Fiction | Romance Paranormal [Sourcebooks Casablanca, On Sale: December 29, 2020, Mass Market Paperback / e-Book, ISBN: 9781728229287 / eISBN: 9781492687559]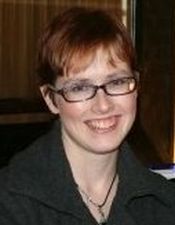 Isabel Cooper lives in Boston, Massachusetts with her boyfriend and a houseplant she's managed to keep alive for over a year now–a personal best. By day, she's a mild-mannered editor at a legal publishing company. By night, she's really quite a geek: polyhedral dice, video games, and everything. She only travels through time the normal direction, and has never fought any kind of demon, unless you count younger sisters. She can waltz, though.