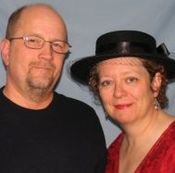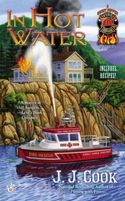 For three days during the month of October each year, the little town of Sweet Pepper, Tennessee hosts their Sweet Pepper Festival where the hot pepper is king! The weather is mild and the trees are glorious in their full fall foliage of gold, red, and green.
The festival boasts pepper-eating contests that range from mild to some of the hottest peppers in the world. Competitors come from everywhere to participate. Just watching them is funny, even if you don't want to join in!  Bushels of the hottest, sweetest peppers in the world grown by local farmers are available for sale, along with local, mountain-grown apples.
There is even a water tower shaped like a hot pepper, and a parade that is led by the sweet Pepper queen and her court which winds down Main Street past some of the cutest shops you'll ever see,
The festival is held in the center of town. Vendors from across Tennessee come to visit to play their wares and show off their skills. There are dozens of contests, games, and music. You can also take your pick of every kind of food that can be made with hot peppers – chocolate-covered peppers, pickled peppers, candied peppers, stuffed peppers, pepper pies, and pepper cakes.
You can buy pepper plants too. The famous local pepper is the Tennessee Teardrop. It's been grown and sold from here for the last hundred years. The large building you see on the mountainside above the town is the pepper-packing plant, the biggest employer in Sweet Pepper. The peppers are sent to markets around the world. Visitors are welcome to tour the plant too.
Stroll the tree-lined streets where the Victorian houses graciously welcome you. Test your strength on the local mountain trails, biking, and parasailing. You'll love the time you spend here at this festival.
Join in the famous Sweet Pepper Ghost walk which takes you through some of the most haunted places in the Smoky Mountains. If you're lucky, you might even catch a glimpse of Fire Chief Eric Gamlyn, one of the most famous Sweet Pepper ghosts.
Enjoy your time in sweet Pepper – and don't forget to come back next year!
About IN HOT WATER: Sweet Pepper Fire Brigade Series, #3
Sweet Pepper, Tennessee, has the world's hottest and sweetest peppers—as well as a ghost that cooks and a fire chief who fights crime…
Stella Griffin should be bubbling over with joy now that she's the full-time fire chief of Sweet Pepper, except trouble is brewing on her doorstep. An angry resident has purchased her cabin, and—with a bulldozer in tow—is ready to tear it down. But as Stella worries over the fate of her home and Eric, her ghostly roommate, there's soon an even greater cause for alarm.
A suspicious house fire in the pricey Sunset Beach community at Sweet Pepper Lake claims the life of ex-state representative Barney Falk. The nature of the death has Stella feeling out of her depth, so she teams up with the state's arson investigator. Moving full steam ahead with the case, they must smoke out a killer before the firebug strikes again…
About J.J. Cook
Joyce Lavene writes award-winning, best-selling mystery fiction with her husband, Jim, as themselves, J.J. Cook and Ellie Grant. They have written and published more than 60 novels for Harlequin, Berkley, Amazon and Gallery Books along with hundreds of non-fiction articles for national and regional publications. They live in rural North Carolina with their family.