In the next Vegas Vixens novel, TATTOOED AS TROUBLE, from Entangled Publishing, Raegan Storm enters the Witness Protection Program after witnessing a murder only to lose her heart to the U.S. Marshal sworn to protect her. This isn't just any U.S. Marshal, but the ruggedly handsome Quinn Bronson. He takes his job as a marshal seriously and by the book, that is until he has to guard the lovely Rae Storm. And boy, does she turn his world upside down. Like the other vixens in the series, she is TROUBLE. But Bronson would rather face hit men than deal with his intense attraction for Rae, a woman that is strictly off limits.
Now creating the character of Bronson took some research. As I uncovered what made the man tick, I discovered some interesting facts about the U.S. Marshals.
The Witness Security Program has successfully protected an estimated 18,400 participants since the program began in 1971.
The marshals arrest 400 fugitives every day on average.
The U.S. Marshals operate the federal Witness Security Program, sometimes referred to as the "Witness Protection Program."
The marshals claim a perfect success rate, with no witnesses being harmed while under protection as long as all security procedures were followed.
When it came to researching the U.S. Marshals, one thing was for sure: a lot of the inner mechanics were a mystery. For obvious reasons, the marshals don't want to broadcast the ins and outs of their business of saving lives. However, one of the most interesting tidbits of information I used in the story was from an interview where a marshal mentioned that he would ask witnesses where their favorite place in the U.S. was and then he'd place them in exactly the opposite. The reason behind this was because if their friends knew where they'd like to be, so would the bad guys. In the excerpt below I worked this into the story.
"What's your favorite place in the U.S.?"
She frowned at him and then grabbed an Oreo. Twisting the two pieces, she finally got it separated. "I don't know. Why?"
"Just curious. Humor me. If you could live anywhere what would it be like?"
"Well, I haven't been to many places outside of Illinois and Indiana." She pursed her lips. "Um, I guess it would be someplace cool for sure. I hate the heat. Oh, and with trees…I've always wanted to see the coast of California. I went to the ocean once and loved it." Rae ate the piece of the Oreo with the frosting.
"The California coast's nice." He rocked back in his chair then lowered it to the ground. Too bad that would be the last location she'd be placed. Bronson shoved away the guilt. She'd never get her dream place because she had to be relocated somewhere her friends and family would least expect. So it couldn't be a cooler climate with trees or near the ocean.
As you can imagine Rae is not too pleased when she discovers her placement. Thank you so much for stopping by for the inside scoop on how my hero from TATTOOED AS TROUBLE came to life and became the memorable Quinn Bronson. I love to chat with readers and you can connect with me on Facebook, Twitter and, of course, my website.
Happy reading!
J.L. Hammer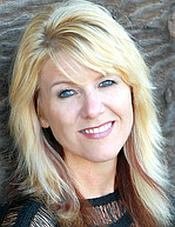 J.L. Hammer is a California girl and enjoys living in her small mountain town with her husband and two children. She loves to write fast-paced novels filled with suspense, romantic tension, and gripping action. She is a member of the International Thriller Writers and the Romance Writers of America.
When she isn't writing or lost in the pages of a good book, she loves traveling, listening to country music, or just enjoying a nice glass of wine. Visit J.L. online to discover her other exciting novels.
For Raegan "Rae" Storm, the trouble in her life is as permanent as the tattoo stamped on her shoulder. After witnessing a double murder, she becomes the target of a bloodthirsty mafia and enters the Witness Protection Program in exchange for her testimony. With her life on the line, the last thing she expects is to lose her heart to the mysterious, handsome Quinn Bronson, the U.S. Marshal protecting her.
Driven by honor and his commitment to his job, Bronson rescues Rae from threats time and time again, but fighting off hit men is easier than ignoring his attraction for the one woman he should never desire: the witness. As danger presses in on Bronson and Rae, neither knows whom they can trust, and their forbidden love could be what destroys them.