My husband posed that question to me. Well, he didn't POSE it, per se. He downright accused me of being a crazy cat lady. Let me point out that I only have ONE cat! Her name is Cinnamon and here's a picture of her as a kitten. Yes, she is in a bag of toilet paper and she is adorable. But since I only have one cat, I cannot be a crazy cat lady. However, the following list of facts might indeed suggest otherwise. You decide.
The picture of Cinnamon in the toilet paper bag is the background on my phone.
I have more pictures of my various cats than I do of my children. But in all fairness, cell phones hadn't been invented when my kids were at home.Since the bulk of my pictures are on my phone which I got long after the kids had moved out, I would say that's just natural selection. I take pictures of what's around me and my kids aren't. Not as much as my cat. (My husband points out that he lives with me too, but I have a zillion more pictures of my cat than of him. I say when he can flip his head over and sleep on his own belly, then I'll take pictures of him too.)
I have cat jewelry. Cats on my clothing. BUT!!! I have koala bears on my favorite pillow.
I get annoyed when Cinnamon sleeps on someone else instead of me. That is one of the primary reasons, I want another cat. So my husband and I EACH can have a cat in our lap. Or two on me. *grin*
I tweet about my cat a lot. (Follow me @JadeLeeAuthor) And I include pictures because…well, who doesn't love a cat picture even when the cat is just staring into space?
I've had lots of other cats over the years, and I have pictures of them too. Here are Ginger and Tali. And Ginger as a kitten. And Cinnamon with squidge.

It's possible I'm crazy. Worse things have been said about me. And I'm definitely female, therefore a lady. But I am absolutely not a cat!
SO???? Am I a crazy cat lady? Tell me what you think and if you're one too. (Or a crazy dog person). One lucky commentor will get a copy of the first four Bridal Favors books plus a mousepad!
A USA Today Bestseller, Jade Lee has been scripting love stories since she first picked up a set of paper dolls. Ball gowns and rakish lords caught her attention early (thank you Georgette Heyer), and her fascination with the Regency began. And as a Taurus, she lives to pit a headstrong woman against a tortured hero just to watch them butt heads on the way to true love. Flesh wounds are rare, but the healing and laughter are real.
Now an author of more than 30 romance novels, she finally gets to set these couples in the best girl-heaven of all: a Bridal Salon! This way she gets to live out all her wedding fantasies, one by one. (Let's be honest, what girl has only one idea for her dream wedding?)
And don't forget Jade's other name, Kathy Lyons. That's Jade's lighter, contemporary side. She writes for Harlequin Blaze merging hawt sex and funny relationships into really great reads.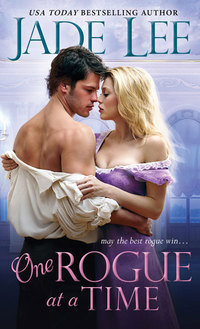 Brant Hallowsby grew up on the fringes of high society; he's neither a commoner nor a true nobleman. As a bastard son of nobility, he can talk the talk, but ultimately has nothing to lose and that's exactly what Bluebell Ballenger needs.
Bluebell needs Brant's help so that she can become a perfect English rose, because, like him, she's both a part of the ton and excluded from it. Brant knows she's hiding something from him, but as he starts falling for her soft skin and sparkling eyes, it no longer seems to matter. Until he discovers the one thing that could tear them apart.