A few weeks ago I was in Dallas for one of my favorite events of the year: Readers and 'Ritas. Tidbits of fun included gifting Pat with a Big Donkey Dick mug (she begged me for it). Yes, I have pictures.



Also the PJ party including live erotic reads which, incidentally, was where I won the Big Donkey Dick mug. We had some good clean fun too! Discussions about favorite historical heroes holds a special place in my memories as well as a sneak out for sushi with a couple of my favorite gal pals. And by the way, I was the best shapeshifting Rose from The Titanic in the costume contest!
If you want more dish on Readers and 'Rita's, there are lots of pictures. Or you could also come next year (yeah!). But what I wanted to talk about was a conversation I had with Sara Reyes during a lull in the festivities. Okay, so there really wasn't a lull, but I was tired so I plopped down and started asking questions.
We started talking about merchandising. About the advent of serious merchandising with Star Wars and then it shifted to the music industry. That music is given away relatively cheaply, but that bands make their money on tour and selling merchandise. She thought that authors needed to start doing the same thing. After all, there's some very nice Dark Hunter stuff (Sherrilyn Kenyon was at Readers and 'Ritas, btw). And I'd go for a mousepad with the Winchester boys from Supernatural on it. Especially if some nasty bad guy (or girl) had managed to rip off their shirts.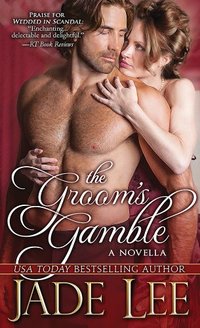 But as a historical author, I don't have a lot of good mug-worthy pictures. My covers have been amazing, but they're not all drink-your-coffee-and-stroke-the-abs. Oh wait! There is this one!
My January e-novella.
Should I add that onto a mousepad as a promo item? (Give me your vote below and I'll gift it to one lucky commentor.  Unless you all vote no.)
Anyway, instead of merchandising my stuff, I decided to just give away a custom screensaver. Here it is![Insert screensaver] Feel free to save it or share it. There's another special screensaver for my Jade's Jewels.  You can join them here. They get special stuff from me all the time!  And yes, I decided to add the screensaver to all sorts of fun items. Check them out:www.cafepress.com/JadeLeeShop .
Or if you're looking for a special holiday gift, there's still time to get the first three books of my Bridal Favors series autographed to someone special. But order soon! Time is running out to get it before Christmas!  http://jadeleeauthor.com/books
Jade Lee / Kathy Lyons
www.JadeLeeAuthor.com / www.KathyLyons.com
To comment on Jade Lee's blog please click here.