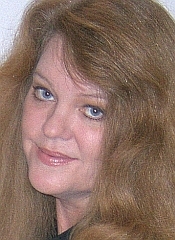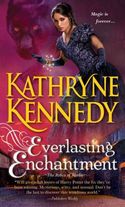 Hello to all the readers here at Fresh Fiction! It's wonderful to be back here again! In my brand new fourth book in the Relics of Merlin series, EVERLASTING ENCHANTMENT, readers again enter my magical Victorian London where titles are determined by the level of magical power inherited down through the ages from the old sorcerer of legend, Merlin. At the lowest level of the aristocracy are the baronets—shape-shifters who are immune to all magic and possess the uncanny ability to sniff out any of Merlin's relics. Since the relics hold magic even stronger than the royals', they have become the secret spies of many rulers, and are feared and despised by most of the aristocracy. And because of their unique immunity to magic, shape-shifters play a significant part in all the books in the series.
In EVERLASTING ENCHANTMENT, my heroine is a were-panther who gets mixed up with one of Merlin's relics…and the enchanted knight who has been trapped within it for centuries.
The last time I was here talking about a Relics of Merlin book, I asked the question: What type of shape-shifter would you like to be? The answers were fascinating! So this time I would like to ask:
What type of shape-shifter would you like to fall in love with? Or perhaps your significant other already reminds you of a particular animal?
Although I probably would've thought to fall in love with a were-tiger or a were-lion, the truth is, my dear husband would likely be a were-bear. He's a big burly guy, who even occasionally scratches his back against a door frame. He often growls, and can be intimidating to strangers, but is incredibly protective and kind to his own family.
I'm looking forward to reading your own answers!
My Magical Best,
Kathryne
EVERLASTING ENCHANTMENT BY KATHRYNE KENNEDY – IN STORES DECEMBER 2013
Power Magic is Afoot …
Millicent Pantere has lived her entire life in the notorious London Underground. She cares nothing for the problems of the crown or the intrigues of society. But the ladies of the realm are acting strangely, and Millicent is coerced into tracking down the rumors of a mysterious man—a magic man who comes in the night and disappears at dawn.
And So the Hunt Begins…
Millicent's search leads her to one of Merlin's legendary relics and the seductive knight whose fate is bound up with it. Centuries ago, Sir Gareth Solimere made the mistake of seducing the wrong woman, and he has been trapped ever since by a diabolical curse. He's looking for the one who can break the enchantment—but in this world, there is no love without betrayal…
ABOUT THE AUTHOR
Kathryne Kennedy is a critically acclaimed, bestselling, award-winning author of magical romances. She's lived in Guam, Okinawa, and several states in the U.S., and currently lives with her wonderful family in Glendale, Arizona. For more information and ongoing contests, please visit www.kathrynekennedy.com.
To comment on Author Name's blog please click here.