Who doesn't love a cowboy? I grew up with my very own, and Uncle Dave taught me much about being strong, in-your-face, feisty, and a teensy bit gruff. He was all grizzle and toughness, wrapped with muscle, leathery skin, calloused hands, and legs that bowed. But inside? The man was as mushy as a biscuit left out in the rain.
The proverbial cowpoke is often portrayed that way in novels, but in real life, that's how Uncle Dave was. A cigarette hung from his mouth in a lazy slope, but his grumbling "Hey, Babe" was usually followed with a ruffle of my hair, a squeeze of my hand, or sometimes, I was lucky to get a kiss on the cheek.
He'd been bitten by a black widow spider, wrangled tarantulas along with mustangs, branded steers, and shot rattlers. He also read me stories, took me on burro rides, and taught me how to throw a lasso—maybe not successfully, but tossing a rope into the air is darn fun whether you rope a hay bale or a sheep.
I like to argue we love our heroes because of the heroes we knew. Maybe from afar, or maybe blessed to curl up on their lap when we were dog-tired as a kid. That familiar smell of smoke, coffee, and leather will always awaken my senses to the strength of a cowboy—and the strength of my hero. Because a good hero lives on with every memory, with every heartbeat. A good hero captivates the imagination, buries themselves in your soul, and hangs on to you like a champion.
We may not always need saving. Goodness knows, my uncle taught me to be a strong woman who didn't need to be rescued. But, he also taught me that loving hard isn't a weakness either, and needing another is something precious. Like a wild mustang, freedom is exhilarating, but as our eyes connect in that wildness, we know the chasm between independence and commitment is not as wide as we like to make it out to be.
So Uncle Dave is a hero, and as he swaggered across the desert into the horizon and Heaven, he left behind a niece, with a hopeless sense of romanticism and wild and crazy will to stand.
Giveaway
Did you have a hero growing up? Tell us who he was or your idea of a cowboy hero below and one commenter will win a copy of THE COWBOY'S BRIDE COLLECTION
Jonah Sparks thought he hired a foreman not a dictator, but when the firecracker CJ Matheson rides in to lasso the pieces of his mismanaged, New Mexico ranch, Jonah is ready to call it quits. She wasn't supposed to be pretty. She wasn't supposed be a she.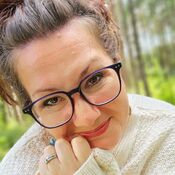 Professional coffee drinker, Jaime Jo Wright, resides in the hills of Wisconsin. She loves to write spirited turn-of-the-century romance, stained with suspense. Her day job finds her as a Director of Sales & Development. She's wife to a rock climbing, bow-hunting Pre-K teacher, mom to a coffee-drinking little girl, and a little boy she fondly refers to as her mischievous "Peter Pan". Jaime completes her persona by being an admitted social media junkie and coffee snob. She is a member of ACFW and has the best writing sisters EVER!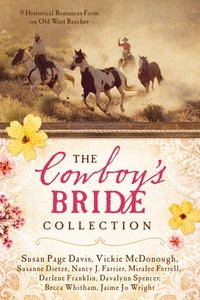 9 Historical Romances Form on Old West Ranches
Ride onto the open range alongside cowboys and cowgirls who embrace the adventures of living in the Old West from Kansas to New Mexico, Colorado to Texas. Whether rounding up cattle or mustangs, training horses, fending off outlaws, weathering storms, competing in rodeos, or surviving drought these cowboys work hard each day. But when hardheaded men have their weaknesses exposed by well-meaning women will they stampede away or will a lasting love develop? Find out in this exciting collection of nine historical romances.