Home
Paris
Ben climbed the stairs from the metro station at Saint Germain and turned north on Rue Bonaparte under the late morning sun. Its rays did nothing to ease the winter cold, and he altered his route to his flat in the 16th arrondissement to take him past a favorite café.
In the ten months of Ben's posting there, Paris had stolen his heart. He loved his country, certainly, but his American roots had thinned. His parents had him late in life and passed while he was still muddling around in his six years at Rice University, deciding what he wanted to be when he grew up. He knew he didn't want to be a cabinetmaker, so he'd sold the family business, the last tie binding him to his hometown, and moved on. No siblings. No connections. The Company sought out people like him. They'd recruited him—­rescued him—­during his first year as a commodities trader.
Life at the schoolhouse ended nine months later with his death. Drug overdose. Tragic. His professors at Rice would have never guessed. The Company resurrected him in London as Ben Calix, and he'd never looked back.
With a fresh cup of tea to warm his hands, Ben crossed the river at Pont Neuf—­New Bridge, the city's oldest—­and made a casual glance at the street vendor stalls at the north end. A bad sketch of Elvis Presley hung prominently in the third stall from the east. The drop signal.
Already?
Ben wanted his bed, nothing more. No new missions or assignments. He hadn't slept well on the cot at the back of Tess's medical station, and he'd used the sleepless hours and her encryption equipment to file his after-­action report. Maybe the signal meant the Company had more questions. The mission hadn't exactly gone as planned. He'd fill out some digital forms, leave the file at the drop point an hour later, and pass out for a couple of days.
A couple of loops around the Louvre served as a hasty check for tails and a chance to finish his tea. After tossing the cup in a bin, he pressed west into the Tuileries Garden parks and reached into his inside pocket for his phone.
The old-­school HUMINT signal methods never went away—a potted plant in a window or an Elvis picture hanging in a street market. But the drops themselves have all gone digital. Near-­field communication, the same technology that enables consumers to tap-­and-­pay with a smartphone, enables spies to download large encrypted files simply by walking past a lamppost.
The Tuileries Garden had such a lamppost, planted with several others in a miniature forest like fixtures in a fairy tale. The fifth lamppost from the east had a digital dropbox hidden in its rusty iron base.
Children in mittens and stocking caps played hide-­and-­seek among the trees, their laughter visible as mists in the cold. As Ben palmed his phone and drew it from his pocket, a boy charged his way. "Faites attention," he said to the child, spinning and lifting his arm to keep clear.
"Désolé!" the boy replied without looking back.
Their mini ballet had brought him too close to the lamppost. He hadn't made the phone ready to receive. Ben slowed his steps to an awkward gait, punched the phone's power button to activate the receiver and ping the digital drop box, and felt a haptic kick.
File received. But not with the subtlest choreography.
Ben would have to modify his route home to make sure no one had been watching.
Spies live every day as if their contacts have been compromised, because one day they will be, even when that contact is a lamppost half a klick from the Louvre. The best defense is a surveillance detection route or SDR—­walking in pointless, meandering circles for blocks on end or randomly swapping from a northbound train to its southbound counterpart. Any stranger matching such antics is up to no good.
Ben had run a hasty SDR before picking up his file by circling the Louvre. For the post-­pickup SDR he took his time. He hopped on the metro at Pyramides, rode the same line in two directions, then walked a meandering route into the labyrinth of old buildings west of Les Invalides. He picked a dead-­end alley with no vehicle access, rested his back against the limestone blocks of an old apartment building, and flipped his hand over to check the phone.
The motion brought the screen to life. A little blue box shifted into view.
1 new file: 256 mb
Big file. A new mission? If the Company sent him out again, he'd miss his chance to see Giselle outside of a professional context—­or at all, if they didn't put her on the team. Ben glanced up at the narrow strip of gray sky visible between the buildings. "Thanks, Boss."
A numbing flash of electricity coursed up his arm. Ben dropped his phone and watched it fall, sparking and popping, to the cobblestones. The screen had gone black. He bent to recover it. "What on—"
A bullet ricocheted off the wall where his head had been an instant before.
Sniper.
Instincts kicked in. Ben stayed low and ran. A second round hit the wall. A third. Flecks of centuries-­old limestone grazed his cheeks and neck.
Thought fragments flashed through his mind.
Kids playing tag.
The boy.
The lamppost.
Elvis.
Corrupted file.
Burning phone.
Another round clipped the corner as Ben reached Rue des Archives and turned, breaking the sniper's sightline. He kept running.
His pickup had been substandard, sure, but not bad enough to send him into a sniper's crosshairs. He'd done his penance with a long SDR, checking for tails. How could this happen?
He vaulted a stone barrier, landed in a half-­controlled tumble on the river walk ten feet below, and sprinted west. None of this made sense, but one crystal-­clear thought overshadowed the rest. Ben was blown.
(c) James R. Hannibal, THE PARIS BETRAYAL, Revell, a division of Baker Publishing Group, 2021, Used by permission.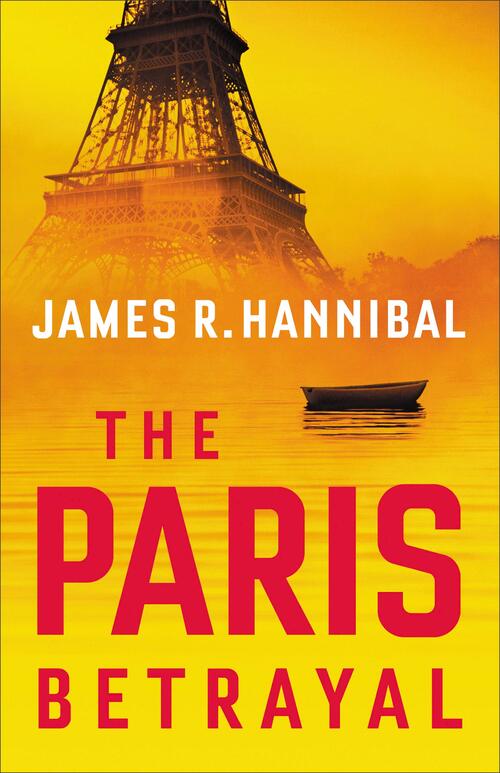 After a rough mission in Rome involving the discovery of a devastating bioweapon, Company spy Ben Calix returns to Paris to find his perfectly ordered world has collapsed. A sniper attack. An ambush. A call for help that brings French SWAT forces down on his head. Ben is out. This is a severance–reserved for incompetents and traitors.
Searching for answers and anticipating a coming attack, Ben and a woman swept up in his misfortunes must travel across Europe to find the sniper who tried to kill him, the medic who saved his life, the schoolmaster who trained him, and an upstart hacker from his former team. More than that, Ben must come to grips with his own insignificance as the Company's plan to stop Leviathan from unleashing the bioweapon at any cost moves forward without him–and he struggles against the infection that is swiftly claiming territory within his own body.
Award-winning author James R. Hannibal rachets up the tension on every page of this suspenseful new thriller.
Mystery | Thriller [Revell, On Sale: May 4, 2021, Paperback / e-Book, ISBN: 9780800738501 / eISBN: 9781493430451]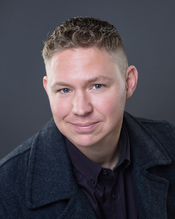 James R. Hannibal is no stranger to secrets and adventure. A former stealth pilot from Houston, Texas, he has been shot at, locked up with surface-to-air missiles, and chased down a winding German road by an armed terrorist. He is a two-time Silver Falchion Award winner for his Section 13 mysteries for kids and a Thriller Award nominee for his Nick Baron covert ops series for adults. James is a rare multi-sense synesthete, meaning all of his senses intersect. He sees and feels sounds and smells and hears flashes of light. If he tells you the chocolate cake you offered smells blue and sticky, take it as a compliment.