LIKE CATS AND DOGS is the first book in the Whitman Street series, which is set at a cat café in Brooklyn.
This first book is about the café's manager, Lauren, and the new veterinarian next door, Caleb. Caleb is grumpy and a little jaded; he is kind to his canine and feline patients but has little patience for humas. Lauren loves her job and doesn't care how silly Caleb thinks it is. They don't get along and rub each other the wrong way. But for the pesky problem of them being intensely attracted to each other, they might be able to ignore each other.
L is for Lauren and Lindsay. Lauren manages the Cat Café, and her friend Lindsay provides snarky commentary about everything going on there. Lauren and her two friends Paige and Lindsay form the core of the series. (Paige falls in love in the second book, and Lindsay tangles with an ex in the third.)
I is for Independent. I wanted to shine a light on the independent businesses that make a neighborhood feel special. Brooklyn and New York City are obviously huge, densely populated places where it's easy to get lost in a crowd. But neighborhoods can have their own kind of small-town feel, and that's what I was going for.
K is for Kittens. It is a box of stray kittens that brings Lauren and Caleb together as they try to rescue a tiny, sick kitten from the litter.
E is for Evan, Lauren's best friend. Evan is funny and fast talking and has an unrequited crush on Pablo, who works at the bookstore down the block.
*
C is for Cat Café. The Whitman Street Cat Café operates just like any café, but the seating area is in a closed room that shares its space with a dozen cats. So you can sip coffee and pet a friendly feline at the same time.
A is for Adoption. The Whitman Street Cat Café's goal is to find forever homes for their feline residents. They take in cats from local shelters and use charm and pastries to persuade customers to adopt the cats. Events manager Paige hold quarterly adoption parties to help find homes for the cats.
T is for Tension. The main thing pulling Lauren and Caleb toward each other is an undeniable sexual tension. Even when they're fighting, they kind of want to tear each other's clothes off.
S is for Sadie. Sadie is the Cat Café's feline office manager. She's the Café's only permanent resident, and she's pretty bossy. (Sadie is also my actual cat getting a cameo in the book series. She's bossy in real life, too.)
*
A is for Antipathy. This is an enemies to lovers story! Although Caleb and Lauren each think the other is pretty foxy when they first meet, as soon as they have a conversation, they instantly dislike each other. Lauren thinks Caleb is an arrogant know-it-all. Caleb thinks Lauren is flakey. Because the Cat Café and the vet clinic next door have a symbiotic relationship, they have to work together.
N is for Neighborhood. One thing I wanted to celebrate in the book is the way Brooklyn neighborhoods can kind of feel like small towns. Whitman Street is fictional, but if you know Brooklyn, you may recognize that I placed it roughly where Atlantic Avenue is in real life, and a lot of the book takes place in the Downtown Brooklyn/Boerum Hill area. And, as anyone who lives in a city probably knows, although everything in the city is a subway ride away, most people neighborhood local businesses—bars, cafes, bodegas—that they love.
D is for Diane. Diane is the eccentric retiree who owns the building that houses the Cat Café, the vet clinic, and Lauren's apartment. Although technically Diane is Lauren's boss, she acts more like a mom to the Cat Café staff.
*
D is for Dog People. Caleb prefers dogs to cats. In fact, he finds a new friend, Hank, at the clinic one day. Hank is part yellow lab, part who knows, and all joy.
O is for Organic. Parts of Brooklyn have gained a reputation for being home to soy lattes and avocado toast, and, not gonna lie, I leaned into that a little. But at the Whitman Street Cat Café, you can get a real New York bagel with a thick schmear of cream cheese alongside your soy latte. Lauren wants to hire a pastry chef to expand the Café's offerings to its feline and human customers.
G is for Grumpy. Caleb is recently divorced and has no interest in romance, thanks.
S is for Stitches, the local yarn store. The Cat Café's block of Whitman Street is home to several mom-and-pop businesses, including the yarn store, an independent bookshop, a trendy thrift store, and the Italian restaurant where Lauren and Caleb eat out one time, but it's totally not a date.
Whitman Street Cat Cafe #1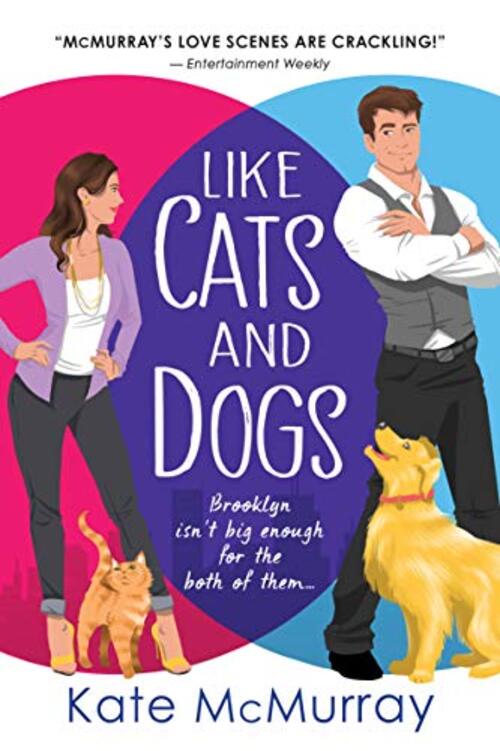 Can you fight like cats and dogs, and still be perfect for each other?
Things are getting ruff in this Brooklyn neighborhood when new veterinarian Caleb Fitch moves in next door to the Whitman Street Cat Cafe and gets on the wrong side of cafe owner Lauren Harlow. Lauren has a few things to teach the new vet on the block, and rescuing kittens is only the start…
Lauren can't ignore the fact that she is instantly attracted to Caleb, but he gets her even more riled up when he argues with her about how best to treat the cats in her care. Determined to smooth things over, Caleb comes to the rescue when a new litter of abandoned kittens is left on Lauren's doorstep, and they confront the fiery attraction that's been building between them from the start. But saving the baby kittens is only the first challenge Lauren and Caleb have to face, and when a real estate developer comes sniffing around their block, they'll have to work together, or risk losing everything…
Romance Contemporary [Sourcebooks Casablanca, On Sale: May 4, 2021, Trade Size / e-Book, ISBN: 9781728214542 / eISBN: 9781728214559]
Kate McMurray is an award-winning author romance author and an unabashed romance fan. When she's not writing, she works as a nonfiction editor, dabbles in various crafts, and is maybe a tiny bit obsessed with base­ball. She is currently president of the New York City chapter of Romance Writers of America. She lives in Brooklyn, NY.